It is never too late to stop smoking, even if you have been told you have cancer. Quitting smoking is one of the best things you can do to help your cancer treatment. Whether you are scheduled to have surgery, radiation or chemotherapy, quitting smoking will help you.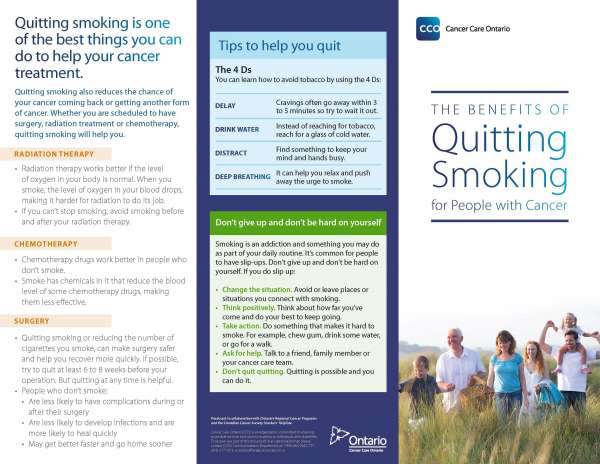 When you quit smoking some benefits are immediate, such as:
Blood pressure and heart rate return to normal within 20 minutes
8 hours after your last cigarette your carbon monoxide levels in your blood drop, your blood oxygen improves and breathing is easier
Risk of heart attack drops within 24 hours of quitting and your lungs will start to clear out mucus
Within 48  hours your sense of smell and taste improve, so you will probably start to enjoy food more
Energy levels start to improve three days after stopping smoking
Improved immune response
Quitting smoking leads to:
Improved treatment outcomes
Reduced side effects
Decreased risk of infection
Improved breathing and increased energy
Improved quality of life
Continued tobacco use after a cancer diagnosis leads to:
Higher rates of complications from surgery, and slower recovery
Higher treatment related toxicity from chemotherapy and radiation therapy
Increased risk of cancer recurrence
Increased risk of heart and lung disease
Reduced treatment effectiveness
Increased risk of a second cancer
Shorter survival
Conclusions from the 2014 Surgeon General's report  include:
In cancer patients and survivors quitting smoking improves health outcomes
Smoking increases the risk for  recurrence, poorer response to treatment, and increased treatment related toxicity
Evidence suggests that the risk of dying can be lowered 30-40% by quitting smoking at the time of a cancer diagnosis.  For some cancer diagnosis the benefits of quitting smoking may be equal to cancer treatments. (Toll et al 2013) https://www.surgeongeneral.gov/library/reports/50-years-of-progress/sgr50-chap-6.pdf

Learn how quitting smoking can improve your cancer treatments
You CAN quit smoking! The best way to stop smoking is to use counseling and medication, which can triple the chance of success. If you are receiving care at Grand River Hospital's regional cancer centre you can:
Speak to your health care provider about quitting smoking;
Call our Tobacco Cessation Clinic (519-749-4370 ext. 3848) to speak with our staff about the supports available to you including counseling, medication or both. Our quit coach can help you identify local opportunities that offer free nicotine replacement, such as nicotine patches; or
Call a quit coach at Smokers' Helpline at 1-877-513-5533 or visit www.smokershelpline.ca (opens in new window
You can quit smoking!
It's never too late to quit smoking!