Posted: October 23, 2017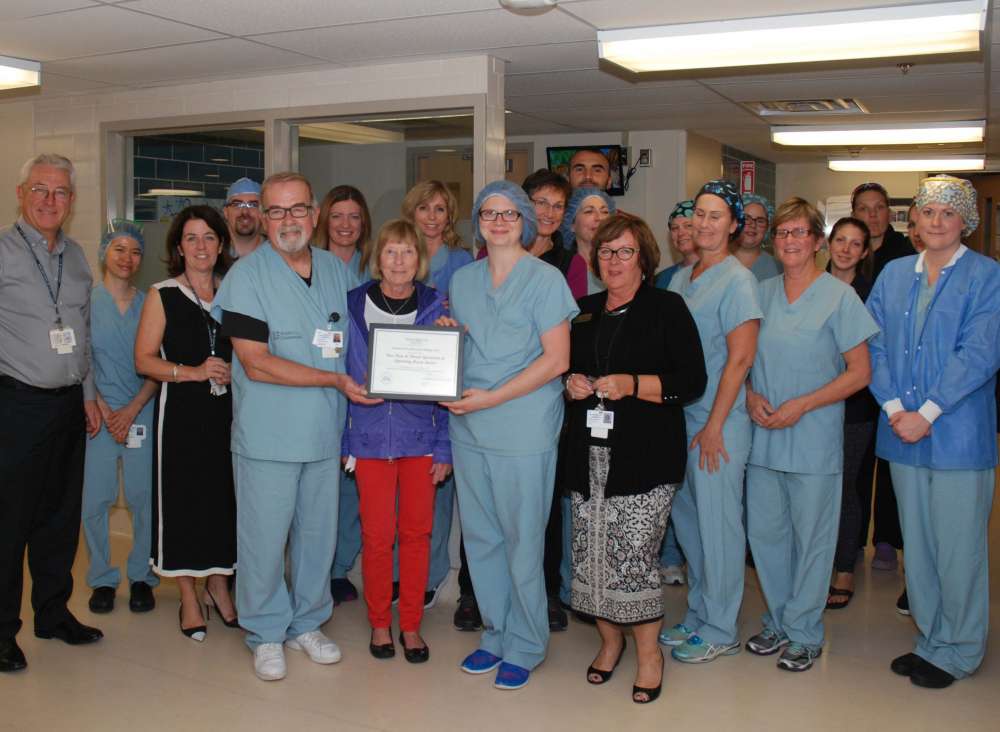 GRH has celebrated its operating staff and surgeons whose team-work have led to better surgical care for children.
The hospital has awarded the team with October's award of excellence marking their adoption of coblation for pediatric tonsillectomies.
The coblation instrument combines radio-frequency energy and saline, creating a plasma field of about 40 to 70 degrees Celsius. The surgeon then uses the hand-held instrument to remove the tonsil from the patient's throat.

The OR staff and surgeons were honoured for meeting the hospital's values in the following ways:
Compassion: the procedure was intended to provide better care by providing removal of tonsils using a lower temperature. GRH performs more 300 tonsillectomies each year.  The adoption of coblation has resulted in less damage to surrounding tissue, less post operative pain for pediatric patients and a quicker recovery time.
Collaboration: the process of trialing coblation took more than a year. Ear, nose and throat surgeons worked together to adopt the new procedure for all pediatric tonsillectomies. Collaborative education took place with the entire surgical team and regular visits/in-services by vendor Smith and Nephew.
Positive attitude: a great deal of perseverance was demonstrated in trialing the equipment and putting the proposal forward. The team worked together for a common purpose knowing this would be the best for children.
Professionalism: Surgeons such as Dr. Bindlish, managers such as Bob Frey and others (including vendor representative Erin Bruggeman) were simply fabulous in providing their time and support to telling the story about coblation and its benefits.
Respect: respect was demonstrated throughout the trial and adoption process. Surgeons also extended respect to staff as they worked together to adapt to the new technique. OR staff members were also very respectful of the learning process that surgeons were undertaking for the procedure.
The team's nominator added, "Grand River Hospital provides many services for children in our region. Caring for children is a collaborative between parents and surgical team. By using this new technology we are providing the best care possible for the children of our community."
Congratulations to the team for making the best care possible!