Posted: May 31, 2018
On Wednesday, May 30, GRH's Office of Research and Innovation participated in the 5th annual Waterloo-Wellington clinical research and quality improvement symposium (WWCRQI) at the Michael G. DeGroote School of Medicine Waterloo Regional Campus in downtown Kitchener.
The annual event brings health care partners from across the Waterloo Region together to celebrate the various clinical research work being conducted by students, clinicians, and health care partners in our region, including the work of GRH clinical researchers.
GRH has been actively involved with the symposium since its beginning in 2014. The Office of Research and Innovation has a presence on the planning committee and believes it is important to be able to highlight the work GRH clinicians and staff are doing while supporting the strong community of clinical research in our region.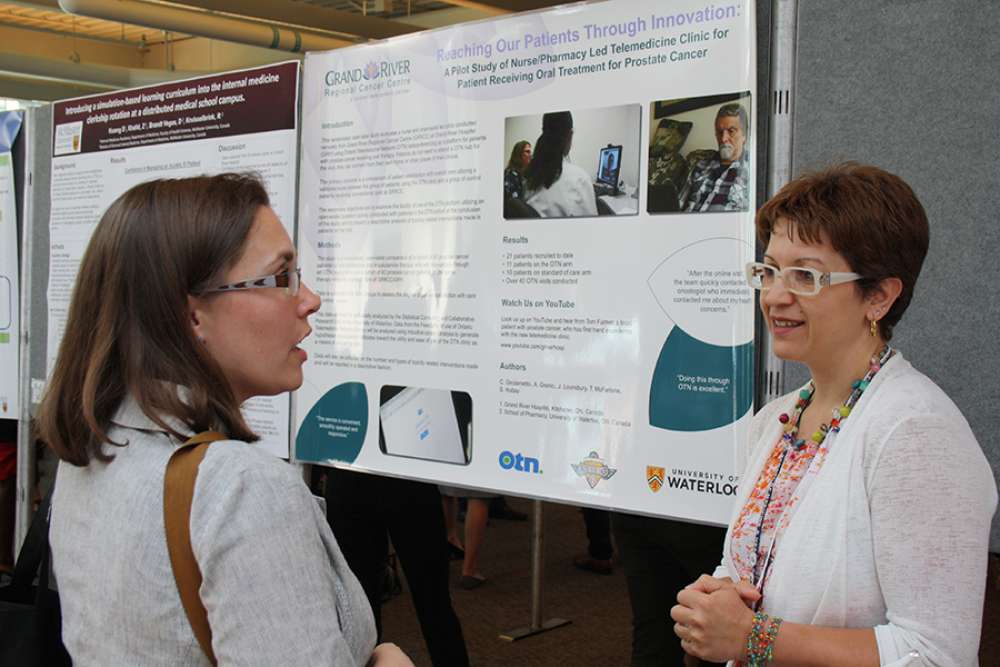 "Participating in and supporting the WWCRQI symposium is a highlight for our office every year," says Tina Mah, VP of research and innovation at GRH. "This symposium is a unique opportunity to showcase the tremendous clinical research work being done by students, clinicians, and partners across the region and we are excited to see it continue to grow each year."
Manager of research and clinical trials, Carla Girolametto shared a poster presentation at Wednesday's symposium featuring the work of a pilot study with the Ontario Telemedicine Network (OTN) of a nurse and pharmacist led clinic for management of prostate cancer patients.
Carla also participated in the Kitchener Waterloo Society for Innovation in Medicine (KWSIM) panel with 4 local health and tech leaders who discussed the opportunities and challenges of bringing start-up technologies and products to hospitals. The panel was moderated by GRH geriatric psychiatrist Dr. Sophiya Benjamin and featured ED physician Dr. Chris Dainton.
The KWSIM panel was awarded the voter's choice best overall podium presentation for the day.