Posted: August 8, 2016
As a long time veteran of the GRH medical imaging program Mark Smith, support staff supervisor, has witnessed significant growth and advancement of the program to support the needs of our community.
GRH is the largest medical imaging service in the region. In 2015 we provided over 157,000 medical imaging exams and 2,300 echocardiography exams. That's nearly 437 tests a day!
Mark has worked at GRH since 1984, but began his career in medical imaging in 1998 as a patient porter. Over the last 18 years he has had the opportunity to watch the department grow and relish in the new technologies that provide exceptional patient care.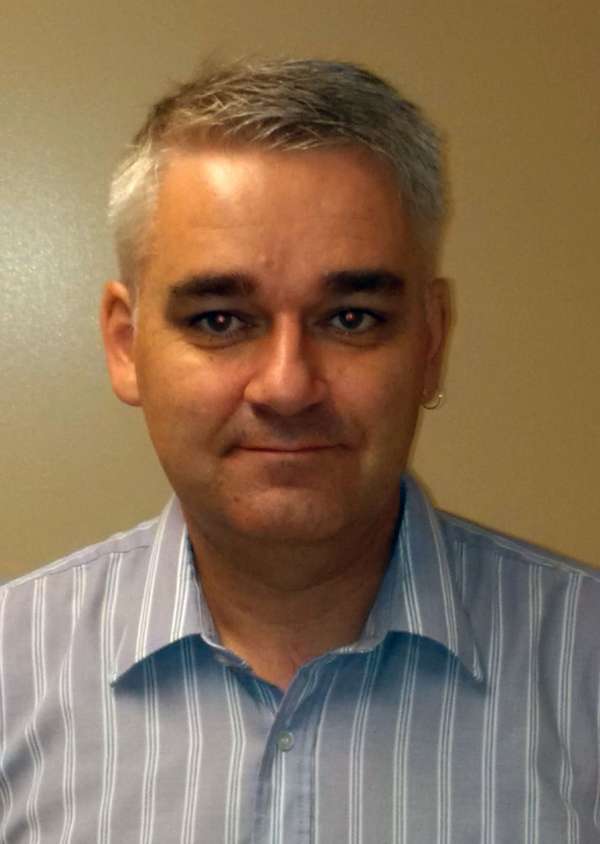 What are the variety of services that the medical imaging program provides?
The medical imaging program provides various diagnostic services to the community and hospital. Working across two campuses, we provide: mammography, ultrasound, CT, MRI, bone mineral density, fluoroscopy, interventional radiology and x-ray services. We partner with St. Mary's General Hospital (SMGH) to provide nuclear medicine services at the KW Campus, as well as echocardiography and ECG services. We also provide special testing services that includes cardio pulmonary testing.
Why should patients request to have their medical imaging tests done at GRH?
We are a leading provider of all diagnostic services in the region. We take pride in what we do and try to think of each patient as if they are a family member. Our team members are always updating their knowledge and skills. This is done so we know we can give the best care possible. No matter how hectic or fast paced the work environment becomes we still make the best care happen. Our team is always happy to answer any questions from patients or family members to make their experience a positive one.
Can you tell me about our facilities and the technology we use?
We have many things to be proud of in our medical imaging program. Some of these include our:
Breast centre of excellence that offers screening, diagnostic, assessment and biopsy services and is the envy of many regions;
Bone mineral density program that is only one of a few fully accredited sites in Ontario;
CT which is a centre for excellence for stroke, oncology and other programs;
MRI that has a paediatric general anesthesia program that is rarely available outside of teaching hospitals;
Ultrasound service that provides a wide range of services with a highly trained and skilled ultrasonographer and radiologist;
X-ray service that has full digital capability, which is the new standard of imaging;
Interventional radiology suite that is vital to supporting the renal, oncology and other programs; and
Special testing that provides valuable support to the hospital and many of the specialists in the community with holter, stress and pulmonary function testing. 
How does the medical imaging department work with other areas of the hospital?
Our oncology and renal programs have access to book some appointments in the medical imaging department. This allows for those programs to make the patient's journey as seamless as possible. We are a diagnostic tool that allows physicians to better diagnose and manage their patients.
If possible, we also try to coordinate multiple appointments to try and save patients from multiple trips to the department.
How has the medical imaging department changed over the years as new technology and processes come into play?
The leap in technology and range of service has been incredible. In the time I have been in medical imaging I have seen us move from one CT to two and from four ultrasound machines to seven. I have seen nuclear medicine appear, new MRI, new interventional radiology and a new fluoroscopy suite.
We have seen mammography move to Freeport and become a complete breast centre providing some of the best service available in the region. We have moved from film to digital imaging allowing clinicians and radiologists to view images from anywhere in the hospital and from home. We have put paper bookings behind us, seen auto report faxing and voice recognition to help speed up results. As the demand of our service increases, our technology lets us continue to deliver great quality care.
How can patients prepare to come to the hospital for a medical imaging test?
Please make sure to ask your doctor what the test is and what to expect. Feel free to look at our website for more information. http://www.grhosp.on.ca/medicalimaging  
If you have any questions, please call us at 519-749-4300 ext. 4262. We know that coming to the hospital can be stressful. We are here to help and make you feel comfortable and safe.
Can you tell me about the recent patient satisfaction survey results?
The patient satisfaction survey results make us very proud. We asked our patients to provide feedback on how we were doing in medical imaging. We asked a wide range of questions about our service and the response was unanimous. 99% of our patients would recommend GRH based on the care they received. We adhere to the values of the hospital and it shows that patients are seeing our efforts. Our staff strive to make the patient experience better and we know we are on the right track!
What do you like about working in the medical imaging department?
I love the team I work with. My team mates are the reasons I want to come to work each day. They care about the patients and know that patients come first. Very rarely is there a "we cannot do this." It is usually "how do we make this happen". We face challenges together. In medical imaging you learn that you have never seen it all. Just when you think you have seen it all a new challenge presents itself. I have grown so much in my years in medical imaging and special testing. This is a result of the great people around me from supportive leadership to exceptional team mates.
More GRH Stories