Posted: April 27, 2017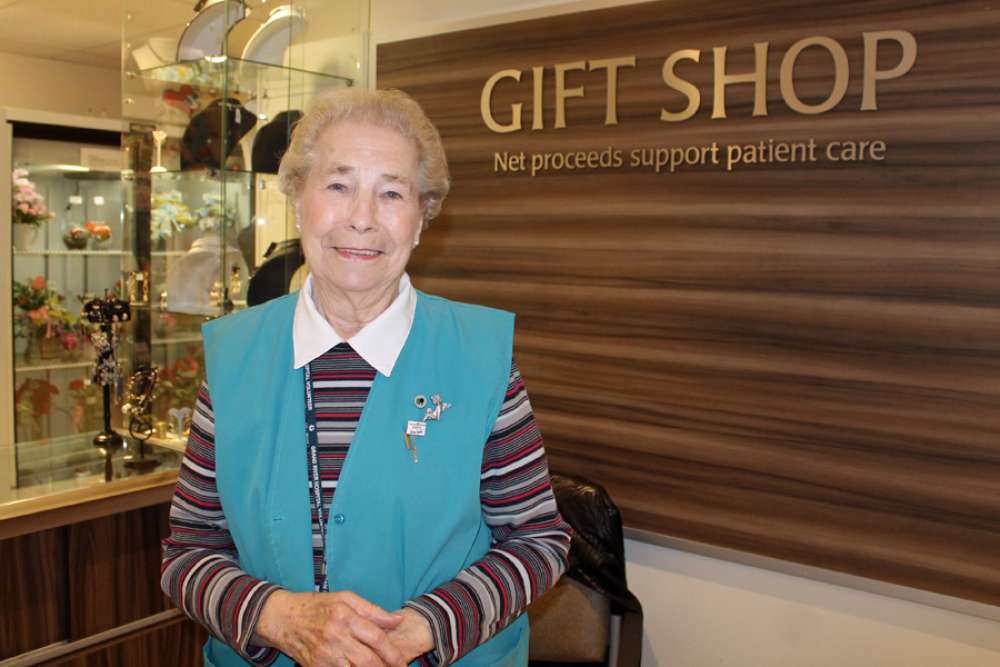 By Amanda Paul, volunteer correspondent
After 47 years of volunteering at GRH, Mary Doggrell has no intention of stopping anytime soon.
Of her nearly five decades of service, half of that time has been with the gift shop. Volunteering as a sales clerk, Mary provides a positive attitude and warm welcome to anyone who walks into the shop.
With Mary's commitment to volunteering in the gift shop, she provides a great service to the hospital by trying to sell the most she can during a shift so proceeds can go back to supporting patient care.  GRH's volunteer association owns and operates several retail services at the hospital, with net proceeds helping to buy patient care equipment and medical instruments.
---

Why did you start volunteering?
We moved to Kitchener in 1954. I was a stay-at-home mother to four girls. When my last daughter went to school I thought there was more to life than doing housework. I saw an advertisement in the paper and thought that it was something that I have never done before and it could be fun. I have enjoyed it ever since.
Where have you volunteered at GRH?
I started volunteering at information and then moved to the pick-and-buy-cart. The pick-and-buy cart was a cart that I rolled around the hospital that had a few magazines and candy bars on it that patients could purchase.
Afterward, I got involved with the gift shop and have been there ever since. I have been volunteering with the gift shop for about 25 years.
In previous years, I would do the purchasing for the gift shop but I decided that it was time to move on from that role so I now volunteer as a sales clerk.
What keeps you wanting to volunteer at GRH?
I have always enjoyed volunteering at the hospital and giving back to the community. I have been very blessed in my life and have always felt I can use my time to give back. I have been here for 47 years so far; I'm aiming for 50!
What do you enjoy about volunteering?
I feel that meeting people is the most enjoyable part about volunteering. It's surprising how many people would stop in and chat. I never know why someone may be in the hospital and sometimes a quick chat might help their day go by a little smoother and happier.
What is something others may not know about the gift shop?
I feel that people are surprised by the assortment of items we have for sale in the shop.
When someone comes in to visit a patient and they are browsing through the shop, they are pleasantly surprised to see the merchandise.
The gift shop is a place where visitors and patients can find unique items. All of the proceeds go towards the hospital and anyone who buys from the gift shop feels good knowing that.
What have you learned from volunteering?
I have learned so much. One of the biggest things I value is meeting new people. When we moved here I didn't know that many people. Volunteering has given me the opportunity to become friends with some really great people.
Also, I learned that it's important to think of other needs than your own. As a buyer for the gift shop, I had to think about what other people would want to buy and put aside what my personal preferences were. I have found it very rewarding to help others and it has given me a better outlook on life.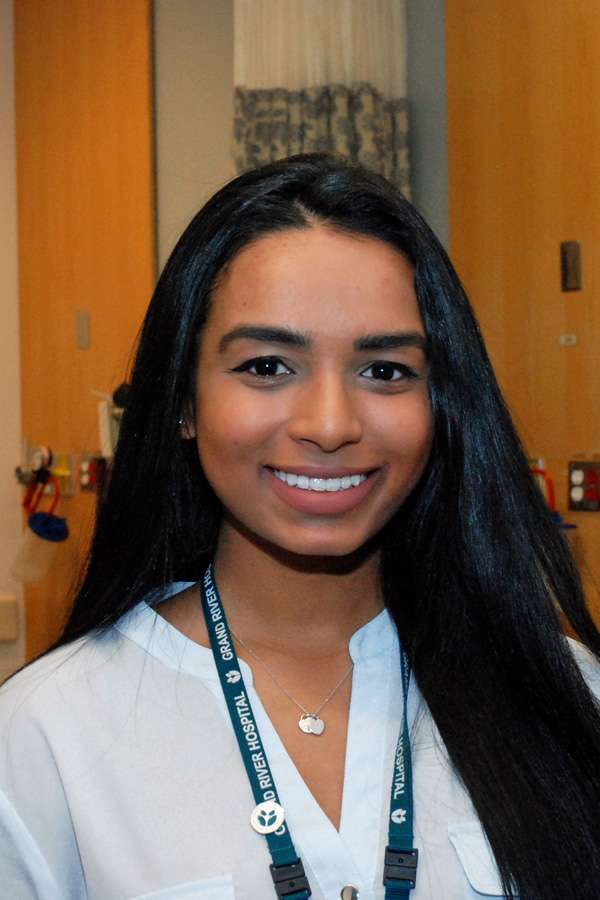 Interview and photography by Amanda Paul
Amanda Paul is Grand River Hospital's volunteer correspondent. Amanda has volunteered at GRH's Freeport and KW campuses for more than five years. She's passionate about telling the stories of her volunteer colleagues at the hospital.
Learn more about Amanda and her role at GRH...
More GRH Stories