See the results of GRH's patient care development at the KW Campus
Slidshow Gallery: Press the tab key to access slideshow navigation, then use the arrow keys to navigate between slides, and use the tab key to access the current slide content.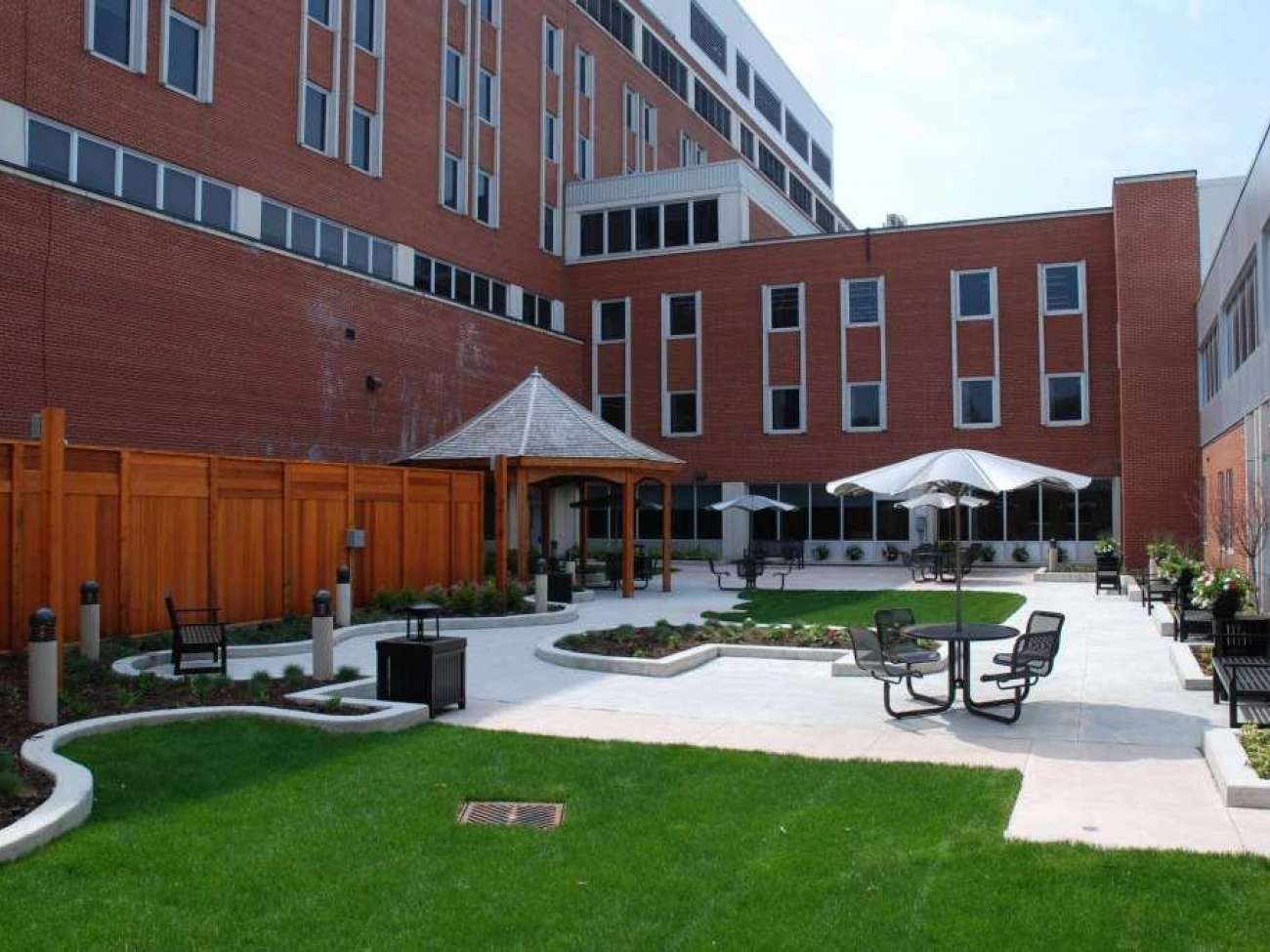 A welcoming courtyard for patients in mental health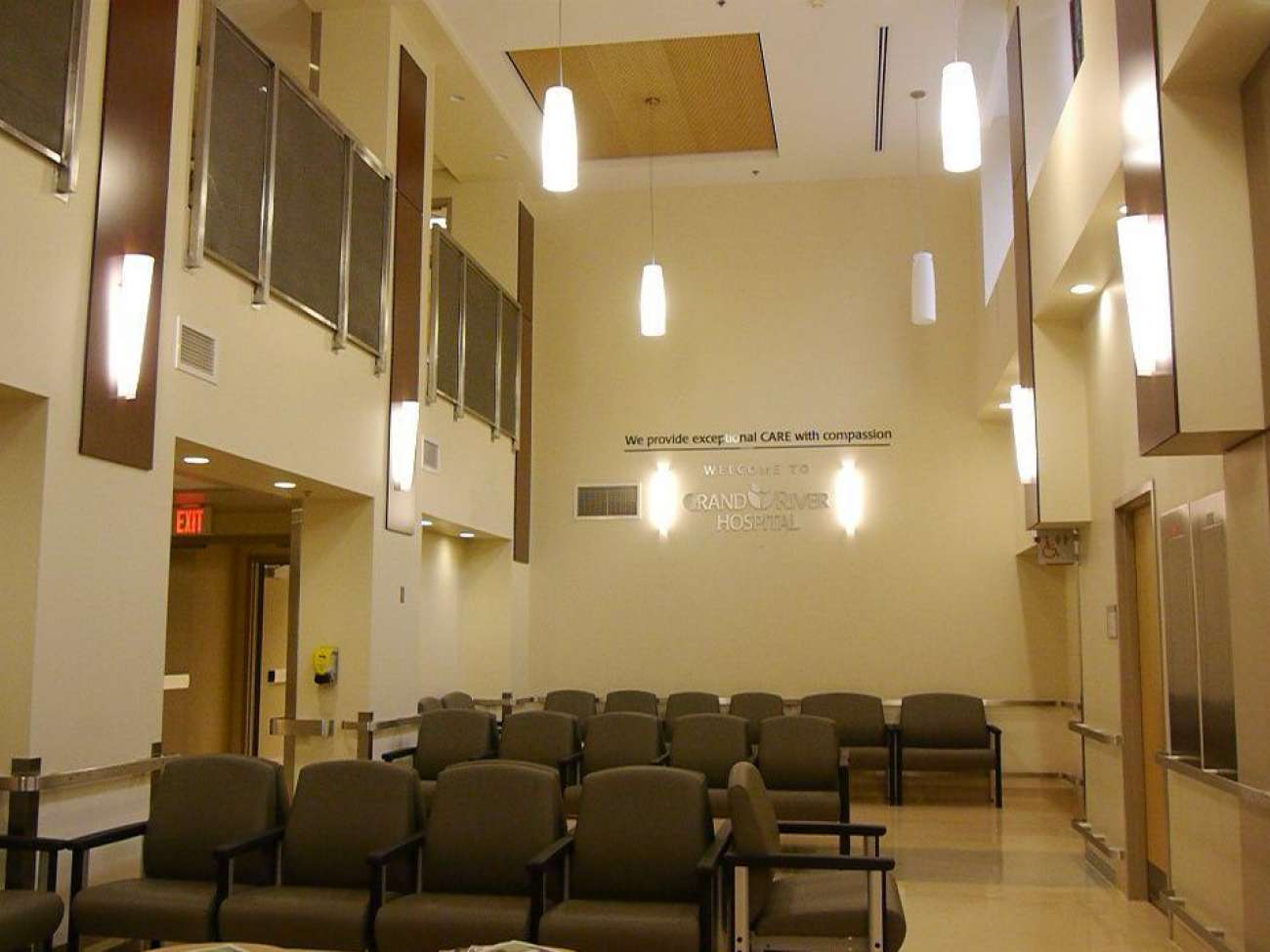 Patient atrium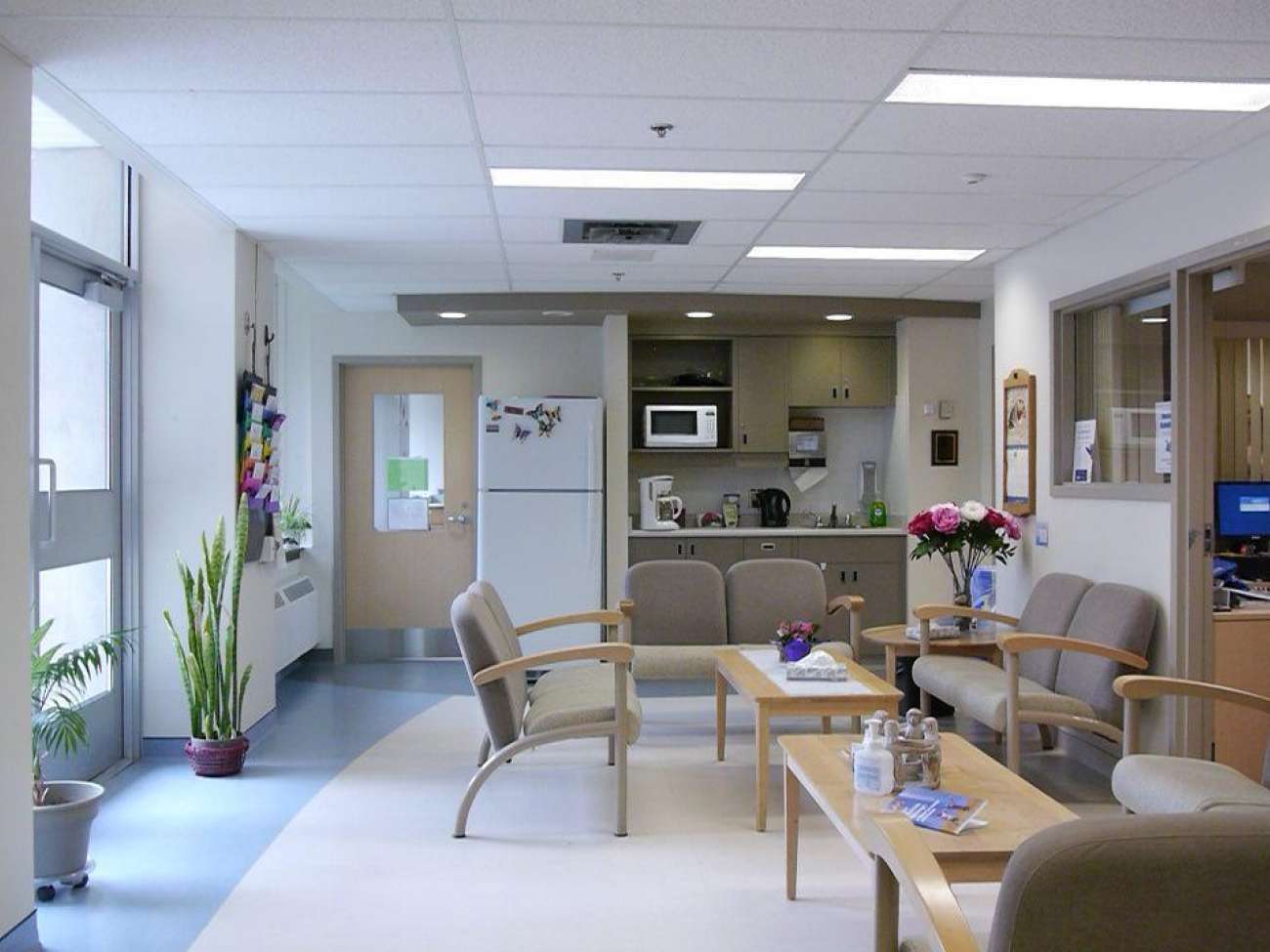 Mount Hope Day Hospital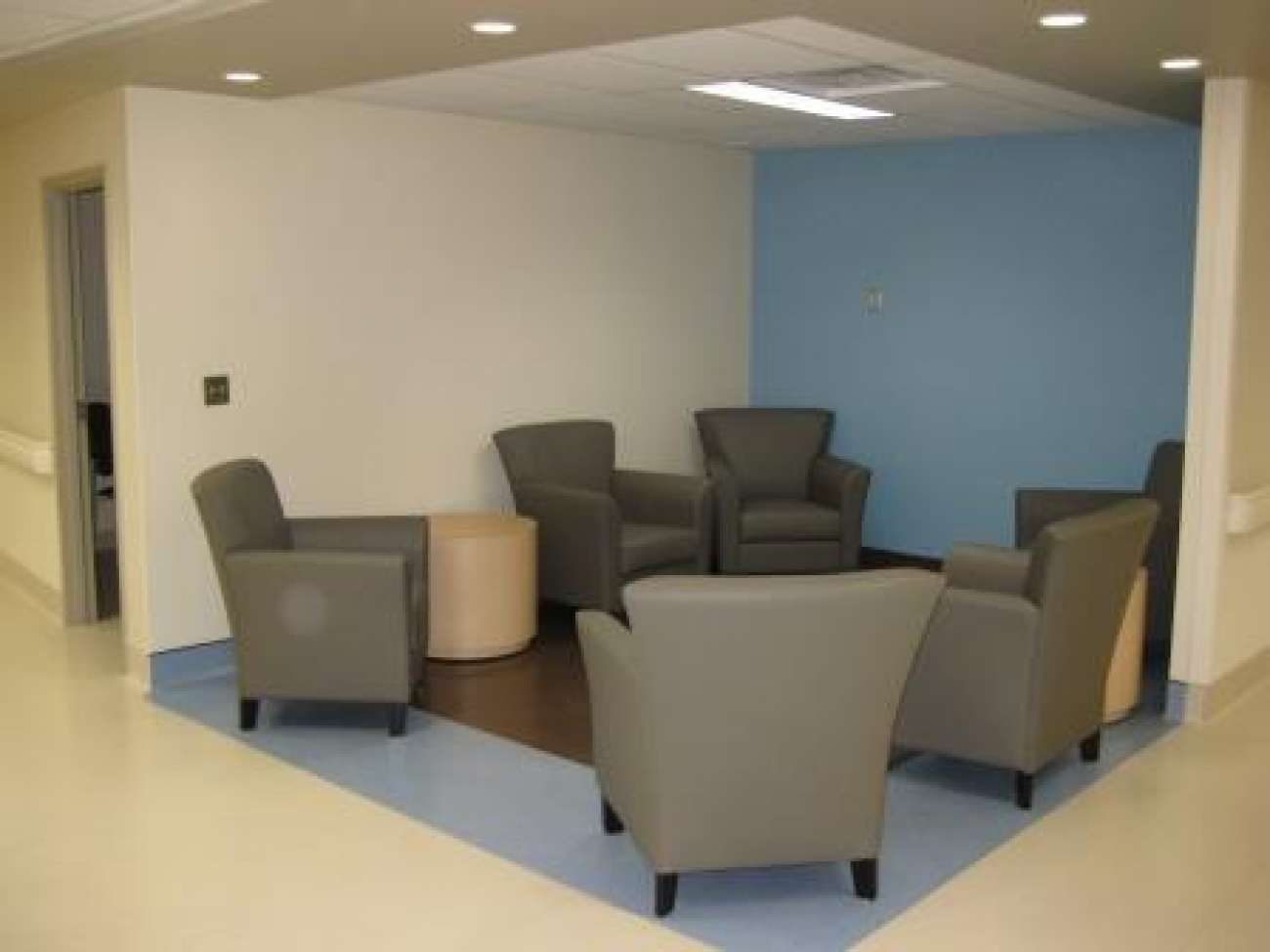 Lounge space in mental health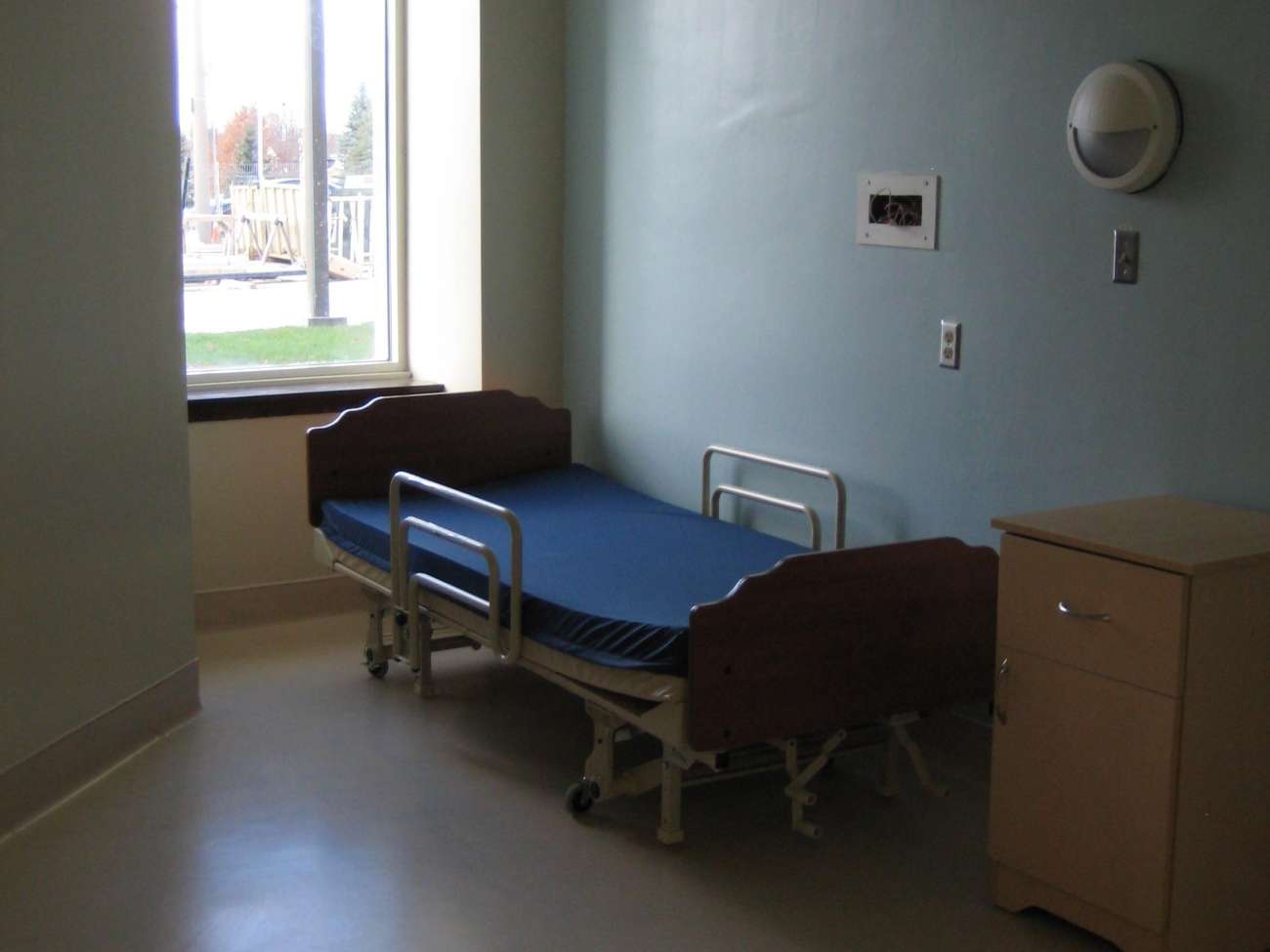 Mental health patient room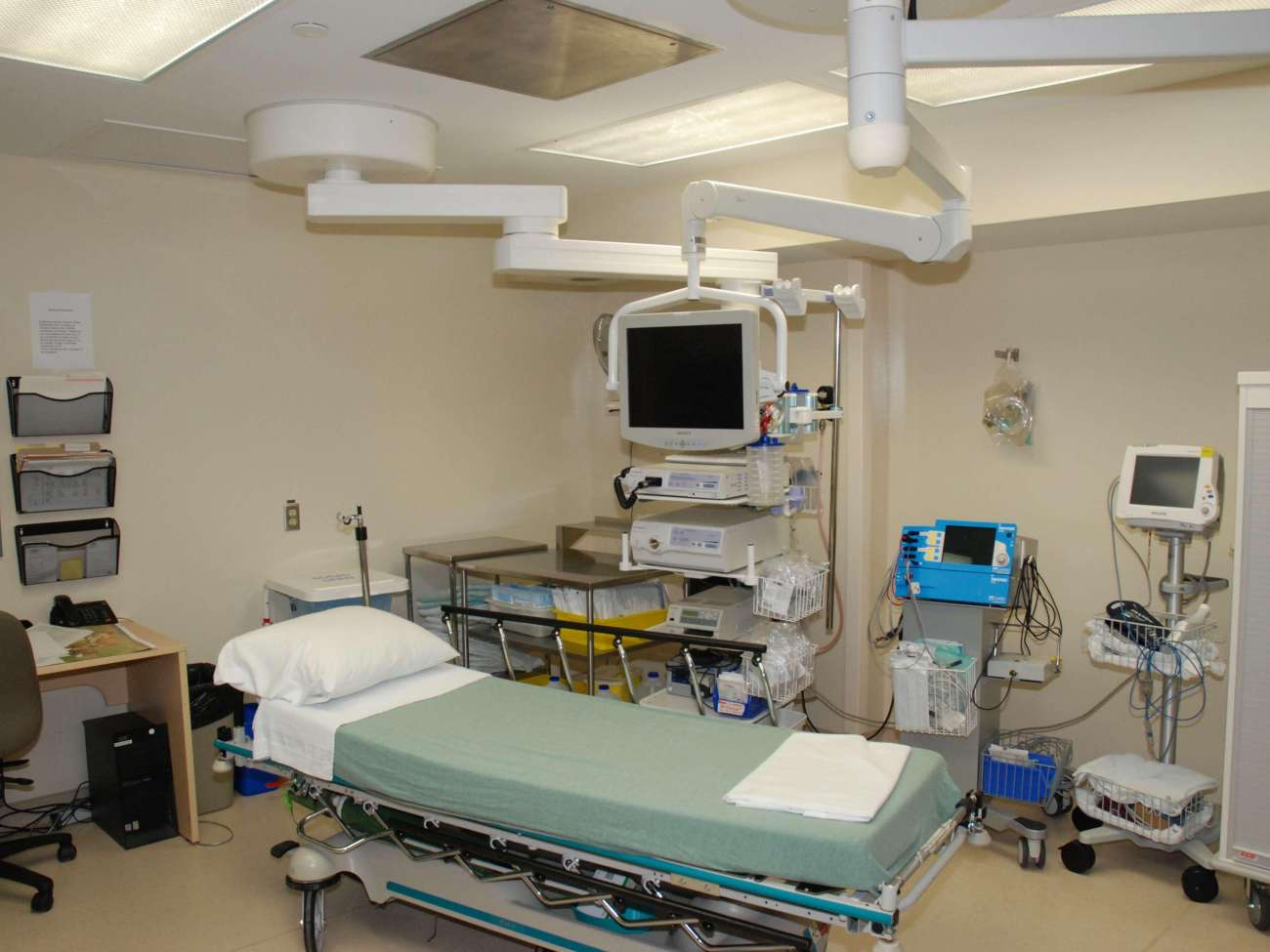 Endoscopy suite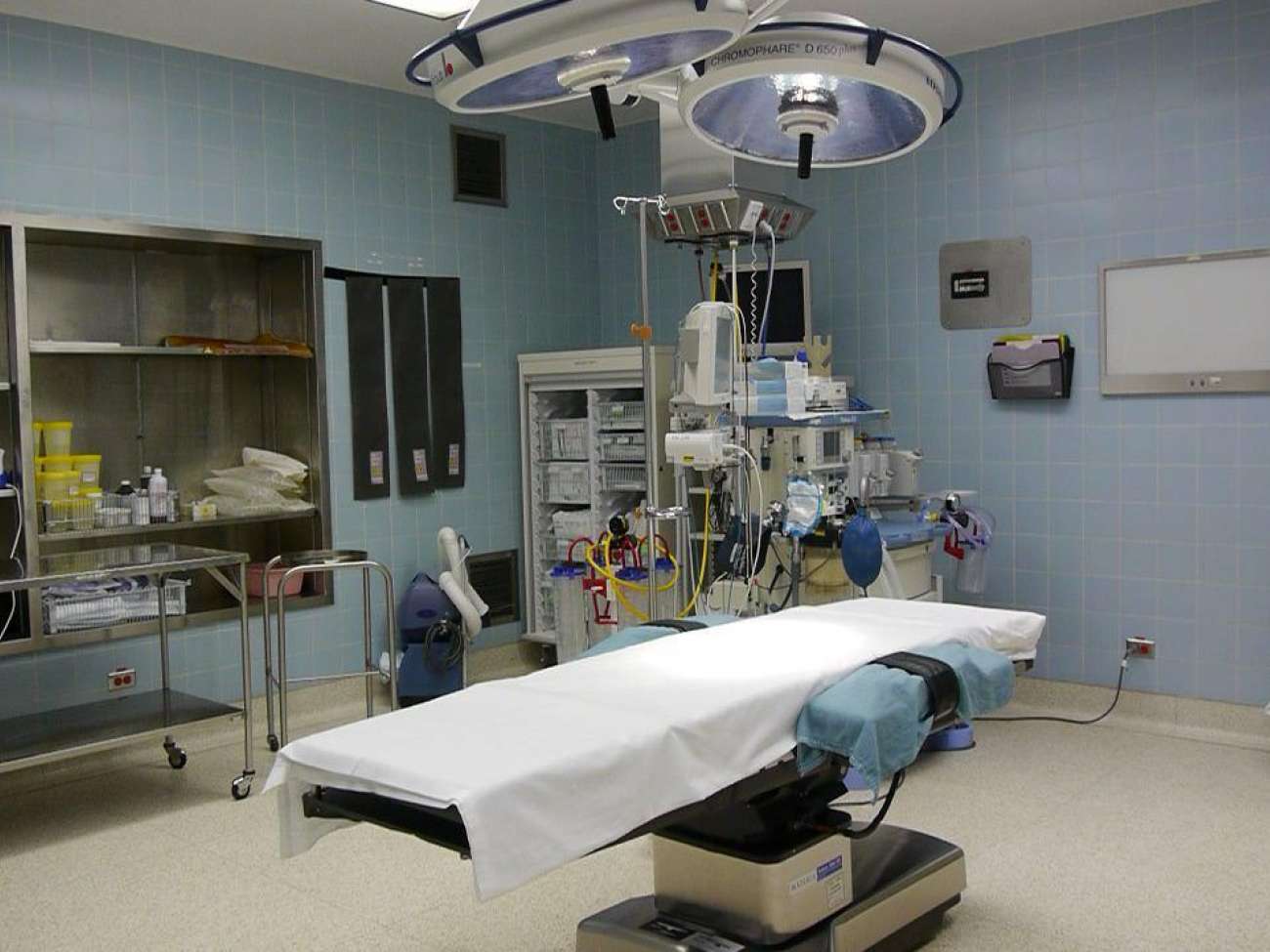 Surgical suite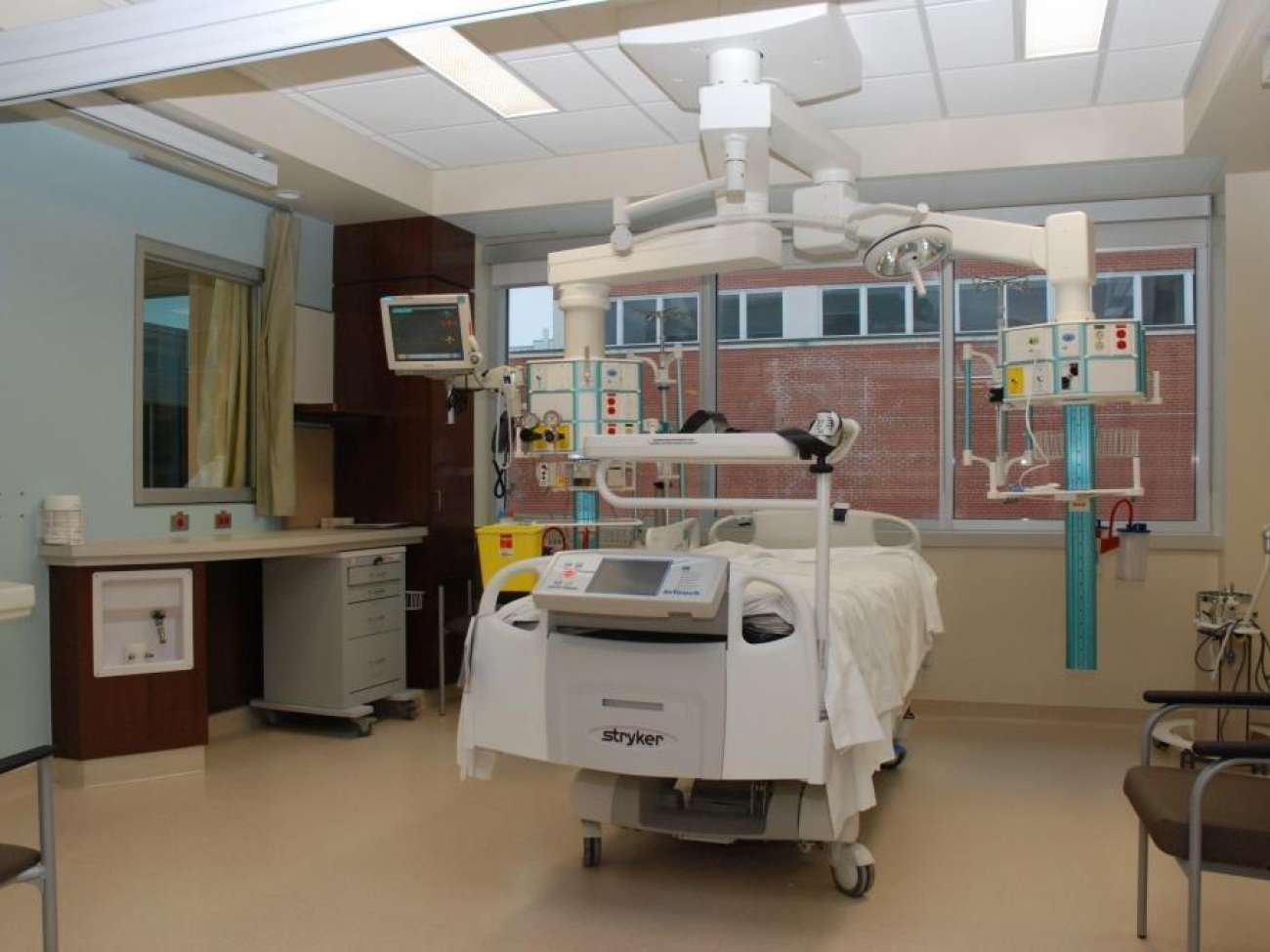 Intensive care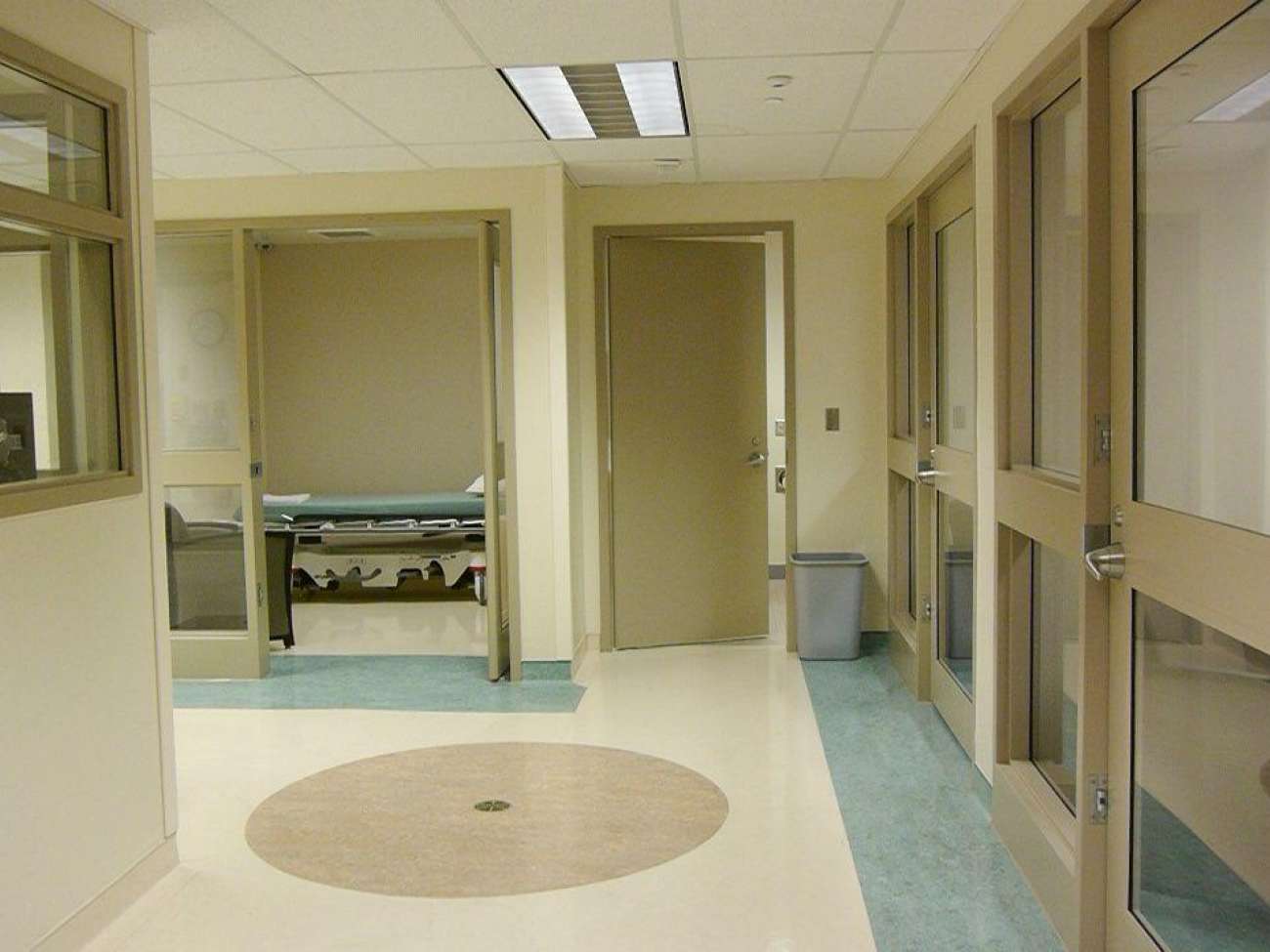 Extended assessment unit
EAU patient room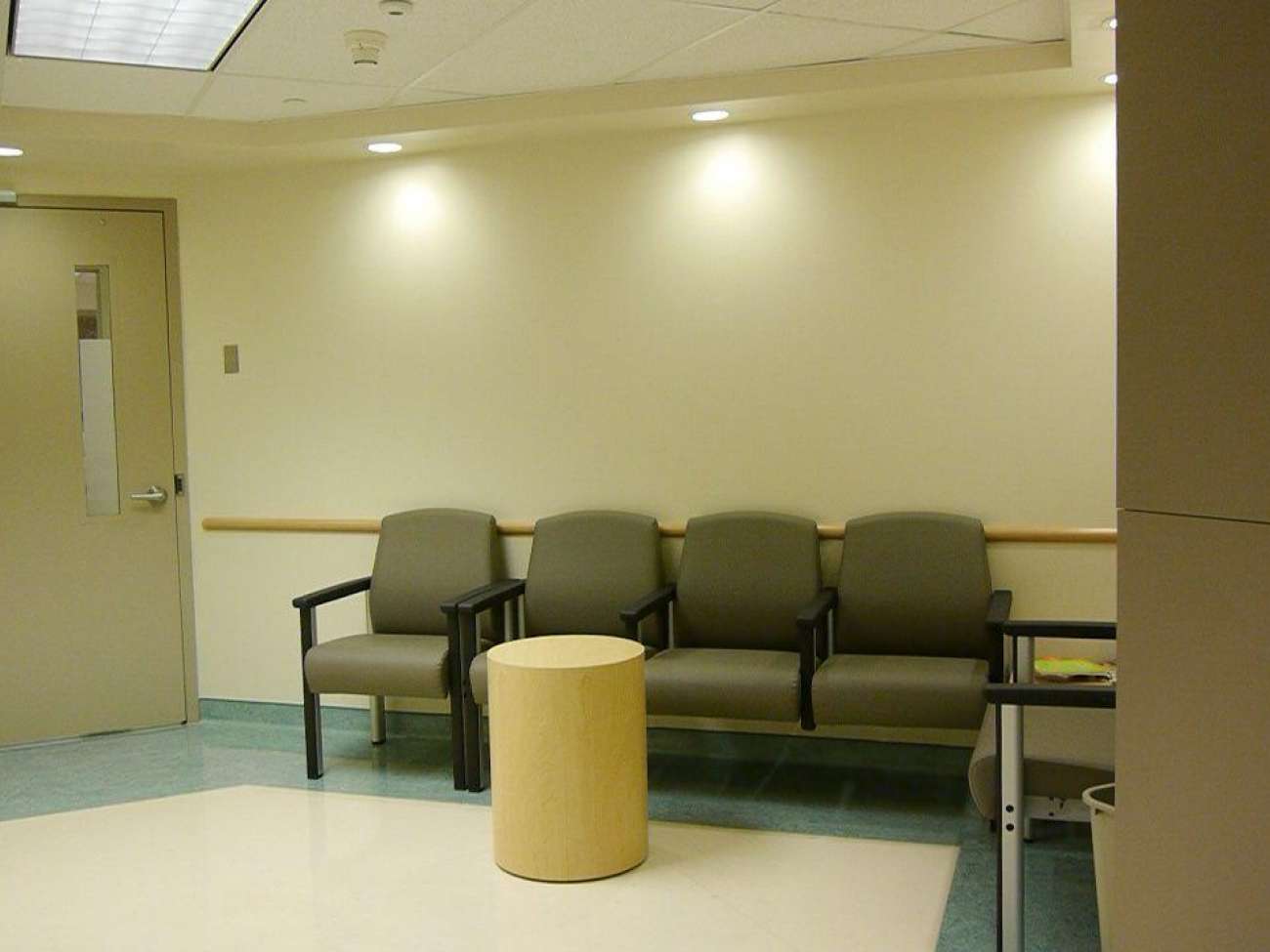 EAU lounge
Construction of the PCD project, valued at $63 million is now complete. The project added almost 40,000 square feet to the hospital campus and included several areas.

Adult Inpatient Mental Health
Renovations concluded in the fall of 2010 and have allowed GRH to expand from 44 to 52 beds thus improving services and providing a better environment for patients and their families with serious mental health care needs.
The new adult inpatient mental health unit includes a dedicated mental health entrance with its own reception, resource, and waiting areas; a landscaped courtyard providing a therapeutic outdoor space; a day hospital for patients who need care for a half or full day, but are well enough to go home each evening; and an eight-bed psychiatric intensive care area for the most acutely ill patients requiring constant nursing care and support.
Brachytherapy Suite
The addition of a brachytherapy surgical suite in August 2009 allows patients of Waterloo Region to receive enhanced radiation treatment of cancer, close to home.
The suite is most often used for breast, lung, early stage gynecological and oesophageal cancers.  
Brachytherapy is a surgical treatment that applies radiation internally, directly to the cancer site.
The initial treatment focus will be on gynecology, breast and urology cancer.
Designed with lead walls, the new brachytherapy suite is 600 square feet in size.
Child and adolescent inpatient psychiatry expansion
Grand River Hospital's new child and adolescent inpatient psychiatry unit (or CAIP) opened to patients in June 2011.
Providing exceptional patient care with a focus on recovery, the unit is bright, spacious and offers patients access to the outside through a private landscaped courtyard.
The new CAIP unit includes:
Individual bedrooms and washrooms for more privacy;
A landscaped courtyard for space and freedom in a safe environment;
An observation area for children requiring constant care; and 
A classroom to serve as an educational resource for patients and assist with the transition back to school.
Engineering master plan
The engineering master plan which was completed in the spring of 2013 has several components.
The main components include installation of sprinklers; fan replacements; induction replacement; sanitary stack replacement; and electrical upgrades.
Inpatient oncology
The new inpatient oncology unit was completed in August 2008 and provides easy access to the Grand River Regional Cancer Centre (GRRCC) without having to be transported through public areas of the hospital (between the main hospital and GRRCC).
Additional space allowed an increase from 22 beds to 30 patient beds.
Each patient room includes a private washroom with shower to ensure patient privacy and dignity.
Quiet rooms equipped with showers and sleeper chairs are available for family members who would like to stay overnight or who seek privacy.
A large family lounge provides a comfortable, home-like environment for families.
Intensive care unit (ICU)
GRH's expanded intensive care unit was completed in December 2010 and features a host of functional and aesthetic improvements to benefit patients and critical care staff.
The redeveloped ICU provides space for 20 beds and has expanded from 4,010 square feet to 15,000 square feet.
Each patient has a private care space of 225 square feet to accommodate technologically-advanced equipment and provide greatly enhanced privacy for patients and their families.
Large windows for every patient room offering plenty of natural light.
Ceiling-mounted articulating arms for instruments, monitors and supplies reduce equipment on the floor and improve infection control practices.
Five new isolation rooms are available for patients whose condition necessitates isolation, or who are at high-risk of contracting infections.
Quiet rooms with sleeper chairs are available for families as well as a spacious waiting area, a bathroom with shower and a kitchenette, fostering a family-centred approach to care.
Medical surgical day unit
The new outpatient unit was completed in June 2011 and brings existing services together in a 30,000 square foot area.
Consolidated services include day surgery, endoscopy, medical day care, minor surgical procedures, gynecology procedures and outpatient rehabilitation services.
To help patients easily locate the services they need, the new space provides a common reception, registration and waiting area, all with easy access to the hospital's main entrance.
Located adjacent to the operating rooms, the central outpatient services is more efficient for patients and staff.
Medical device processing
Upgrades to the medical device reprocessing department (MDRD) were completed in March 2010 and have allowed an increased focus on surgical and operational efficiency and infection control practices.
The changes support a state of the art closed case cart system to manage instruments and case packs for each OR procedure.
They also support increased capacity to meet best practice standards for cleaning and sterilization of instruments due to increased surgical activity.
Surgical suite (operating room)
The surgical suite renovations which were completed in October 2012 include a wide range of upgrades.
All 10 operating rooms received upgrades including improved lighting, better airflow, and electronic push button doors.
A family/waiting lounge and a quiet room were built adjacent to the surgical suites.
Infrastructure changes were made so that high-tech diagnostic and surgical equipment can be integrated into the hospital's data and imaging network, and be controlled through a nurse console right in the OR.
This increases our ability to support current and future technologies, including remote tele-mentoring.
GRH's new extended assessment unit
The new six room unit, located on the second floor adjacent to the emergency department, provides on-going crisis care and assessment for people with mental health needs.
The new extended assessment unit:
provides a calmer environment for patients to be interviewed, observed and assessed;
relieves pressure on the emergency department; and
strengthens the network of care for people who need support in a crisis.
This project was completed in November of 2012.