It is never too late to stop smoking, even if you have been told you have cancer. Quitting smoking is one of the best things you can do to help your cancer treatment. Whether you are scheduled to have surgery, radiation or chemotherapy, quitting smoking will help you.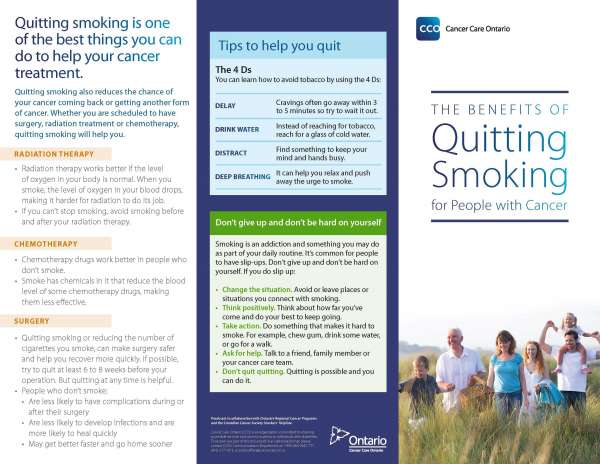 When you quit smoking some benefits are immediate, such as:
Blood pressure and heart rate return to normal within 20 minutes
8 hours after your last cigarette your carbon monoxide levels in your blood drop, your blood oxygen improves and breathing is easier
Risk of heart attack drops within 24 hours of quitting and your lungs will start to clear out mucus
Within 48 hours your sense of smell and taste improve, so you will probably start to enjoy food more
Energy levels start to improve three days after stopping smoking
Improved immune response
Quitting smoking leads to:
Improved treatment outcomes
Reduced side effects
Decreased risk of infection
Improved breathing and increased energy
Improved quality of life
Continued tobacco use after a cancer diagnosis leads to:
Higher rates of complications from surgery, and slower recovery
Higher treatment related toxicity from chemotherapy and radiation therapy
Increased risk of cancer recurrence
Increased risk of heart and lung disease
Reduced treatment effectiveness
Increased risk of a second cancer
Shorter survival
Results from the 2014 Surgeon General's report include:
In cancer patients and survivors quitting smoking improves health outcomes
Smoking increases the risk for recurrence, poorer response to treatment, and increased treatment related toxicity
Evidence suggests that the risk of dying can be lowered 30-40% by quitting smoking at the time of a cancer diagnosis. For some cancer diagnosis the benefits of quitting smoking may be equal to cancer treatments. (Toll et al 2013) https://www.surgeongeneral.gov/library/reports/50-years-of-progress/sgr50-chap-6.pdf

Learn how quitting smoking can improve your cancer treatments
Quit smoking resources
Quitting smoking during your cancer experience is a very difficult time, however it is a very important time to quit smoking. Smoking during cancer treatment can lead to less effective treatment and more severe side effects from the treatment. This is because of chemicals in the smoke, not the nicotine. If you are receiving care at Grand River Regional Cancer Centre and would like support to reduce or stop smoking you can:
Speak to your health care provider about quitting smoking;
Call a quit coach at Smokers' Helpline at 1-877-513-5533 or visit www.smokershelpline.ca (opens in new window)
There are also some options in the community that provide support:
STOP on the Road Workshops at Public Health Units
STOP on the Road is an exciting initiative which brings smoking cessation treatment directly to Ontario smokers in their communities in partnership with public health units. Workshop participants attend a three hour workshop where they receive a group psycho-education presentation and a cost-free five week kit of Nicotine Replacement Therapy (NRT) patches to support their quit attempt.
STOP with Family Health Teams
Family Health Teams (FHTs) participating in the STOP with FHTs Program are provided with up to 24 weeks free Nicotine Replacement Therapy (NRT) for enrolled patients.
Leave the pack behind
Leave The Pack Behind (LTPB) is a government funded tobacco control program that offers young adults, age 18-29 smoking and quitting information, personalized support, and quitting resources with up to eight weeks of free nicotine patches or gum.
You can quit smoking!
It's never too late to quit smoking!