---
Chemotherapy Treatment
Chemotherapy is a type of treatment that uses drugs to kill cancer cells or stop them from growing. Chemotherapy treatment may include one type of drug or a mix of two or more drugs. Your Oncologist will tell you the best options for you.
Chemotherapy treatment is often given in the Chemotherapy Suite or "Chemo Suite" found on the 4th floor of the Grand River Regional Cancer Centre. Some of the Waterloo Wellington Regional Cancer Program partner sites (opens in new window) also can give chemotherapy. Ask your health care team about care closer to your home.
Chemotherapy can be given:
In a pill form (oral chemotherapy)
Through a vein in your body (intravenous (IV) chemotherapy)
By injection into your muscle or under your skin
If you are offered chemotherapy you will:
Be asked to sign a treatment consent form
Meet with your nurse to review the treatment and side effects
Have your treatment booked and a schedule printed for you
Meet with your cancer pharmacist on your first treatment day to review your pills, supplements and/or vitamins
Chemotherapy Facts
It is very important that you fill out Your Symptoms Matter (opens in new window) at each follow-up visit to monitor your symptoms
You may not always get your chemotherapy at a cancer centre or cancer site. Some chemotherapy is given in a pill form that you will take at home
Your Oncologist will tell you how many treatments you will need
If you have any questions while getting chemotherapy ask your clinic nurse or chemo suite nurse
Unless told by your team, you can eat before and during your treatment. Make sure to pack snacks as some treatments can be long
One care giver or support person can sit with you during your treatment or visit with you virtually (using a phone, tablet or cancer centre iPad)
Your treatment plan may change over time
---

---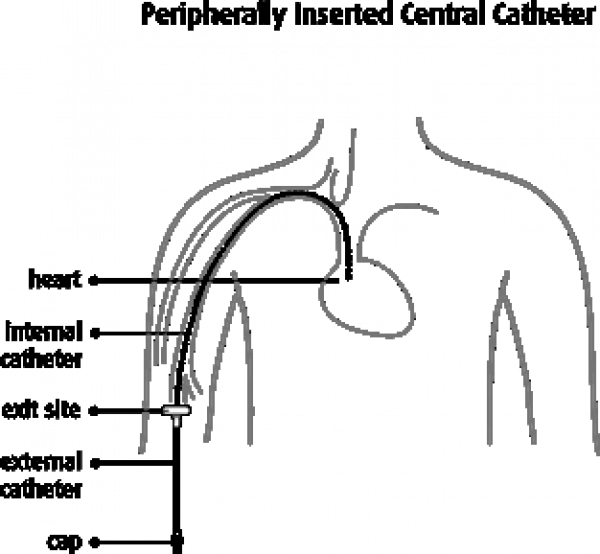 Central Lines
A central line is a thin, flexible catheter (tube) that will get placed into a vein in your neck, arm or chest.
A central line might be left in your body for weeks or months. It can deliver chemotherapy fluids, IV medications, IV fluids or nutrition. It may allow for less skin pricks.
PICC Line
You might hear the term "PICC line" during your visits. A PICC line is a Peripherally Insterted Central Catheter. It is put into a large vein on the inside of your arm, close to your elbow. The line travels inside of your vein to the top of your heart.
Implanted Device (Port-A-Cath)
An implanted device (a.k.a Port-A-Cath) is a small round titanium or plastic chamber. The top has a silicone (plastic) cover that will self seal after it is accessed by a special needle.
The port is placed under your skin. It can be on the right or left side of your chest. The catheter will travel under your skin, into a large vein near the collarbone through to the top of your heart.
For more information about ports visit the Memorial Sloan Kettering Cancer Centre web page, About Your Implanted Port (opens in new window).
American Cancer Society - Chemotherapy
---
Questions You Might Have
How does chemotherapy work?
Cancer cells grow in an uncontrolled way. Chemotherapy drugs slow or stop the cancer cells from growing, multiplying or spreading (metastasizing) to other parts of your body.
Chemotherapy is a powerful treatment that affects the whole body, so healthy cells can also be damaged. Damage to healthy cells can cause side effects that are usually temporary. In time, healthy cells will repair themselves.
How is chemotherapy treatment given?
Chemotherapy can be given by mouth (orally), or by injection (intravenous (IV)), depending on the type of chemotherapy. Your care team will help you decide the best method for you.
How long does chemotherapy treatment last?
Treatment plans vary to include daily, weekly and monthly treatments. Some visits may take less than 30 minutes while others may be five or six hours at a time. Once you and your health care team have determined the best treatment plan for you, they will be able to estimate the length of your particular treatment.
Are there any side effects?
Different drugs may cause different side effects in different people. Some patients experience no side effects and some patients can experience many side effects. Once you and your care team have determined your treatment plan, the doctor, nurse and pharmacist will review any potential side effects with you and give you advice on how to manage them.
Should I eat before getting treatment?
Unless otherwise instructed by your oncologist, it is okay to have a meal before to coming for treatment.
Can I eat while I am getting treatment?
Coffee, tea, juice, gingerale, water and cookies are available for patients while they are receiving treatment. If your treatment is long, you many want to consider bringing a lunch with you. Volunteers are also available to bring you items from Tim Horton's or lunch from one of the food providers in our cafeteria at the KW Campus. Please be considerate of other patients when bringing highly fragrant food into treatment areas.
Can I bring anything to help me pass the time?
We encourage patients to bring lap tops, handheld video games, cards, books, magazines etc. Please be courteous of others receiving treatment by keeping volumes to a minimum or by wearing head phones.
Can I use my cell phone while getting treatment?
Cell phones are not allowed in treatment areas to protect the confidentially and privacy of others. Please be sure to turn your cell phone off when entering the chemotherapy suite.
Can I family or friends to sit with me while I get treatment?
Family and friends are welcome to sit with you while you receive treatment. Please try to limit the number of visitors to one to two people due to limited space.
Will I be able to drive myself to and from treatment?
Since the type of medications and their effects can vary, it is best to have someone drive you to and from your first treatment. Ask your nurse or pharmacist at your initial treatment if driving is allowed for subsequent treatments. Patients receiving Benadryl during their treatment are advised not to drive for four hours after receiving it. Volunteer drivers are available to you. Please ask at the main registration desk for more information.
What should I do if there is a problem when I get home after getting treatment?
The patient triage line, 519-749-4380, is available Monday to Friday from 8:30 am to 4 pm to answer any questions, seek advice from nursing or to get in touch with your care team. For urgent issues, please go to your nearest emergency department or call an ambulance. Please click here for more information on contacting your health care team.
---
Chemotherapy Websites to Visit
All of the links below open in a new window.
---
Introduction to Chemotherapy: A Presentation for Patients and Families (North East Cancer Centre)