GRH is adding new cancer care services for patients in Waterloo Region and Guelph-Wellington. These advanced treatments will help patients remain closer to home for care.
Radiofrequency ablation (RFA) and transarterial chemoembolization (TACE) are now available in our region at GRH's KW Campus in Kitchener. 
We are using these services to first treat liver tumours (both primary and those that have spread from the colon), with the intention to add other disease sites over time.
More about the procedures:
RFA uses a small probe, inserted through the skin with minimal sedation, into the tumour under ultrasound, computed tomography (CT) and/or fluoroscopic (x-ray) guidance. Once the probe is positioned, it delivers radiofrequency energy or current into the tumour, agitating the tumour's molecules. The resulting friction causes the tumour's cells to super heat, killing them. This procedure will be performed in GRH's ultrasound, CT or interventional radiology suites.
TACE uses two ways to kill tumours. First, the arteries supplying blood to the tumour are entered with a small catheter, which is then used to fill and plug the arteries with either microscopic particles or specialized oil droplets, choking off (or embolizing) the tumour's blood supply. Second, the same microscopic particles or specialized oil droplets carry chemotherapy drugs. The drugs deliver high doses of targeted, local chemotherapy, directly into the tumour. Combined, this treatment is called chemoembolization. This procedure will be performed in GRH's interventional radiology suite.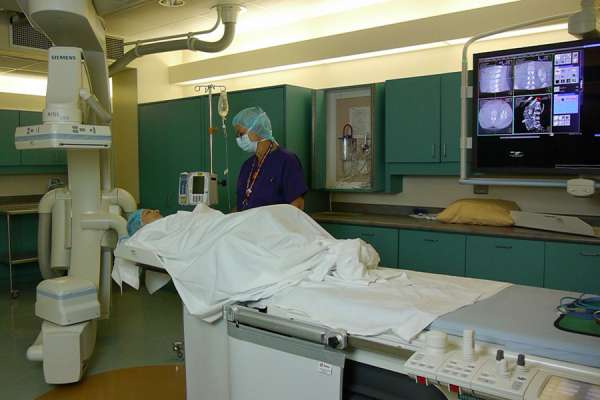 For patients:
Referrals for cancer treatments take place via your family physician. We encourage you to ask your doctor whether these treatments may be appropriate for you.
For care providers:
The physicians who will provide care for RFA and TACE patients include Dr. Mohammed Husien (hepatopancreatic biliary surgeon), Dr. Khalid Hussain, Dr. Darren Knibutat (interventional radiologist), and Dr. Ken Leung (hepatopancreatic biliary surgeon).
Discussions will take place via multidisciplinary cancer conference (MCC) presentations at Grand River Regional Cancer Centre, with opportunities for referring MDs to participate.
Advancing exceptional cancer care:
These treatments are part of Grand River Hospital's designation by Cancer Care Ontario as one of only nine hepatopancreatic biliary (HPB) programs in Ontario for the treatment of liver and pancreatic cancer. Funding from Cancer Care Ontario will support these new services. 
Generous community support has provided the necessary equipment to offer these new techniques. The hospital's interventional radiology suite was renewed in 2013 thanks to generous community support to the Grand River Hospital Foundation (opens in a new tab), while GRH welcomed a new CT scanner in 2017 thanks to donor support.