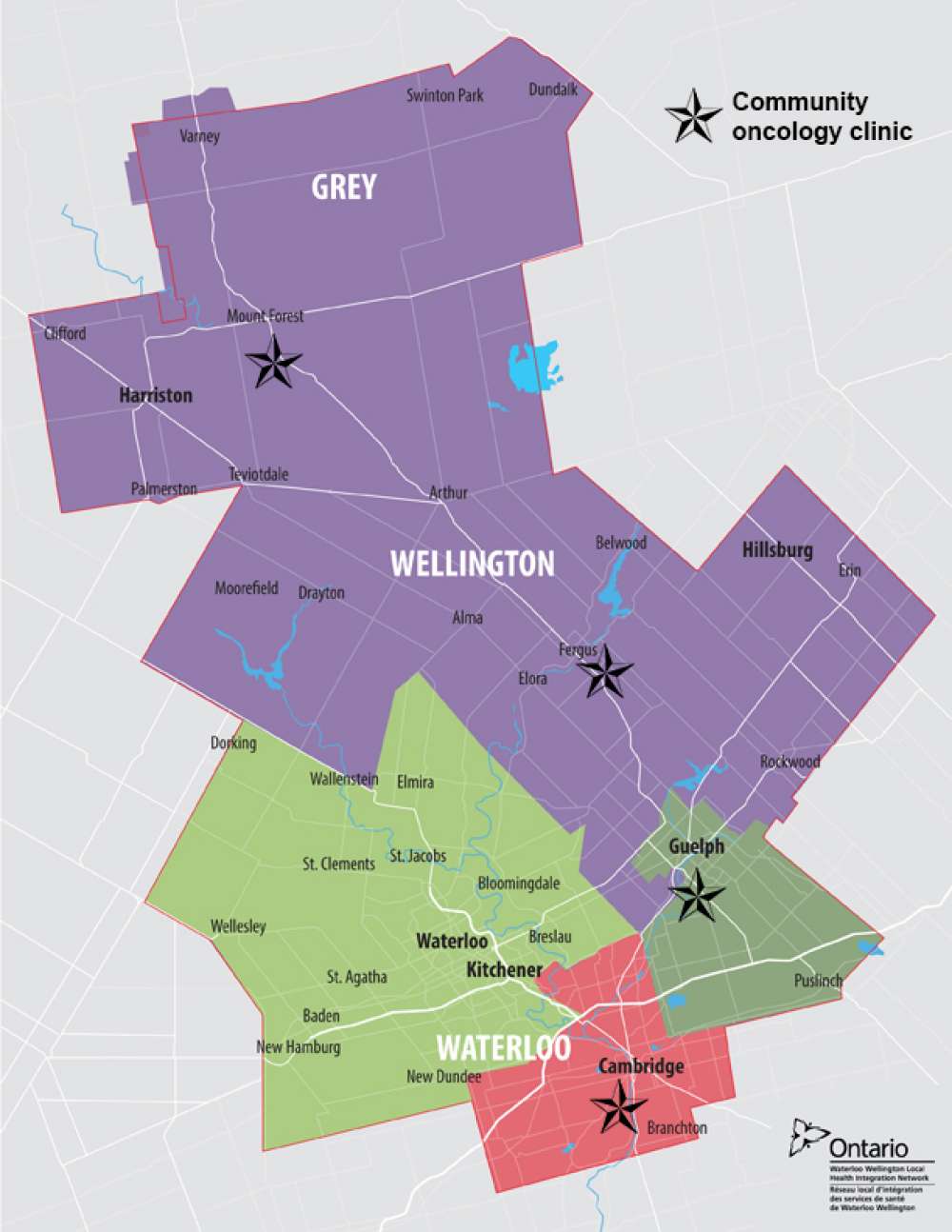 Please note that many of our regional programs have closed or been reduced due to COVID-19. Please check this page for the most up-to-date information regarding your appointment.
Who are we?
The Waterloo Wellington Regional Cancer Program (WWRCP) is a network of partnerships made up of healthcare professionals and organizations that provide cancer care across Waterloo Region, Wellington County and the southern portion of Grey County. The WWRCP is responsible for cancer prevention, screening  and care delivery under the leadership of Cancer Care Ontario Interim Regional Vice President, Cancer Services Sue Robertson.  
What do we do?
Together the partners are responsible for implementing provincial standards and programs for cancer care and ensuring service providers meet the requirements and targets set by Cancer Care Ontario. The program responds to local issues, coordinates care across local and regional healthcare providers, and works to continually improve access to care, quality, and wait times.
Waterloo Wellington Regional Cancer Plan 2016-2019
The Waterloo Wellington Regional Cancer Plan 2016-2019 has a clear focus on improving services within our community, and ultimately providing individuals with the best care through their entire cancer experience. This plan will help our region develop and deliver improved cancer services. Our community will benefit from a focused and collaborative effort that will allow for streamlined services to be in place that will best meet the needs of individuals and their families.  

Read our plan below.

Our partners:
Regional cancer centre:
Grand River Regional Cancer Centre
Partner hospitals:
Other partners in care:
To learn more about regional cancer programs across Ontario, visit the Cancer Care Ontario website (opens in new window).
How are we doing?
A snapshot of cancer trends in the Waterloo Wellington Regional Cancer Program is summarized in the Cancer System Quality Index (CSQI) 2015 report for Waterloo Wellington LHIN (opens in new window).