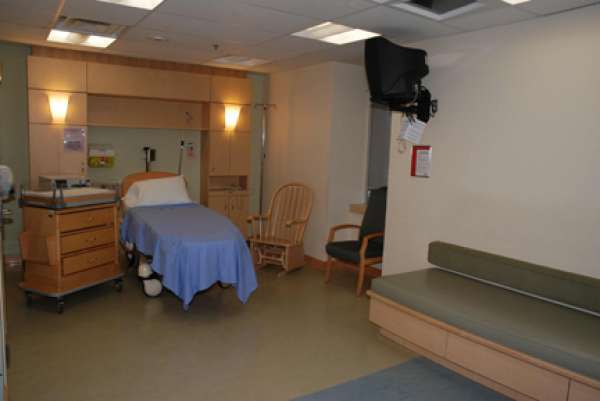 Also known as the Marjorie Carroll Childbirth Center in recognition of Marjorie's significant contribution to hospital fundraising as the chair of Campaign KW, GRH's childbirth inpatient program is the largest community hospital-based obstetrical service in Waterloo Region. We are located on the fourth floor of Grand River Hospital's KW Campus, 835 King Street West in Kitchener.

We have state-of-the-art labour/birth/recovery/post-partum (LBRP) suites that allow women with low-risk deliveries to remain in one room throughout their childbirth experience.

Our antenatal/post-caesarean unit offers a comfortable environment for women and their newborns. Each room is equipped with its own washroom that includes a shower. Our two operating suites manage both elective and emergency caesarean-sections.
What to bring with you
We have compiled a list of things to bring with you to the hospital to help you prepare for the birth of your baby.
When to come to the hospital
If you have concerns regarding your pregnancy or baby's health and are 20 weeks gestation or greater, please come to delivery triage to be assessed (4th floor).  If you are less than 20 weeks gestation and have concerns, please go to the emergency department. 
Registration
Each time you come to the hospital, you will need to register. Registration for the childbirth program takes place at the registration desk on the fourth floor in the D-Wing. Please bring your health card and any additional information from your doctor related to your pregnancy. You will also be asked to update your insurance information for your choice of a private, semi private or ward room. Visit our room options and costs page for more information.

If you arrive Monday through Saturday from 6:30 am to 11 pm or Sunday from 6:30 am to 9 pm, please enter through the hospital's main entrance. If you arrive at the hospital during any other time, please enter the hospital through the emergency department entrance (as the main entrance doors are locked).
Arrival at the childbirth unit
After you have registered, you will be directed to triage. Obstetrical triage sees pregnant women who are above 20 weeks gestation for any pregnancy-related concerns and labour assessment. Any non-pregnancy related concerns will be directed to the emergency department.
If you have to come to the hospital in labour, the nurse will assess you, check your baby's heart rate, and may also do a vaginal examination to see if your cervix has dilated. If you are not in active labour, the nurse and doctor will decide whether you will stay for observation, be admitted, or go home if everything is fine.