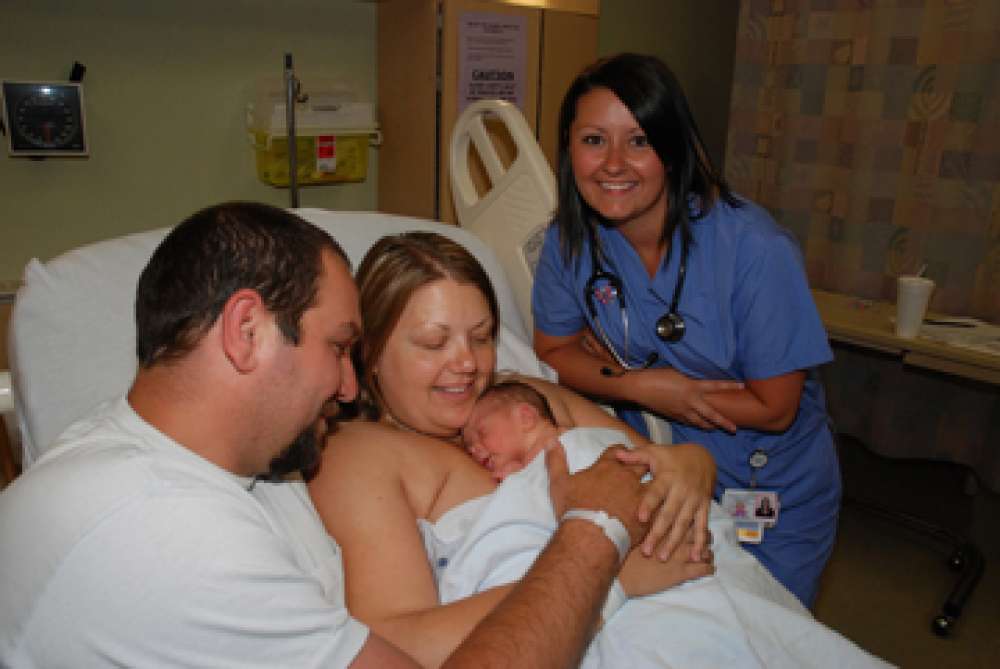 Admission to the childbirth unit
In the childbirth unit, a nurse will ask you to change into a hospital gown or your own birthing gown. A doctor who is studying obstetrics may also examine you and ask some questions. Your support person and your nurse will work with you to help in the labour and birth of your baby. Please ask questions about any concerns you may have. You will have a nurse with you throughout your labour.
As part of a hospital safety initiative and to include you in your care, staff who are leaving at the end of their shift will complete provide a report about your care at your bedside with the staff who are starting their shift, with your consent. See the poster in your room for more information about this or speak with your nurse.
If you have a vaginal birth, you can expect to deliver and recover in a labour/birthing/recovery and post-partum care (LBRP) room. If you have had a caesarean section, after surgery you will be moved to a room in the antenatal/post caesarean unit.

We encourage you to read more at the following pages:

Videotaping policy
If you wish to videotape your baby's birth, the appropriate hospital waivers must be signed and all those present must first give their permission to be videotaped. As a general rule, videotaping is only allowed after the birth of the baby. Please speak with your healthcare provider if you have any questions concerning our videotaping policy.

After the birth of your baby
If you experience an uncomplicated vaginal birth, soon after birth your baby may be placed on your chest, skin-to-skin. This will allow you to spend precious time close to your newborn. Skin–to-skin contact has been shown to stabilize newborn temperature and blood sugar. Skin-to-skin contact will be encouraged for your newborn during tests such as lab tests because it helps to reduce pain and increase comfort for your newborn.
Matching arm bands will be placed on you, your support person and your baby for identification and safety. These bands are checked with you at this time and your baby's bands are checked each time a procedure or test is done. The bands remain on each of you until after the baby is discharged safely home.
At some point, your baby will be dried, weighed and wrapped in a blanket. Staff will check to make sure your baby is doing well. Babies who need to be closely watched or need treatment will be cared for in our neonatal intensive care unit (NICU).
Most babies are alert during the first couple of hours after birth and it is a wonderful time for families to be together. You are encouraged to hold your baby skin-to-skin and breastfeed your baby. Ask your nurse for help if you need assistance.

After the birth of your baby, you will have a primary nurse or midwife (if you are receiving midwifery care) who is responsible for you and your baby's care. Nurses and/or your midwife will help you with feeding your baby. For additional support, an International Board Certified Lactation Consultant (IBCLC) is available to work with you and your nurse to meet your infant feeding needs. For pain and discomfort after the birth of your baby, we offer a postpartum self-administration medication program. You will be given a package with acetaminophen, ibuprofen and stool softeners with instructions on how to take them.

Most women who experience an uncomplicated vaginal birth can expect to go home within six to 24 hours. Women who are under the care of a midwife will receive home visits and may go home before six hours after a vaginal delivery if mom and baby are well. Women who have a caesarean birth are usually well enough to go home within two to three days. Your doctor, midwife and nurse will ensure that you and your baby meet certain criteria before you are discharged home.

We'll also show you a video which provides information about caring for you and your baby once you go home. If you have any questions, speak with your doctor, midwife and/or nurse about you and your baby's readiness to go home.