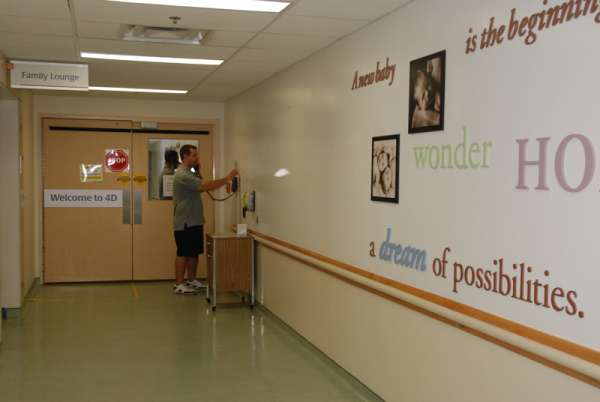 Security for your baby
To provide the highest level of safety and security for your baby, the childbirth unit is a closed access area. 
Entry to the unit
To enter the unit, you must first pick-up the phone outside the childbirth program doors and identify yourself. Staff will allow entrance to partners, support persons and visitors as per our visiting policy.
Matching arm-bands
When your baby is born you and your support person as well as your baby will receive matching armbands that are checked when you receive them, any time a procedure or test is done and at staff shift change. These bands need to remain on all of you until after the baby is discharged to go home.
Check-in
It is important for us to know who is on the unit at all times. To assist us with this, we ask that when you enter or leave the unit, if someone follows you through the door, ask them to check-in at the front desk or inform a staff member if the person does not check in. All visitors (excluding parents/guardians) are required to check in and out at the front desk. Childbirth areas are monitored by security cameras.
We also ask for your help to keep your baby safe:

Make sure all caregivers who enter your room have and show their proper Grand River Hospital identification badge;
Should your baby need to go for a test or an appointment, you or your support person have the right to accompany the baby off the unit with the nurse. When the baby is returned to you, the nurse will check that your armband and the baby's armband match.
Never leave your baby alone in your room. If you have to use the washroom and your support person isn't in your room with you, please take your baby with you in the bassinet;
Any time your baby leaves the room, please ensure that the baby is in the bassinet. This is to reduce the risk of falls;
Know where your baby is at all times; and
Pull the call bell immediately if you have any questions about your safety or that of your baby.
Going home
It is important to prepare for your hospital discharge well before you come to the hospital. If you have other children, please arrange for someone to care for them while you are in the hospital.

Prepare your home to ensure you have all the necessary supplies for both you and your baby. Stock up on easy-to-prepare foods and if friends ask how they can help suggest they make and freeze meals that can be easily defrosted and prepared. Ask for the help of family members to take your flowers and extra belongings home for you if needed.

You will likely still need to wear your maternity clothes when you leave the hospital; it will take time before you are back to your pre-pregnancy weight and shape. We recommend that you have a diaper and outfit for the baby to wear home.

By law, your baby must leave the hospital buckled-up in an approved car safety seat. Please obtain a proper car seat before your baby's birth.
While in hospital you will receive a copy of the Region of Waterloo New Parent Resource Guide (opens in new window). This booklet contains local information for parents to be and parents of children up to six years of age.
More helpful information from the Region of Waterloo: