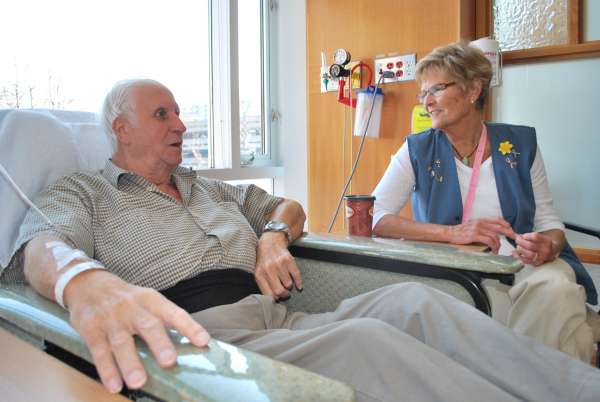 Thank you for your interest in volunteering with Grand River Hospital. While we are currently not able to welcome new volunteers on site during the pandemic, there are still many ways you can engage and support our community and Grand River Hospital! If you are looking to donate your time, skills, and passion for health care in the Kitchener Waterloo region during this pause in our on site volunteer programs, you can become a Grand Champion with Grand River Hospital Foundation! Our Grand Champions create meaningful impact every single day in our community, hospital, and every aspect of what Grand River Hospital is. Grand River Hospital Foundation is currently offering safe, remote, and engaging roles for our volunteers to support. If you are interested in learning more and getting involved, please visit grhf.ca.
Please read more below if you would like to learn about the requirements of on site volunteering, and check back for updates about when on site volunteering may resume.
The minimum age to volunteer is 16
There is a minimum six month commitment required for all volunteers (excluding summer student program)
A typical volunteer placement is a regular recurring shift of between three to four hours, once per week, for example every Wednesday 6:00am to 10:00am
Prior to starting your placement, you will be asked to provide a police background check. Certain positions will require a Vulnerable Sector Screening, and others will require a Police Information Check. Details will be provided during your interview. Volunteer applicants are responsible for the applicable fees.
You will be asked to provide two professional references
You will need to provide proof of immunizations and TB skin testing. Click here to Click here to find out more about health requirements. This will be reviewed at your interview, if you are selected.
Due to the high level of interaction with patients and visitors, volunteers must have excellent communication skills, including verbal and written English. Additional languages are an asset.
There are some areas of the hospital that do not offer volunteer opportunities, such as the pharmacy, laboratory, nutrition and food services, security, and environmental services
Job shadowing and observerships do not come under the scope of volunteering and are not offered through the volunteer resources department.
For those who are interested in volunteering in the summer only there is a summer program for university, college and high school students.
Summer student placements require attendance each week, with two volunteer shifts per week. Placements can start as early as May, or for the summer months of July and August. More information can be found on the summer student program page.
Now, it's time to choose where you'd like to volunteer.
Grand River Hospital has two campuses, and a regional cancer centre located at our KW Campus.
The Freeport Campus is at 3570 King Street East in the south of Kitchener, not far from Highway 401 and Conestoga College's Doon Campus. Freeport is the primary location where we provide complex continuing care and rehabilitation programs in the community. These clients come to the hospital for therapy after strokes, amputations, pulmonary illness and trauma injuries. Freeport is also home to outpatient services and a specialized mental health program. Keep scrolling to apply for Freeport volunteer opportunities, or learn more about the Freeport Campus here.
The KW Campus is at 835 King Street West near downtown Kitchener, and very close to the border of Kitchener and Waterloo. It specializes in acute care with programs in surgical, medicine, mental health, emergency, child birth and children's services. Keep scrolling to apply for KW Campus volunteer opportunities, or learn more about the KW Campus here.
Grand River Hospital's Regional Cancer Centre is located on the GRH KW Campus property, and is open Monday to Friday from 8:00 am to 4:30 pm. It provides a wide range of advanced cancer treatment services including chemotherapy and radiation therapy.
Note: Please submit only one application form for your area of interest. Multiple applications will not be accepted.
Click the picture to view volunteer roles for each location and send in your on-line application...
Our committment to accessibility for our volunteers:
Grand River Hospital strives to create a respectful, accessible and inclusive environment for all volunteers. Upon individual request, recruitment processes will be modified to remove barriers to accommodate those with disabilities. Should any applicant require accommodation through the application, interview or selection processes, please contact volunteer resources for assistance.