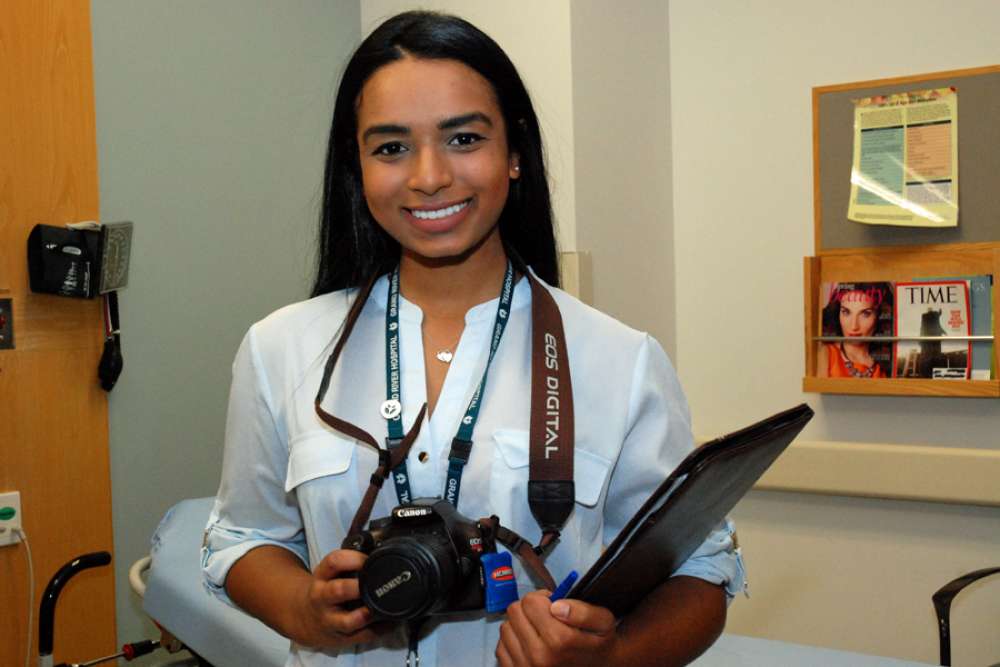 What does a volunteer do?
Volunteers are carefully screened and trained for various positions in the hospital that include, but are not limited to:
Providing emotional and practical support
Greeting and directing patients and visitors to various areas in the hospital
Helping to run GRH Volunteer Association businesses such as our gift shops
Our goal is to enhance care at the hospital by providing excellent customer service to our patients, visitors and staff. 
What skills do you need to volunteer at the hospital?
We are looking for individuals who enjoy being around people and have the ability to comfort individuals under stress. The skills we look for in our volunteers are compassion, good listeners, reliable, team player and the ability to take initiative. Training is provided for your volunteer placement.

See our spotlight feature with our volunteer coordinators Owen and Susan for more.
What are the requirements for being a volunteer at Grand River Hospital?
Complete an online application form 
Attend an interview with the volunteer coordinator
Provide two professional references
Provide a police check – some roles will require Vulnerable Sector Screening. Please check with your coordinator for details
Visit our occupational health nurses for an immunization review and TB testing
Complete our online training and attend an orientation session
Registered volunteers receive complimentary parking for each of their scheduled shifts.
Can we volunteer at more than one site?
Applicants need to choose one role and one campus for their initial application.  Adding a second shift is possible after you have started and served for six months
I'm a student. Can I just do my 40 hour requirement?
Students who wish to only complete their 40 hour requirement can participate in our summer student volunteer program.
Students are welcome to apply for our year round program if they meet our minimum age requirement and can commit to six months.
How many days do I need to volunteer per week? Can I volunteer more than once a week? 
You are required to volunteer at least once a week. Shifts are typically three to four hours in length. You will be required to volunteer on the same day and at the same time each week as this provides consistency for staff, patients and families.
Do we need to wear a uniform?
We will provide you a uniform vest, and ask you to follow a hospital dress code.
What if I'm not available during the times listed in the current openings?
Our recruiting needs change and we invite you to check back on our website to see if there are updates or new positions become available that meet your schedule.
How long does the application process take?
As a general rule, most applications take between 4 to 6 weeks to complete.
How does the selection process work, and what is taken into consideration?
All information included on the application form is considered, along with your availability, past experience and education, and any age requirements (some programs have a minimum age of 18 years)
Is it possible for me to shadow a doctor during the course of my volunteer placement?
No, this is not in the scope of our volunteer roles.
I'm a co-op student and not available for six months in a row – can I still volunteer?
Coop students can complete the six month commitment in non-consecutive months – volunteer during your four month academic term, and return to volunteering on your next term to complete the commitment.
How long do I have to volunteer to get a letter of reference?
We ask that you volunteer for 80 hours prior to requesting a letter of reference.
Is it possible to volunteer for special events or fundraising efforts?
The Grand River Hospital Foundation welcomes volunteers. Please visit their website at http://www.grhf.org/ (opens in new window).