Posted: October 13, 2017
GRH is pleased to announce the agenda for this fall's Day in Psychiatry. The educational event gives family physicians and community mental health providers a great opportunity to connect with psychiatry staff at Grand River Hospital and other regional professionals on a range of mental health topics.
Accredited by College of Family Physicians of Canada- Ontario Chapter
We are pleased to announce that the Day in Psychiatry has been accredited by the College of Family Physicians of Canada and its Ontario Chapter. The event is accredited for 5.5 Group Learning Credits.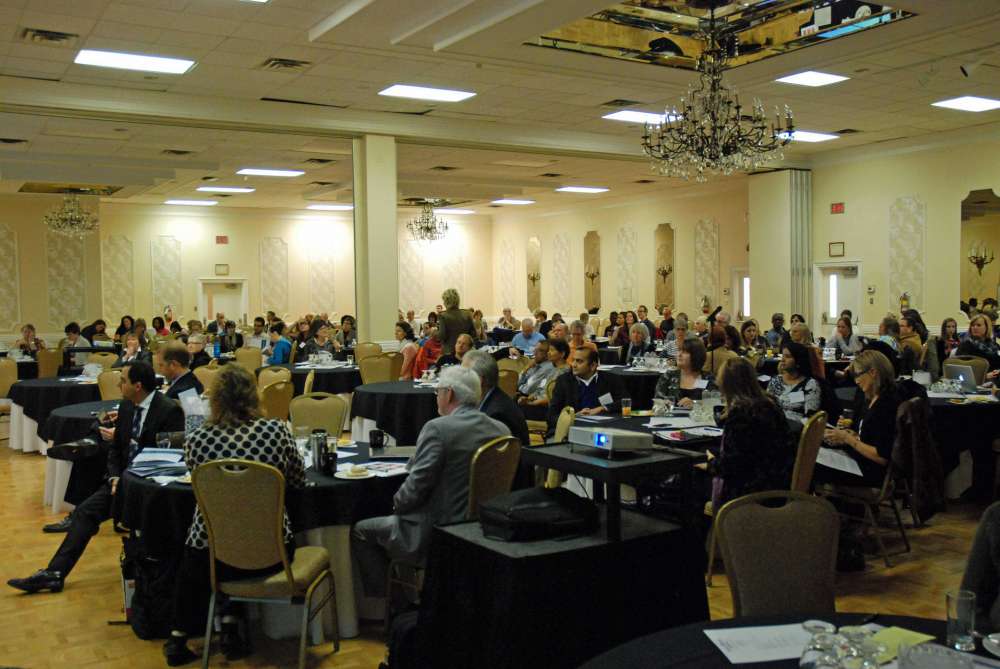 This year's event will take place at the Bingemans Conference Centre ballroom at 425 Bingemans Centre Drive, in Kitchener, ON.

Early registration runs from July 30th to September 30th, and costs $125. After October 1st, the fee will be $150. Student registration is $35 (limited spaces are available).
Please register on line at our Event Brite page (opens in a new tab).
For more information, please contact Dr. Peter Kuhnert MD FCFP, the education day coordinator, at (519) 749-4300 extension 7041 or peter.kuhnert@grhosp.on.ca

Invited speakers:
Dr. Richardson O. Tachere,  Psychiatrist and Medical Director, FACT Program CMHA- Kitchener
Dr.  Kanwal Kukreja, Adult Psychiatrist, Specialized Mental Health-Freeport, Dept. of Psychiatry- GRH
Dr.  JD Vanderkooy, Child and Adolescent Psychiatrist, CAIP Unit, Dept. of Psychiatry-GRH
Dr.  Andrew Ekblad PhD, Clinical Psychologist, Broadleaf Health Services, Guelph
Dr. Cletus Okonkwo, Geriatric Psychiatry, Dept. of Psychiatry- GRH
Panelists:
Fred Wagner, Executive Director, CMHA-Waterloo Wellington Dufferin
Dr. John Heintzman, Chief of Psychiatry, Dept. of Psychiatry-GRH, Physician Lead, Waterloo-Wellington CMHA
Dr. Sabrina Lim Reinders, Family Physician, Primary Care Physician Lead, WWLHIN
Agenda:
| Time | Topic | Presenters |
| --- | --- | --- |
| 0830 | Registration/Refreshments/Displays | |
| 0855 | Morning session opening address | |
| 0905 | Office Management of Patients Living With Schizophrenia | Dr. Richardson O. Tachere |
| 1000 | Principles of Office-Based Counselling  | Dr. Kanwal Kukreja |
| 1055 | Break | |
| 1110 | Update on Managing OCD | Dr. JD Vanderkooy |
| 1205 | Lunch | |
| 1255 | Afternoon opening remarks | |
| 1300 | Panel Discussion: Trajectories for Learning and  Collaborating Together- Family  Medicine, Psychiatry, and Community Mental Health | Fred Wagner,  Dr. John Heintzman Dr. Sabrina Lim Reinders |
| 1355 | Dialectical Behaviour Therapy | Dr. Andrew Ekblad PhD |
| 1450 | Break | |
| 1505 | Managing Anxiety Disorders in a Geriatric Population | Dr. Cletus Okonkwo |
| 1600 | Closing Remarks | |

Thank you to our sponsors:
Janssen
Otsuka
Pfizer
Purdue
Shire
Sunovion
The KW Pharmacy
Allergan Inc