Posted: March 15, 2017
Philip Holmes from GRH's regional renal program is a fellow who's always interested in ideas, whether it's implementing others' suggestions or coming up with some of his own.
So it's little wonder that the nearly 30 year veteran of GRH has won the hospital's latest team award of excellence for his compassion and team work.
Philip is a charge tech in renal technical services. He and his colleagues support the wide range of equipment that provides life-sustaining dialysis treatment for patients with kidney failure. He's also offered his expertise to the CSA Group (Canadian Standards Association) and Health Canada on home dialysis and water treatment standards.

Philip's nominators recognized him for the following:
Compassion: when Philip deals with members of the renal technical team, his compassion is exceptional. When staff have needs due to injuries, family issues or vacations he is there to help or offer suggestions how to properly submit the requests so they are issued smoothly and without delay. You can bounce ideas off him and he won't make you feel like your ideas are trivial or unimportant.
Even when Philip is busy, he will spend the time to listen to your suggestions or concerns. He always comes back with positive feedback. Philip is always leading us to deliver the best possible technical services for the dialysis patients, nurses and departmental staff.
Collaboration: Philip has had many excellent ideas and is open to collaboration with the team on his and our ideas. Every morning at the start of the day Philip is asking about day-to-day operations and how we can effective utilize the renal technical team. He listens to other team members to fine tune details about what we are doing, where we are going (which can include all over Waterloo and Guelph Wellington) to service and support the renal program.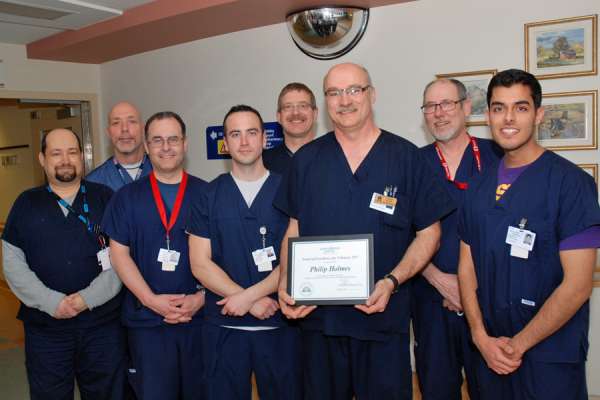 Positive attitude: with such a busy department serving not only in-centre operations but also the hemodialysis in patients' homes, Philip provides a positive attitude and smile when things get busy. His laugh can be heard when the pressure mounts or frustrations occur due to last-minute changes to the program.
With his positive attitude, the technical staff members are always there to support him as well with projects or repairs that occur day to day. Philip is doing a terrific job making us feel like we are a team providing an excellent service to the renal program.
Professionalism: Philip is always coming up with new ideas and projects that work for our technical team. One example is retro fitting our home dialysis program vans new tool boxes and shelving to provide a better way to service our home patients. Because Philip works well with the technical team, we feel he can be called any night and day should a problem occur that requires his expertise and advice.
Respect: working closely everyday with the same technical staff, he always shows respect and privacy when staff have concerns. Philip has known our technical staff members from two years to 30 years. He shows professionalism and respect to every team member. Spending that little extra time seems to be Philip's motto and reaching out to fix problems is his goal.
Congratulations Philip and thank you for your exceptional dedication to GRH patients, families and staff members.