Posted: June 1, 2015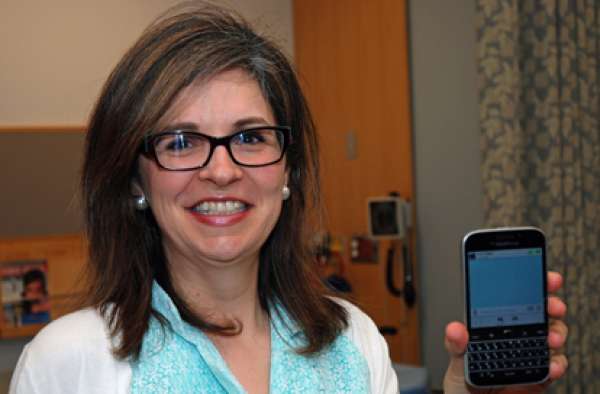 Kathleen Lavoie lives and breathes patient privacy.

Thanks to her work with Waterloo-based BlackBerry, Grand River Hospital is getting ready for secure instant messaging. This service will help care providers quickly send and receive information as they consult on patients' health needs.
As GRH's chief privacy officer, Kathleen makes sure the hospital meets all of its legal responsibilities for the safekeeping of patient information.
She also has an interest in helping care providers get the latest health details so they can support their patients.
"In addition to high-quality care, the security of personal health information is one of the most important responsibilities we must fulfill for our patients," she explains.
"Everyday text messaging would not work for us. We need a service that's secure and encrypted so our patients' health information remains private."
When BlackBerry introduced GRH to BBM Protected, Kathleen and her team put the application through its paces. She wanted to make sure the system could handle the rigorous privacy laws that Ontario hospitals must follow.
"We have ten privacy principles we follow for patient information. These cover everything from how we safeguard communication to how we retain it, and other steps to ensure its security," adds Kathleen.
Following months of cooperative work between BlackBerry and GRH, Kathleen gave the new system a "thumbs up" from a privacy perspective. Grand River has now become one of the first Canadian customers to sign on to BBM Protected.
"We have been testing the tool between our information services and health information portfolios. We're very excited about the next step, which will involve bringing it to our health providers," she explains.
Kathleen is now developing a change management plan to make the implementation a reality. Given the shared medical staff structure between GRH and St. Mary's General Hospital in Kitchener, the intention is for all physicians practicing at the two hospitals to have access to BBM Protected in a planned rollout.
"When health professionals can safely and securely consult each other on a patient's care, we all win. When fully implemented, BBM Protected will help us do that."
Please visit BlackBerry for more information about BBM Protected