Posted: November 24, 2015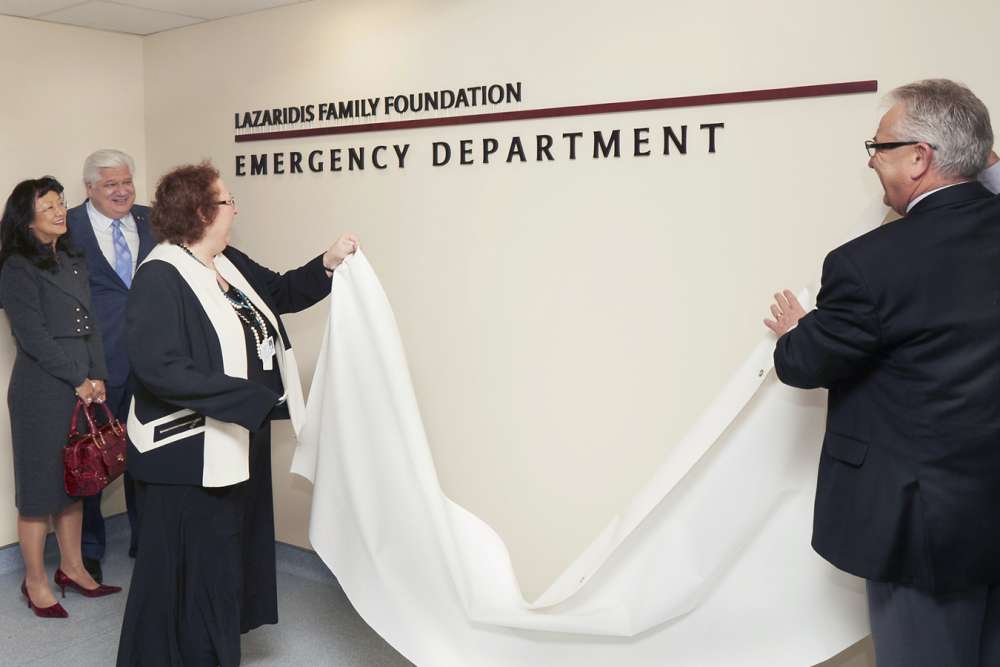 A $2 million gift from Mike and Ophelia Lazaridis will enhance care to emergency patients and those with complex medical needs at Grand River Hospital.

In honour of the gift, GRH's emergency department will be named the Lazaridis Family Foundation Emergency Department.
The first two projects supported by the Lazaridis family donation are:
A new rapid access clinic to help patients with complex needs to quickly receive specialized health care within 24 to 48 hours without a hospital admission; and
The launch of an emergency department information system to move patient documentation into a fully digital form and improve care processes.
"Our emergency department sees 65,000 patients a year. Better information use will help improve front line care, so it's fitting that a portion of the Lazaridis family's contribution will support those enhancements. We also know patients with complex medical needs may require urgent but non-emergent care. The work of our rapid access clinic will help to more effectively tend to their needs, improving their health and quality of life," said Malcolm Maxwell, GRH president and CEO.
The goal of GRH's general internal medicine rapid access clinic (GIMRAC) is to provide quality assessment and access to care. Opening this clinic aims to decrease emergency department repeat visits, support access to inpatient beds, offer access to community physicians and their patients and reduce re-admission rates for patients with complex needs.
"GIMRAC is one of the ways we're working to support the complex health needs of an aging population. It's also part of our work to increase teaching and education of new internal medicine specialists through the medicine program. We are working hard to link care with ongoing medical education, and the Lazaridis family's contribution has been a big help," said Dr. William Plaxton, chief of medicine at Grand River Hospital and St. Mary's General Hospital.
"The Lazaridis family is proud to support new applications of technology and clinical models that will improve emergency medical care for the members of this community," said Mr. Lazaridis.
"Grand River Hospital Foundation is truly grateful to Mike and Ophelia for their support of Grand River Hospital," said Tracey Bailey, president and CEO, Grand River Hospital Foundation. "This gift from the Lazaridis family demonstrates that members of the community can play a vital role in helping Grand River Hospital improve access to quality care. Mike and Ophelia's generosity has inspired creative solutions to patient care that will improve access for everyone seeking the services of the GRH emergency department."
Grand River Hospital (GRH) is one of Ontario's largest community hospitals and provides innovative, quality care to more than 700,000 residents of Waterloo Region and Guelph Wellington. GRH is a leading healthcare organization, offering cancer and renal (kidney) services; care for the most seriously ill and injured adults; services for mothers, newborns and children; emergency care; mental health and addictions; and care for older adults including rehabilitation. The Hospital is privileged to be a key partner in health sciences learning and has a rapidly growing role in teaching and applied research. GRH patients benefit from the services of 3,400 staff members; 600 medical staff, midwives and dentists; and 1,000 volunteers at the Kitchener-Waterloo and Freeport campuses as well as satellite locations in Waterloo Region and Guelph-Wellington.
Grand River Hospital Foundation raises funds to support Grand River Hospital. More than $4 million is granted to Grand River Hospital each year to fund patient care equipment, capital projects and renovations, and local clinical and health research and education. Grand River Hospital Foundation works with a community of passionate donors that supports exceptional local health care.
Mark Karjaluoto, GRH Director of Communications
Office: (519) 749-4300 extension 2788, pager: (519) 244-3088
mark.karjaluoto@grhosp.on.ca
Tracey Bailey, President and CEO
Grand River Hospital Foundation
Office: 519-749-4205
tracey.bailey@grhosp.on.ca
www.grhf.org