Posted: December 13, 2016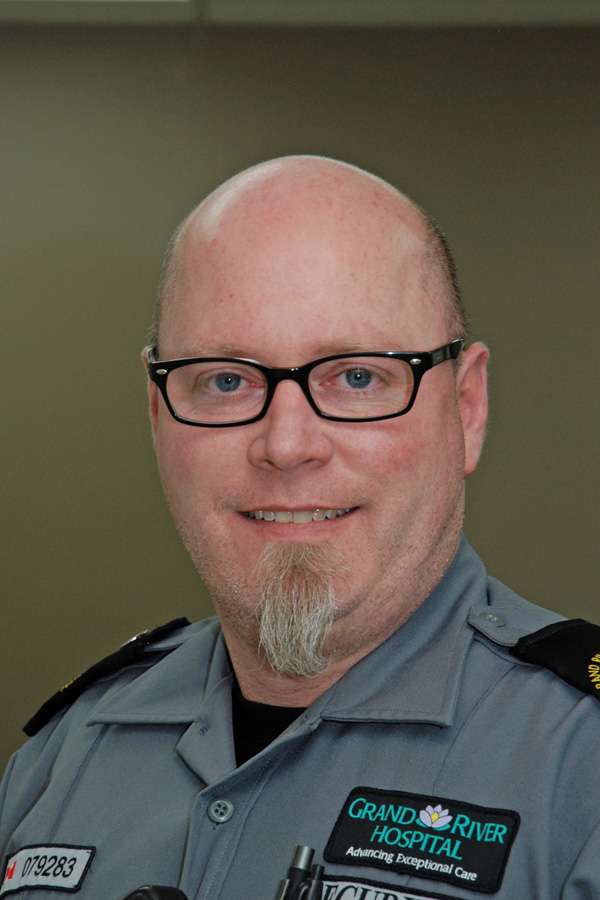 Kerry Sheppard is adding to the accolades that GRH security team members have received over the years.

Kerry is the latest winner of Grand River Hospital's award of excellence for his compassionate support of patients.

Kerry has worked at GRH for four-and-a-half years. He was recognized for his good nature in recent work with a patient, helping to encourage them to eat and drink to avoid intravenous therapy for nutrition.
Kerry was also recognized for his overall work in meeting the hospital's values:
Compassion: Kerry gets to know patients and addresses them by name. He acknowledges and greets patients and staff politely and always pleasantly. 
Collaboration: Kerry has always responded in a professional manner when called upon.  He takes direction well when needing clinical assistance. He is the first to arrive and the last to leave the unit. He collaborates well when coming up with interventions needed.
Positive attitude: Kerry always shows up on the unit with a smile and friendly disposition.  This bodes well with patients who can be anxious and agitated.
Professionalism: Kerry helps go above and beyond in assisting the patients of Freeport.
Respect: Kerry will always attempt to speak with patients that are struggling mentally if called upon. He will make sure that all parties involved are safe and secure when engaged in a code response. He is usually the last to leave the unit after debriefing takes place.
Kerry's win is the fourth individual awards of excellence provided to a member of the security service at GRH since the recognition program launched in 2010. The group has also won a team award of excellence recognizing their enormous contributions to safe and compassionate patient care.
Congratulations Kerry and thank you for your service to the community of patients and care providers at the Freeport Campus!