Posted: September 19, 2017
First the first time, a vendor at Grand River Hospital has won a team award of excellence for their service to patients, visitors and care providers.
Mia Fresco has served GRH's KW Campus community since the summer of 2015. They arrived at the hospital as part of a plan to provide a wider range of fresh food options.
Their nominator complimented the Mia Fresco team for meeting the hospital's values in the following ways:
Compassion: The staff at Mia Fresco really get to know the customers they serve. For many of us regulars, people like Jen have our preferences down to a T. They're very active to engage in conversation, and to be friends to the customers they're serving. They make terrific ambassadors for the hospital.

Collaboration: Mia Fresco management and staff are looking to the hospital's interests. They are active participants in fundraisers supporting the Grand River Hospital Foundation. When they hear of initiatives they can support (such as the hospital's blood drive), they're the first to offer encouragement and support. The have the hospital community in mind, which makes their presence very welcome.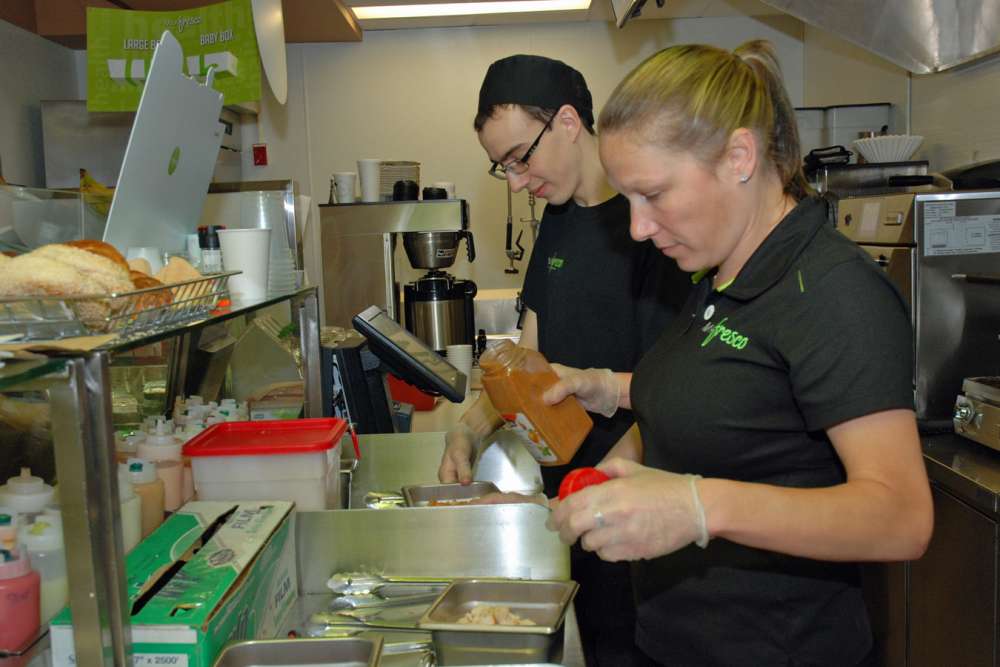 Positive attitude: Jen, Wes, Garrett, Candy and all the staff at Mia Fresco provide a great face to their part of our retail food services. They're happy, friendly and just a pleasure to encounter.
Professionalism: Mia Fresco is a very well-run operation that's focused on the customers they serve. This is apparent at their store front.
I recall when I recently approached Mia Fresco for a catering request. They not only provided the initial order, but went above and beyond to add some special components to it. They were very focused on not only meeting the expectations for the order, but exceeding them.
Respect: I find every interaction with Mia Fresco is respectful. They are genuinely interested in and concerned with their customers' wants and needs. We're fortunate to have retail services at the hospital whose staff realize the broad community they're serving. Mia Fresco does exceptionally well in this aspect.
Their nominator added, "Our retail food service providers aren't hospital staff members, but they become part of the hospital community. In two years, Mia Fresco has done a wonderful job of becoming part of Grand River Hospital. They do this through support of the foundation, a willingness to go above and beyond for their customers, and by just generally being a friendly and welcoming food service provider. And last but not least, the food is excellent too."
Congratulations to Mia Fresco and thank you for your service to the GRH community.