Posted: March 26, 2017
GRH's dietetic interns have been busy this Nutrition Month offering education to staff and the public about healthy eating.
The hospital hosts several dietetic interns every year among the nearly 600 health learners we welcome annually at our campuses. The dietetic interns receive hands on education to start their careers as registered dietitians.
We're pleased to post five of their recipes to give you some new culinary ideas to whet your appetite!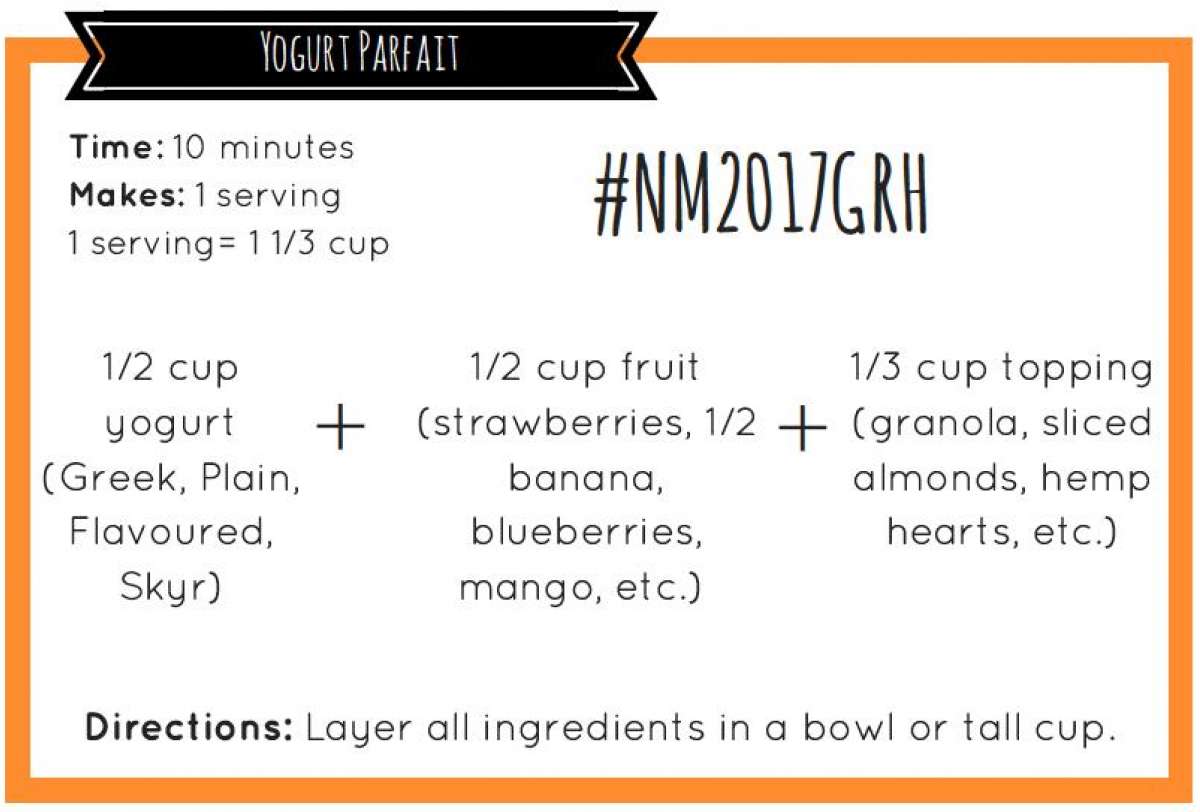 Yogurt Parfait
A yogurt parfait is a quick and delicious way of combining yogurt, fruit and your favourite nuts, seeds, oats or cereal. It is a great option for breakfast, snack or dessert! This recipe packs a nutritious punch of protein, fibre, calcium and antioxidants!
Time to prepare: 10 minutes
Makes: 1 serving (1 1/3 cup)
Directions and ingredients
Choose the fruit to line the bottom of your parfait: 1/2 cup frozen or fresh fruit (strawberries, blueberries, mango, 1/2 banana, etc.)
Choose your yogurt: 1/2 cup yogurt (Greek, Skyr, plain or flavoured)
Choose your topping: 1/3 cup topping (granola, sliced almonds, hemp hearts, etc.)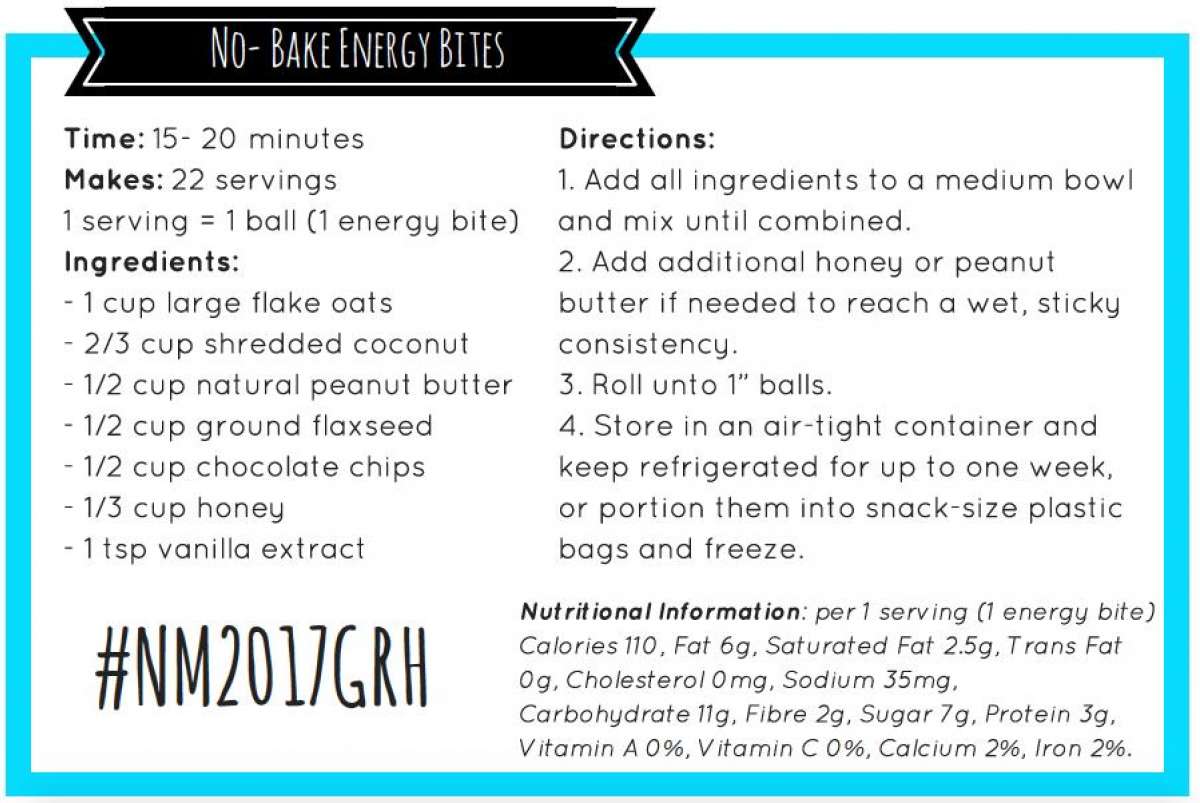 Energy Bites 
These crowd pleasers are a versatile, nutritious recipe to enjoy for a quick snack or post-workout treat! Swap out the chocolate chips and honey for some cocoa powder and 1/3 cup maple syrup for a vegan alternative.
Time to prepare: 15-20 minutes
Makes: 22 servings (1 serving = 1 energy bite)
Ingredients:
1 cup large flake oats
2/3 cup shredded coconut
1/2 cup natural peanut butter
1/2 cup ground flaxseed
1/2 cup chocolate chips
1/3 cup honey
1 tsp vanilla extract
Directions:
Add all ingredients to a bowl and mix until combined.
Add additional peanut butter to reach a wetter consistency (alternatively, add more oats for a drier consistency).
Roll into 1" balls.
Store in an air-tight container and refrigerate for up to 1 week or portion into snack-sized bags and freeze.
Nutritional Information (per one energy bite):
Calories 110 kcals
Fat 6g (saturated fat 2.5g, trans fat 0g)
Cholesterol 0mg
Sodium 35mg
Carbohydrate 11g
Fibre 2g
Sugar 7g
Protein 3g
Vitamin A 0%
Vitamin C 0%
Calcium 2%
Iron 2%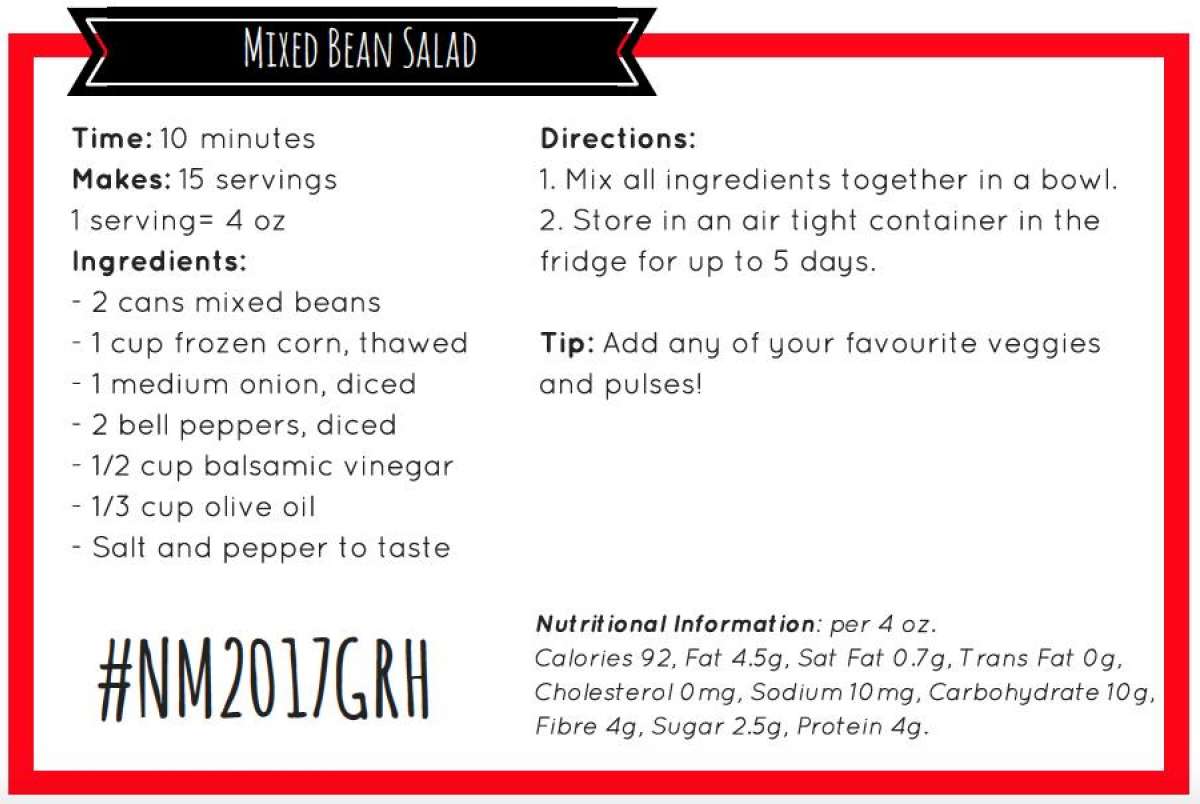 Mixed Bean Salad
 Look no further than this mixed bean salad to help you introduce more fibre into your lunch or dinner! Swap out mixed beans for your favourite combination of beans or peas. Add tomato, green onion or your favourite fresh herbs to for a new twist.
Time to prepare: 10 minutes
Makes: 15 servings (1 serving = 4 oz)
Ingredients:
2 cans mixed beans
1 cup frozen corn, thawed
1 medium onion, diced
2 bell peppers, diced
1/2 cup balsamic vinegar
1/3 cup olive oil
Salt and pepper to taste
Directions:
Mix all ingredients together in a bowl.
Store in an air-tight container in the fridge for up to 5 days.
Tip: add any of your favourite veggies and pulses!
Nutritional information (per 4 oz):
Calories 92 kcals
Fat 4.5g (saturated fat 0.7g, trans fat 0g)
Cholesterol 0mg
Sodium 10mg
Carbohydrate 10g
Fibre 4g
Sugar 2.5g
Protein 4g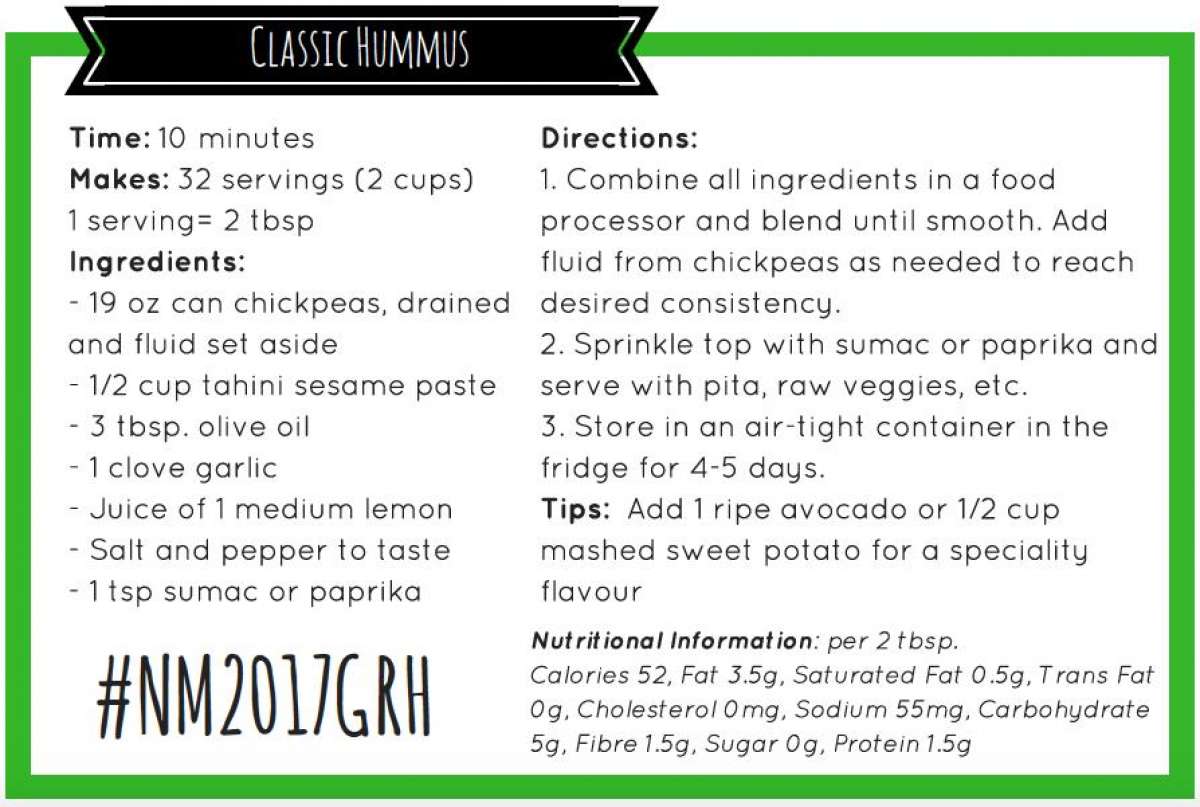 Classic Hummus with Veggies
Looking for ways to cut back on the grocery budget? Give this simple classic hummus recipe a try! It's perfect for dipping your favourite veggies or crackers, spreading onto a sandwich or topping a chicken breast.
 Time to prepare: 10 minutes
Makes: 32 servings or 2 cups (1 serving = 2 tbsp)
Ingredients:
19 oz can chickpeas, drained and fluid set aside
1/2 cup tahini (sesame paste)
3 tbsp olive oil
1 clove garlic
Juice of 1 medium lemon
Salt and pepper to taste
1 tsp sumac or paprika
Directions:
Combine all ingredients in a food processor and blend until smooth. Add fluid from chickpeas as needed to reach desired consistency.
Sprinkle top with sumac or paprika and serve with pita or raw veggies.
Store in an air-tight container in the fridge for 4-5 days.
Tips: Add 1 ripe avocado or 1/2 cup mashed sweet potato for a specialty flavour.
Nutritional Information (per 2 tbsp):
Calories 52 kcals
Fat 3.5g (saturated fat 0.5g, trans fat 0g)
Cholesterol 0mg
Sodium 55mg
Carbohydrate 5g
Fibre 1.5g
Sugar 0g
Protein 1.5g
Chocolate Zucchini Muffins
This recipe is a creative way to incorporate veggies into your baking. Serve in the place of traditional cupcakes at your next birthday party or holiday celebration!
 Time to prepare: 35-40 minutes
Makes: 20 medium muffins
Ingredients:
1/2 cup vegetable oil
2 eggs
1/2 cup sugar
1/2 cup brown sugar
2 tsp vanilla extract
1 1/2 cups finely shredded zucchini (about 2 medium)
3/4 cup all purpose flour
3/4 cup whole wheat flour
1/2 cup cocoa powder
1/2 tsp baking soda
1 tsp baking powder
1/2 tsp salt
1/2 cup chocolate chips
Directions:
Heat oven to 350° F. Line muffin pans with liners.
Combine oil, eggs, sugar, brown sugar and vanilla extract in a large mixing bowl. Mix well with a whisk. Add shredded zucchini and mix gently with a wooden spoon or spatula.
In a smaller bowl, combine flours, cocoa powder, baking soda, baking powder and salt. Mix together.
Dump dry ingredients into the wet ingredients and mix well. Add chocolate chip and stir to combine.
Fill muffin cups 3/4 full and bake for 22-25 minutes.
Nutritional Information (per 1 medium muffin):
Calories 160 kcals
Fat 7.8g (saturated fat 1.9g, trans fat 0g)
Cholesterol 17.3mg
Sodium 58mg
Carbohydrate 22g
Fibre 2g
Sugar 13g
Protein 3g