Posted: October 30, 2017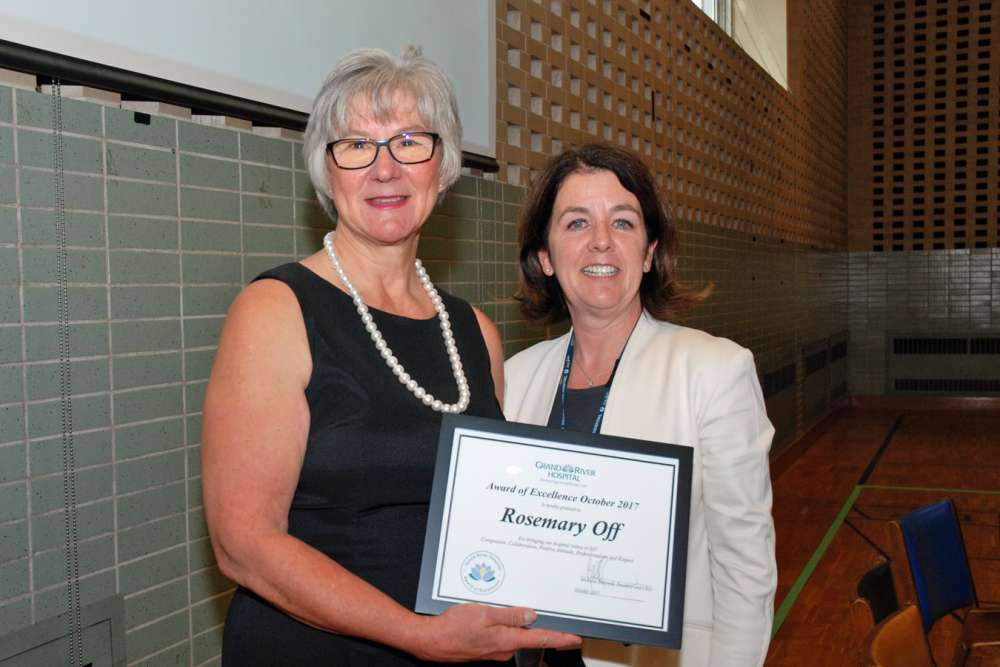 The former program director of GRH's medicine program has won the hospital's award of excellence for her years of dedicated service and partnerships with families, care providers and external organizations.
Rosemary Off was a key leader in the medicine program, and had to leave GRH unexpectedly due to health reasons.
Rosemary was recognized for meeting the hospital's values in the following ways.
Compassion: Rosemary consistently demonstrated an open mind and was always willing to listen to the team as well patients and families. She regularly participated in challenging discussions with families, both within her units as well as supporting other programs.
Collaboration: Rosemary was always willing to work with other programs internally and outside of the hospital.  She was extremely skilled at building strong relationships and developed a trust within her team that everyone admired. She brought experience in other organizations to the table to assist other programs in effective decision making.
Positive attitude: Rosemary remains well known for always having a smile on her face, and always seeing the positive side of change and difficult situations. In her work at the hospital, she had a calming effect during times of stress.
Professionalism: Rosemary was always professional in her communication, whenever approaching staff and in interacting with patients and families. She has a high degree of integrity, and wears her heart on her sleeve.  She continuously sought ways to improve herself and her program as well as her team. She provided effective coaching to those she worked with.
Respect: Rosemary always demonstrated respect for others' opinions. She believes that respect is important in this world, in order to build and maintain effective and progressive relationships.
Her nominator added, "It is clear that it was very difficult for her to leave her role as director of medicine. She is part of the family and we will miss her dearly. She had a vision for the program, and was disappointed that she was unable to further translate that vision to action.  Her team will continue to work towards achieving her, vision and her mentorship and leadership will continue to inspire her team."
Congratulations Rosemary and thank you for your service to the community of Grand River Hospital.