Posted: June 14, 2018
After nearly two decades at Grand River Hospital, registered nurse Sheri Douglas continues to earn respect for her service to patients and the broader community.
Sheri has won the hospital's latest award of excellence for her care as a clinical nurse specialist in GRH's childbirth program, and her support of the hospital's nation-leading blood donation efforts. She has supported quality initiatives such as the MORE OB program, which seeks to continuously improve safety in childbirth.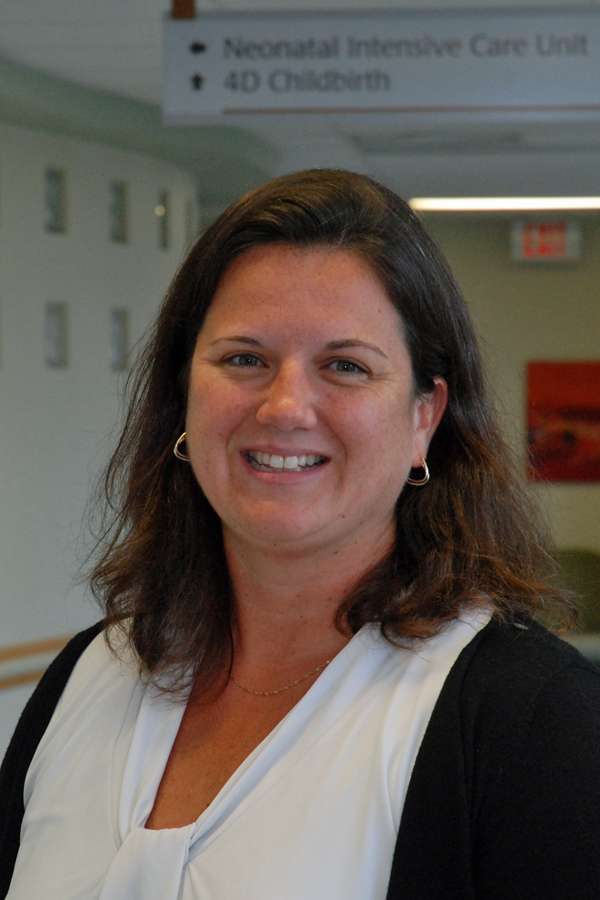 Sheri's nominator recognized her for meeting the hospital's values in the following ways:
Compassion: Sheri's been a strong resource whenever information is needed to support stories that have involved the childbirth program, such as her recent help with a Waterloo Region Record story on infants with neonatal abstinence syndrome.  Sheri has also been an exemplary advocate for our hospital's blood drive. She has done a great deal to personally encourage her colleagues to get out and give.
Collaboration: with the blood drive, Sheri is a member of the hospital's blood donor committee.  She absorbs the big picture of where we're trying to go, and then works with her colleagues in childbirth and children's to help make the hospital's goals a reality.  She regularly brings big groups of childbirth and children's staff to the Waterloo clinic for blood donor nights that support the hospital's donation total for the year.  Her work was a big factor in our success as Canada's top hospital for blood donation in 2017.
Positive attitude: Sheri has a "get it done" attitude: straight forward, cognizant of others' views, and committed to a plan of action.
Professionalism: when Sheri commits to a plan of action, we can count on results. Whether it's supporting patients and her colleagues, responding to public or media inquiries that require her expertise or organizing another big group of blood donors to help support patient care, Sheri gets results.
Respect: Sheri's job would not be possible without the great respect she shows others. In Sheri's profile on GRH's website from 2016, she discussed her role in helping women who may have complex or high-risk births. She spoke about helping women develop care plans and working with staff to meet the objectives our patients had set out. That requires a tremendous amount of respect and communication skill to help all parties along.
Congratulations to Sheri and thank you for your support of patients, families and the GRH community in so many different ways!