Posted: January 22, 2018
Grand River Hospital registered practical nurse Sue Rueckwald may not be one of GRH's best kept secret any longer…
Sue has won the hospital's latest award of excellence for her care of patients and support of her colleagues in GRH's hand and upper extremity program. She has just marked 25 years of service at Grand River Hospital.
Sue's nominator called her one of GRH's best kept secrets, while recognizing her for meeting the hospital's values in the following ways.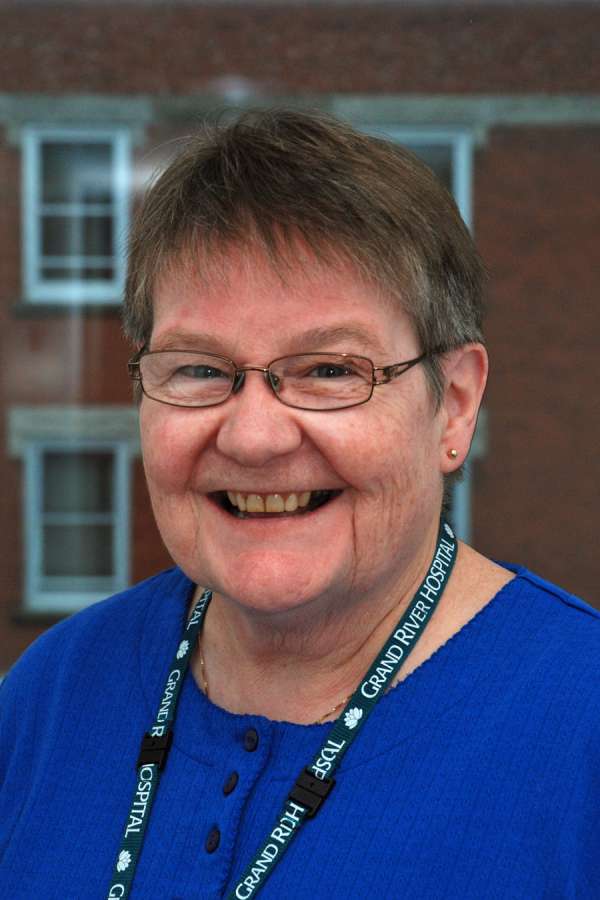 Compassion: Sue shows empathy for patients, acknowledging their pain and trying to provide comfort and support at every opportunity. Sue recognizes how our patients' day-to-day activities are impacted by their injury, and lends a listening ear.  Patients leave our department feeling validated, supported and cared for thanks to Sue's compassionate and caring nature.
Collaboration: Sue checks in frequently with her co-workers to see how she can assist with care to ensure patients are treated in a timely manner, helping our busy clinic run as efficiently as possible.  Sue works to problem solve any challenges her team might give her.  It's not unusual for one of the therapist to say "I need a splint that can do this, do you think that's possible" and in a matter of minutes, Sue has created a customized prototype that meets the exact needs of a patient.
Positive attitude: Sue's smiling and friendly face is typically the first thing our patients see when they enter our department. She is quick to introduce herself to patients and their family, assist them to their seat and checks that they are comfortable throughout their treatment session. Sue remembers the name of every patient….and the names of their family or friends who accompany them to the appointments.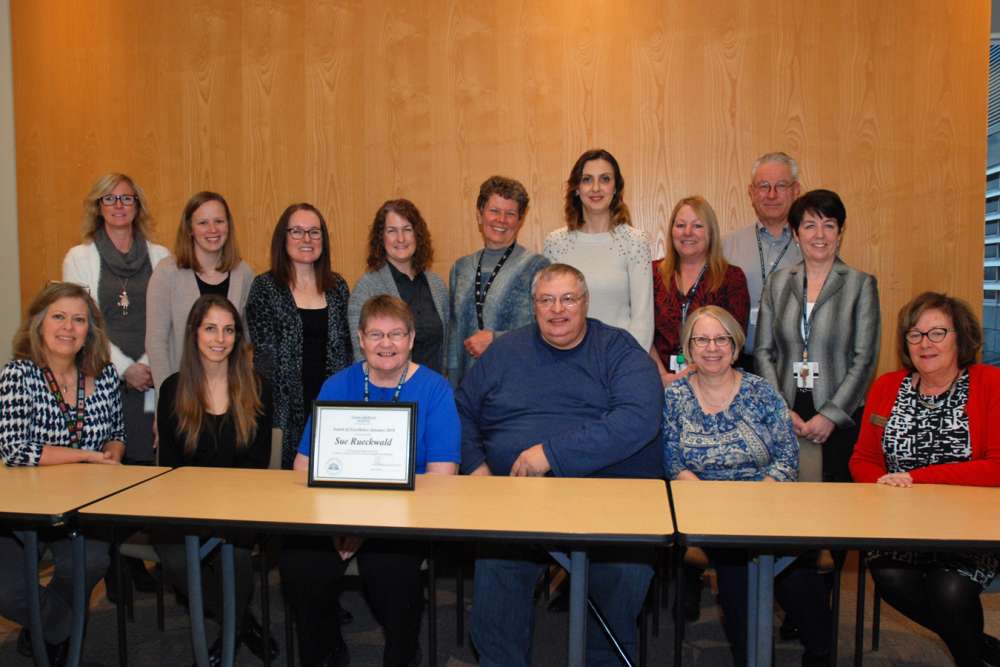 Many patients drop by years later just to hello to Sue. She not only remembers their names, but where they work, how many grandchildren they have, or what hockey team they cheer for!  Sue regularly acknowledges a "job well done" by one of her co-workers, especially in situations that were challenging. 

Professionalism: Sue arrives well before the scheduled start of her day to open up the department so we're ready to start receiving and treating patients on time. Sue is competent in all areas of her practice and we rely heavily on her for her clinical knowledge and skills. She has mentored and helped train many new therapists throughout her time in the department and does so with respect, patience and with the goal of providing excellent, patient-centered care.  
Respect: She treats all patients equally, without judgment. She quickly finds common interests with patients, whether it's talking about last night's hockey game, their daughter's dance recital, or their favorite flowers in their garden.  Sue acknowledges everyone who supports our program from maintenance, biomedical, stores, and environmental services.  She recognizes their contribution to our clinic and is sure to express her thanks for their role.      
Her nominator added, "Sue has a great sense of humor! She knows how to make people feel at ease, whether it's a witty remark, a funny story or just a smile and comforting words. Sue has an almost perfect attendance record; she is dependable, reliable, and has a strong work ethic."
Congratulations and thank you Sue for your contributions to patients and the GRH community.