Posted: November 4, 2016
Health Minister Eric Hoskins tours the Grand River Regional Cancer Centre
Slidshow Gallery: Press the tab key to access slideshow navigation, then use the arrow keys to navigate between slides, and use the tab key to access the current slide content.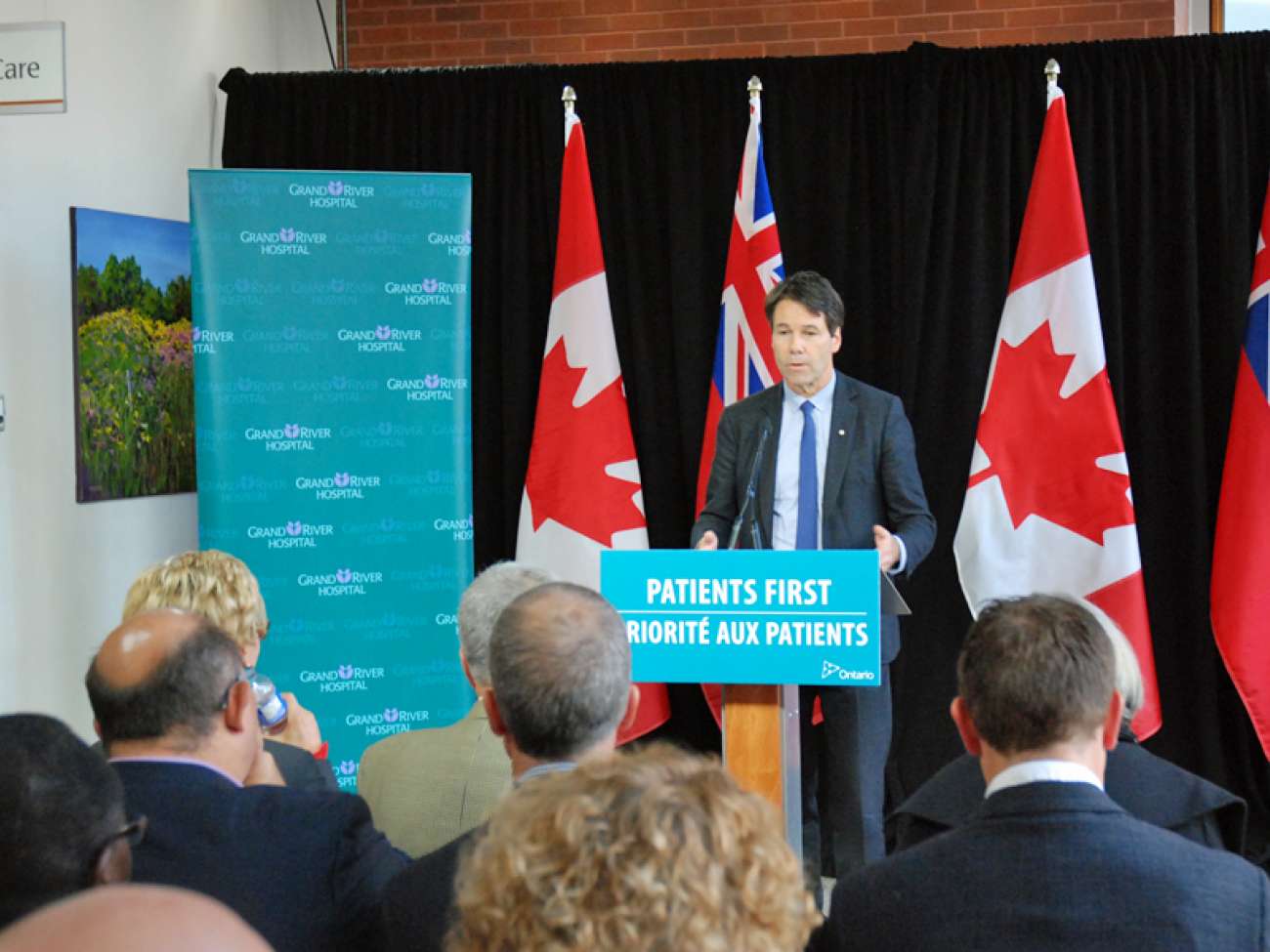 Health Minister Dr. Eric Hoskins announces the start of construction to allow the installation of new cancer treatment equipment (from November 2016).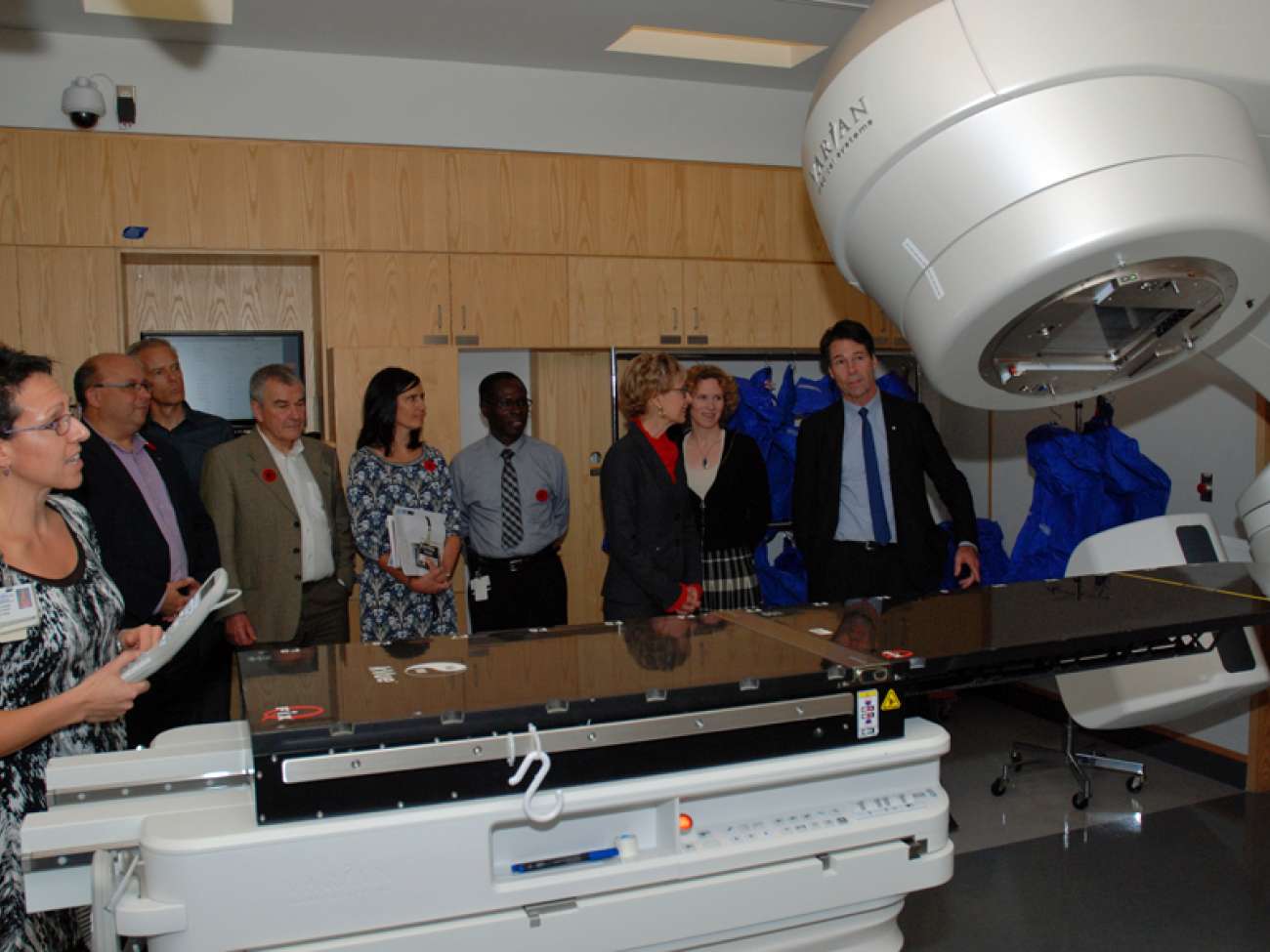 Inside a radiation treatment room at GRH. Construction has started to provide a fifth radiation treatment room at the hospital.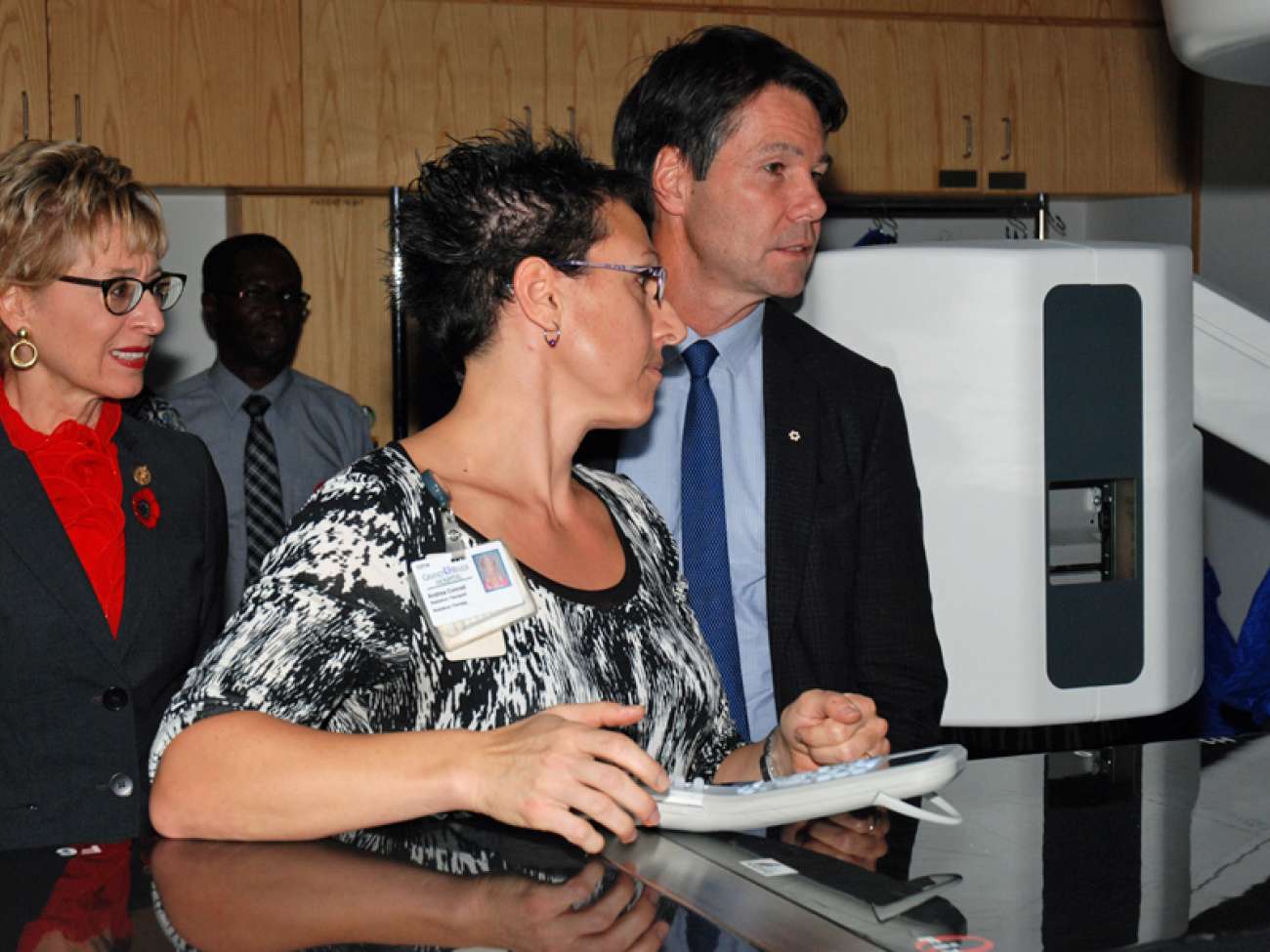 Radiation therapist Andrea Conrad shows one of the hospital's recently-acquired linear accelerators, used to treat cancer.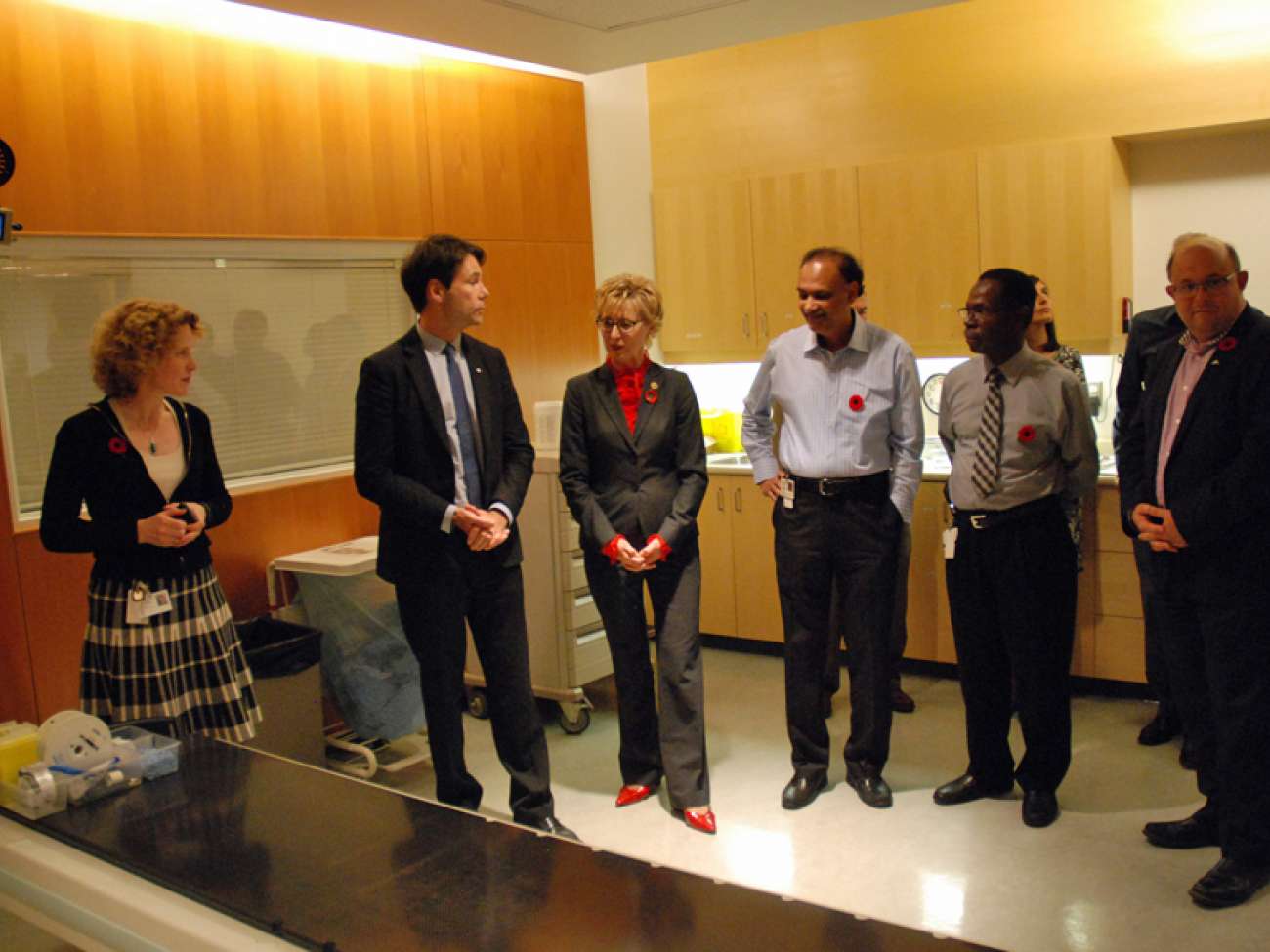 Inside a CT simulator room, used to plan radiation therapy to treat cancer.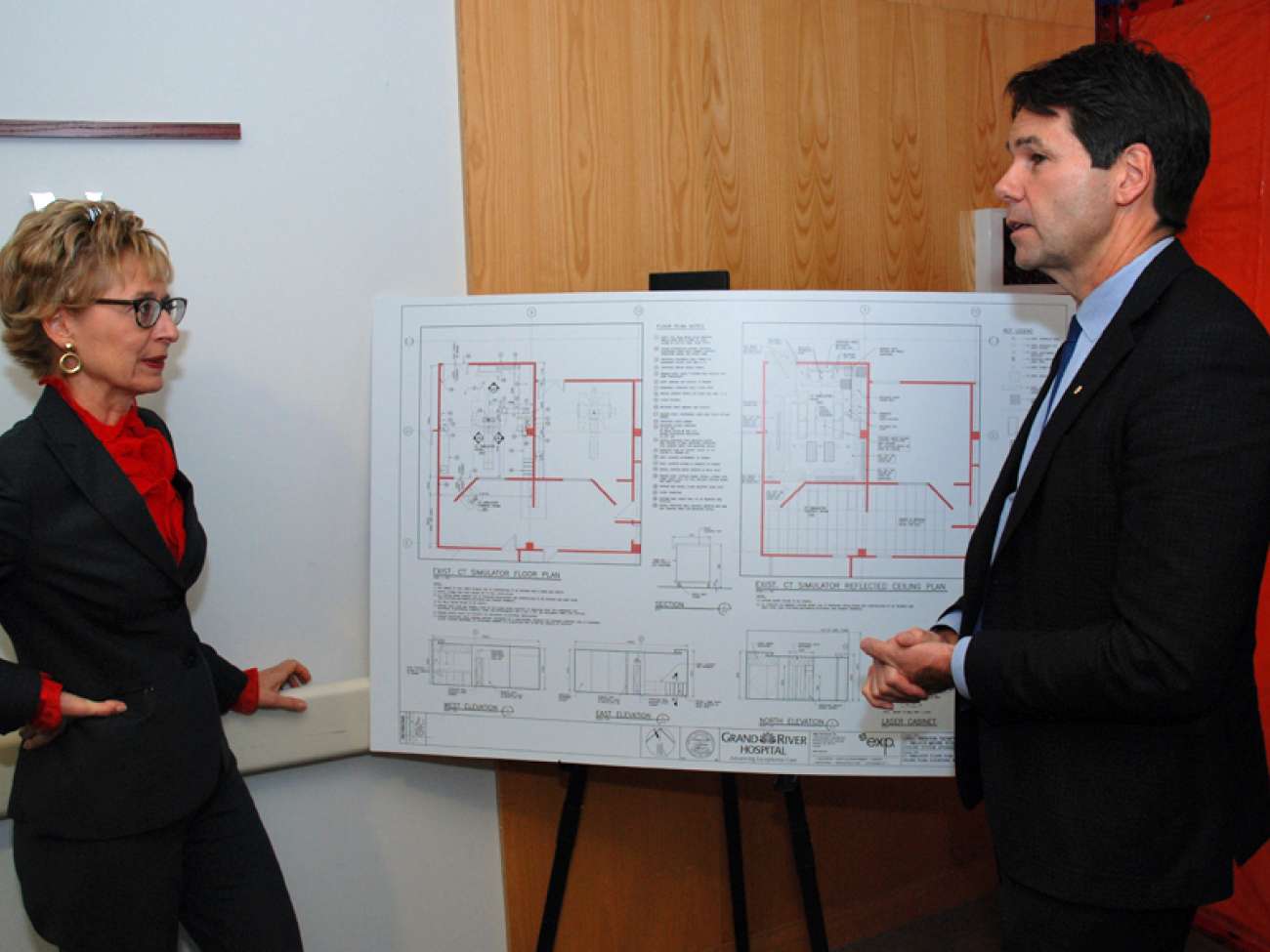 MPP Daiene Vernile and Minister Hoskins review renovation plans to install a second CT simulator at GRH.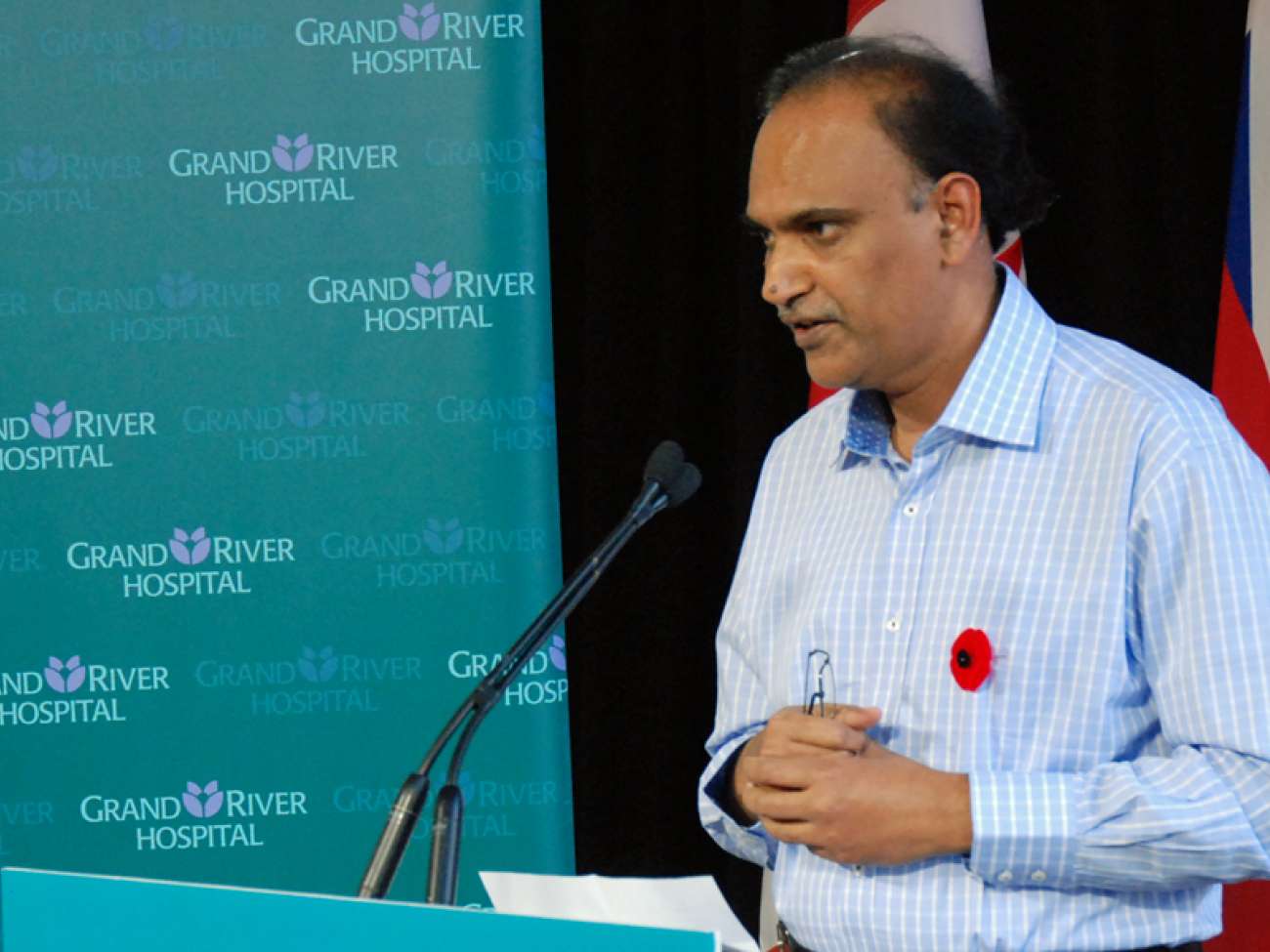 Dr. Ramana Rachakonda, medical director of radiation oncology, describes the benefits of improved technology as well as shorter wait times for care.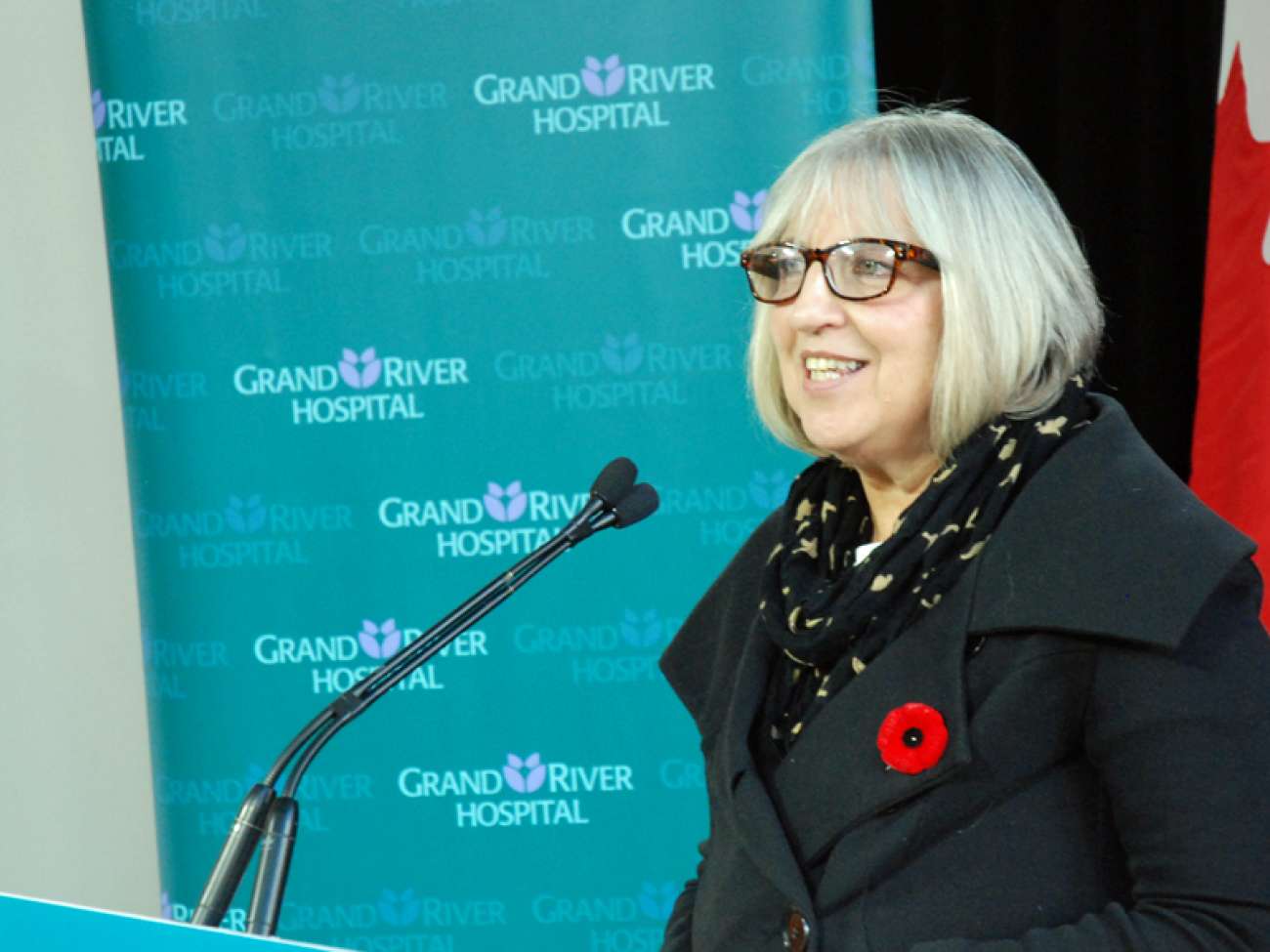 JoAnne MacPhail describes her cancer journey to guests at the announcement for additional cancer treatment equipment.
November 4, 2016
News release by the Ontario Ministry of Health and Long-Term Care

Ontario is improving cancer care for patients and families in the Waterloo Region, with new enhancements at the Grand River Hospital that will increase access and reduce wait times for cancer-fighting treatments.
Minister of Health and Long-Term Care Dr. Eric Hoskins was joined by Daiene Vernile, MPP for Kitchener Centre, at the Grand River Hospital today to mark the start of construction on enhancements to the cancer centre. The hospital is the largest provider of treatment and cancer surgery in the region.
When the project is complete, cancer patients will benefit from a new radiation treatment unit that has the capacity to increase the number of patients treated by 24 per cent, and enable approximately 400 more patients to be treated each year. A second computed tomography (CT) simulator machine will also be installed, which has the capacity to double the number of patients that can be treated.
Improving cancer care for patients is part of the government's plan to build a better Ontario through its Patients First: Action Plan for Health Care (opens in a new window), which provides patients with faster access to the right care; better home and community care; the information they need to live healthy; and a health care system that is sustainable for generations to come.
QUOTES
"With significant funding for cancer care, including the new equipment for Grand River Hospital, we are continuing to ensure that patients in the Waterloo Region, and across the province, have better access to the right care closer to home, now and in the future."
— Dr. Eric Hoskins, Minister of Health and Long-Term Care
"It's critical to provide access to safe, timely and high-quality cancer care. Once installed, the new radiation treatment units will reduce wait times and provide better care for patients in the Waterloo Region."
— Daiene Vernile, MPP for Kitchener Centre
"When our cancer centre opened 13 years ago, it was designed for expansion when patient volumes justified additional treatment capacity. We are grateful for the funding that will support ongoing excellence in cancer treatment for patients and families in the Waterloo Region and Wellington County."
—  Malcolm Maxwell, President and Chief Executive Officer, Grand River Hospital
"Together with our Regional Cancer Programs, Cancer Care Ontario is committed to ensuring patients have timely access to high-quality cancer care as close to home as possible. This investment in new hospital equipment and infrastructure will expand cancer services for Kitchener-Waterloo patients to continue to meet the needs for cancer treatment in the region."
—  Michael Sherar, President and CEO, Cancer Care Ontario
QUICK FACTS
The installation of the new radiation treatment unit and CT simulator is the next phase in Ontario's $5.42 million investment in technology for the cancer centre at Grand River Hospital.
A radiation treatment unit is an effective and powerful tool that stops cancer cells from growing and repairing themselves.
A CT simulator produces images of a patient's cancerous tumour and determines the appropriate dose of radiation to the tumour while ensuring a minimal dose to normal tissues.
The Grand River Hospital Foundation has contributed $506,000 towards the renovations associated with installing three of the current radiation treatment units.
Since 2003, the Grand River Regional Cancer Centre has provided radiation therapy to more than 7,300 patients in 104,000 visits and chemotherapy to more than 9,200 patients in 65,000 visits.
Since 2004-05, the government has invested nearly $27 million through the Wait Times Strategy for more than 35,000 additional medical procedures at Grand River to reduce wait times for key procedures.
In 2014-15, the province increased funding for radiation therapy by $5 million, or 17 per cent, to $34.5 million annually to support the replacement and upgrade of equipment and related systems across Ontario's Integrated Cancer Programs.
LEARN MORE