Posted: April 21, 2016
Trillium Gift of Life Network (TGLN) has presented Grand River Hospital (GRH) with the Hospital Achievement Award – Provincial Conversion Rate for its dedication to helping improve organ and tissue donation in Ontario and saving lives through transplantation. 

GRH received the award for having exceeded the target of a 67 per cent conversion rate in 2014/15. The conversion rate is the percentage of actual organs donors from the total number of potentially-eligible organ donors identified upon deceased health record review. Key factors influencing conversion rate are the notification of potential organ donors and working with TGLN to promote optimal approach planning.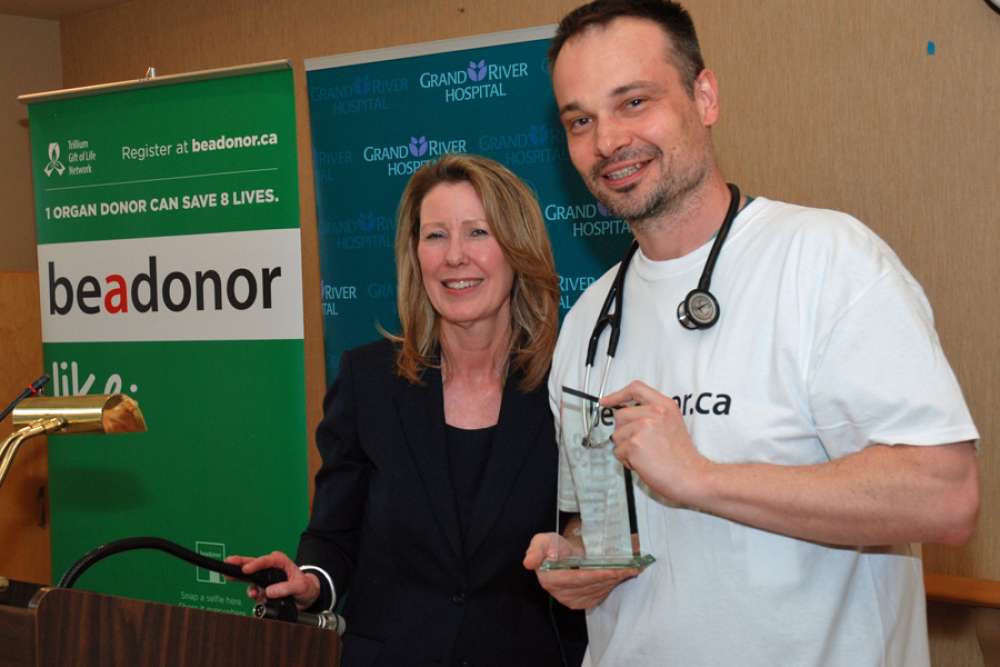 Grand River Hospital achieved a conversion rate of 69 per cent in 2014/15, one of 16 hospitals in the province to do so. Nine organ donors saved the lives of 26 people. The gifts of an additional 31 tissue donors supported many other patients.
"Our organ donation team recently won GRH's award of excellence for their compassionate approach to supporting organ donation, particularly with families whose loved ones are making an end-of-life donation. Our hospital proudly supports organ, tissue and blood donations, and we are gratified for this validation of our efforts," said Malcolm Maxwell, GRH President and CEO.
"We are proud to acknowledge the important contributions of our hospital partners. The success of organ and tissue donation in Ontario relies on their hard work and dedication," said Ronnie Gavsie, President and CEO at Trillium Gift of Life Network. "Together, we work to make sure families are given the opportunity to honour their loved ones wishes and save lives through organ and tissue donation."
There are 1,600 people in Ontario waiting for a lifesaving organ transplant. Register your consent for organ and tissue donation at BeADonor.ca and talk to your family about your wishes. As of December 31, 2015, the registration rate for Kitchener is 36 per cent.
One donor can save eight lives. More from the Trillium Gift of Life Network (opens in a new window)