Posted: July 13, 2016
GRH's materials management team makes sure needed supplies get to patient care areas in a timely way.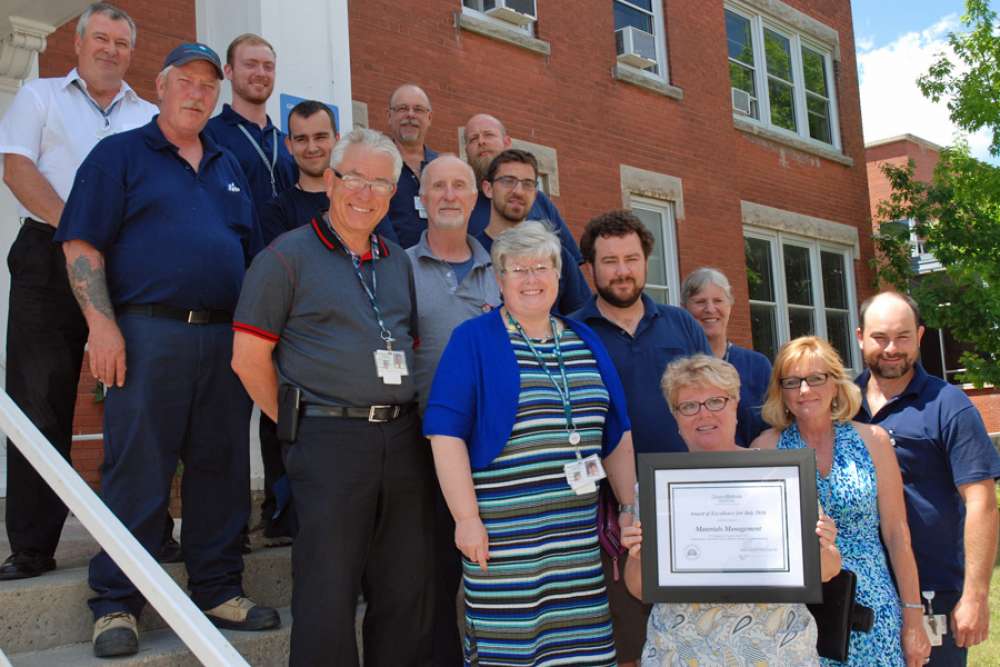 Their dedication to this huge role has helped the group win the hospital's latest team award of excellence.
The 19 person strong team is responsible at GRH's Freeport and KW campuses for:
Managing deliveries from eight to ten tractor trailer trucks every day;
Inventory control, shipping, receiving and warehousing for the entire hospital;
Picking and delivering supplies for 76 medical-surgery supply rooms.
Replenishing all 26 resuscitation carts throughout the hospital; distributing oxygen and medical gas cylinders to nursing units and service departments; and
Managing nearly $210,000 a year in hospital mail.
Their nominator recognized the team for meeting the hospitals values in the following ways:
Compassion: listening, understanding and follow up to clinical staff requests for supply items in regular situations or in urgent conditions;
Collaboration: when new clinics, wings, beds open the team works collaboratively by setting up areas with supplies and correct quantities;
Positive attitude: being friendly to visitors and patients while being careful and courteous when transporting heavy loads of supply products throughout the building and via elevators;
Professionalism: working independently and collaboratively to ensure that fellow staff members receive the products necessary to provide exceptional and timely care; and
Respect: for earning the admiration of many members of the hospital community for being part of the life-blood of patient care.
Thank you to GRH's materials management team for taking care of the supplies that support exceptional patient care