Posted: December 23, 2016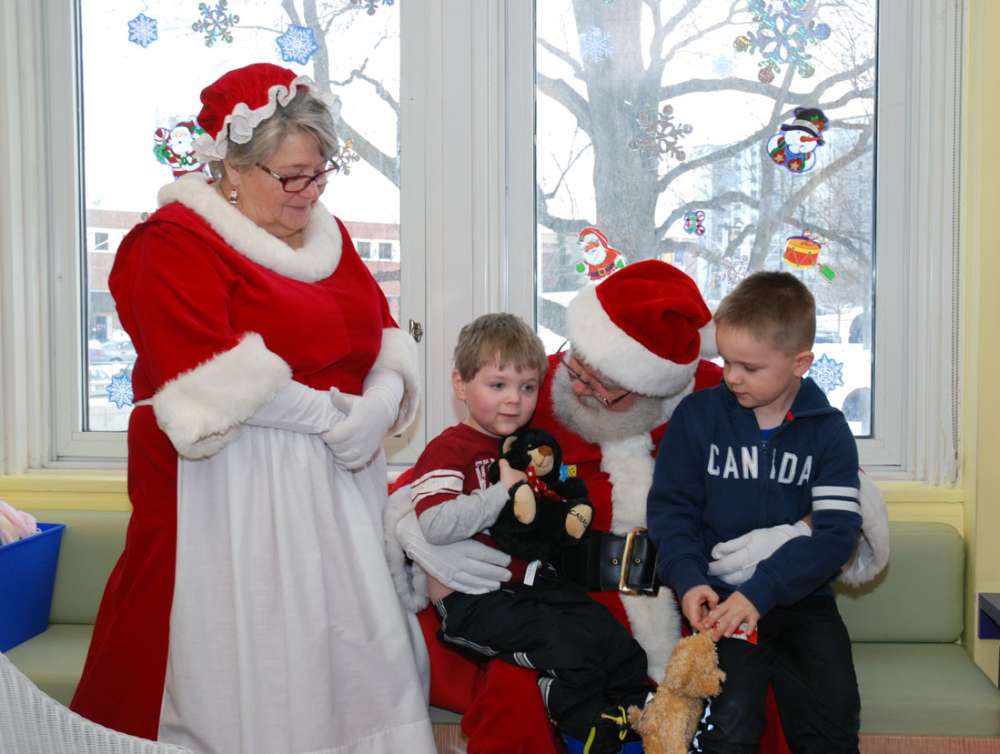 Some young patients in GRH's Pediatric Oncology Group of Ontario's (POGO) cancer clinic for children got a special treat today as they spent some time with Mr. and Mrs. Claus.

"It is wonderful to have a yearly visit from Mr. and Mrs. Claus allowing these children who cannot attend Christmas parties or visit Santa due to their treatments and immune status," said Patti Bambury, satellite nurse coordinator the POGO clinic.
The visit happened through "Clarky's Kids", a partnership in support of children with cancer with former Kitchener Ranger and current Columbus Blue Jacket David Clarkson.
At GRH's POGO clinic, patients and their families are extremely fortunate to experience many benefits from the program including the  excitement of a Rangers game and visit with players and coaches in and out of the hospital. As well, this program continues to raise funds that aid in support of local families and siblings dealing with a child that has cancer. The program has purchased chemotherapy treatment chairs and equipment, bravery beads, iPads, electronics and much more to enhance the children's oncology program at GRH.
Kim Clarkson, David's mother, also likes to help out with Clarky's Kids and arranged for jolly old St. Nicholas and his wife to visit the kids as the holiday season approaches, something she has done for the past seven years.
"It's something they both have a great passion for, and truly love what they do," Kim said of Mr. and Mrs. Claus. "I've seen them sit with the children and tell them that Santa loves them very much."
"Clarky's Kids along with Mr. and Mrs. Claus bring the joy of the Christmas season to the children and their families receiving cancer treatment," said Mary Thibault, a child life specialist at GRH.
Santa brought along several teddy bears from the Rangers' annual "Teddy Bear Toss". Each December; as soon as the Rangers score their first goal in the game, Rangers fans throw stuffed animals on the rink to be donated to local charities just in time for Christmas.
The Teddy Bear Toss has collected 132,271 bears for donation through its 22 years.
"The Teddy Bear Toss has become a holiday tradition at our rink. Fans mark the date on their calendar as soon as the schedule is released in the summer. It's fun for everyone at the game that night and it means something to Rangers Nation. It means children in our community will have a special gift at Christmas," said Michelle Fortin, manager of brand marketing for the Rangers.
"Christmas is a time of miracles. Seeing joy on children's faces when they tell Santa what is on their list and families that can share a smile, while watching the magic of Christmas encompass them is truly priceless. It brings hope and joy!" Kim said.
To learn more about Clarky's Kids or the POGO clinic, please click here.