Posted: May 20, 2016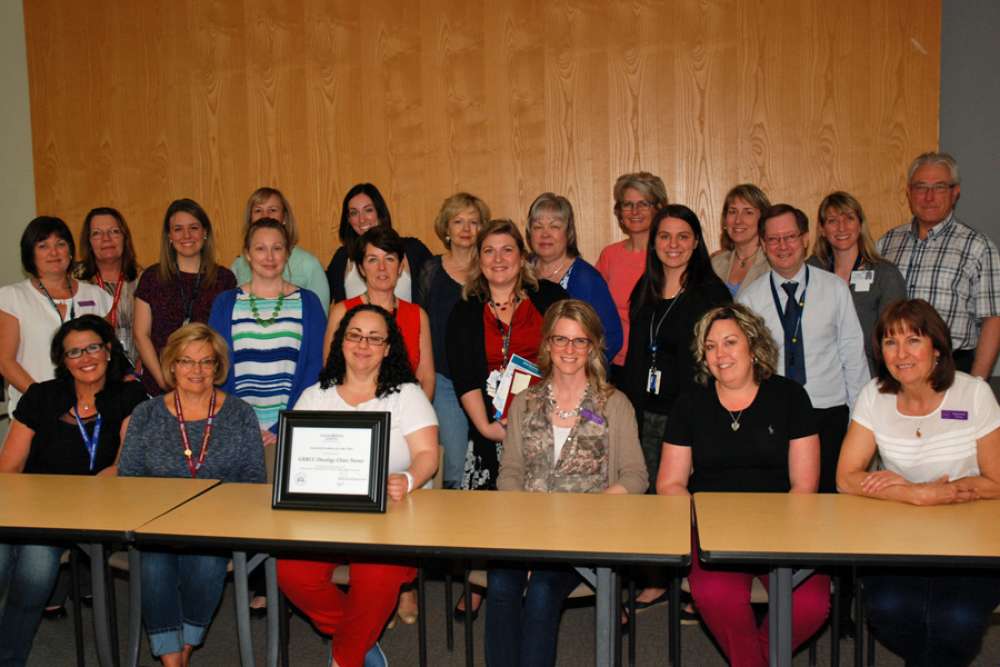 GRH's oncology clinic nurses have won the hospital's latest team award of excellence, marking their unrivaled patient care.
The team provides care to more than 2,000 new patients every year in GRH's regional cancer centre. Out-patient clinic nurses see all the new patients referred for assessment and treatment. They also see the most symptomatic patients to support them as they are undergoing cancer care.
The team was noted for not having an average person in this group. Patients say how they feel they are in good hands because of the professional work of these nurses. 
Here are some of the ways the oncology clinic nurses go above and beyond:

Compassion:
The nurses provide counseling and emotional support to patients along their journey through a potentially-devastating cancer diagnosis, difficult treatment and social issues surrounding these events.
Collaboration:
The nurses work inter-professionally with physicians, social workers and administrative staff to meet the needs of patients. They coordinate care between multiple centres. When unexpected problems arise in the clinic, the nurses seamlessly support each other. This team communicates with each other, without prompting, in a manner that is patient-focused.
Positive attitude:
This team continually exhibits optimism and a "go-getter" attitude to provide the most accessible and comprehensive care to patients through any obstacles. The nurses say the hard work and long busy days are worth it as "it is helping the patients".
Professionalism
This team works independently and exercises decision making within their scope of practice, enhancing patient care. They explore new knowledge in the spirit of inquiry and work closely with patients to achieve the best possible outcome.  They advocate on behalf of patients to expedite treatment and care while  communicating patient's needs to outside parties such as pharmacies and homecare services.
Respect:
This team exhibits commitment to patients, bringing issues to the attention of the medical team in a timely fashion, advocating for patients and families. They ensure patient questions and phone calls are answered promptly. Their support for a patient begins at admission to the clinic to ensure the patient always feels cared for and attended to.
Congratulations to GRH's oncology clinic nurses and thank you for your exceptional care.