Posted: July 27, 2017
When a "Code Pink" is paged throughout Grand River Hospital, it means two things.
First, a newborn baby is having distress in their first minutes of life and needs assistance.
Second, skilled care providers will step into action using the best evidence to quickly and effectively provide this urgently-needed help.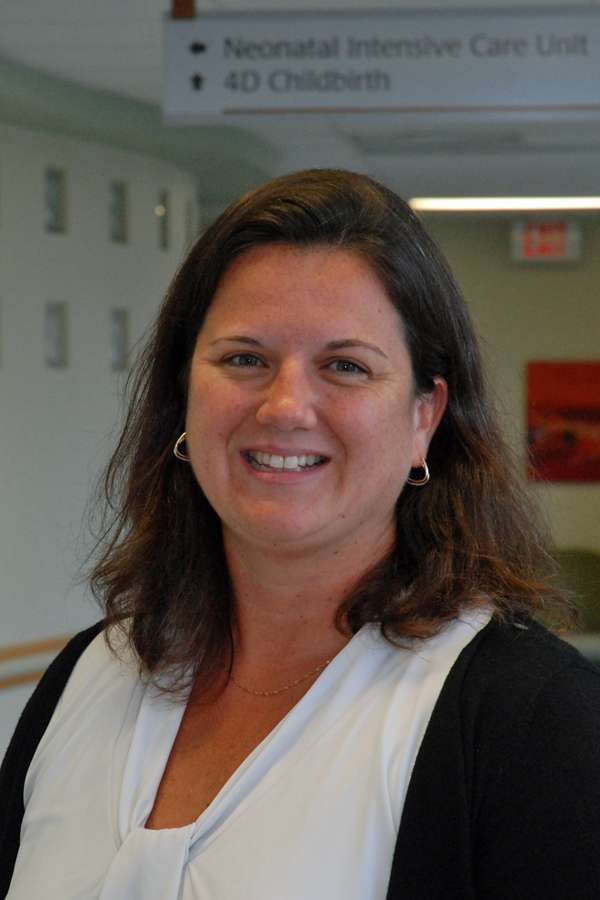 Sheri Douglas is a clinical nurse specialist in GRH's childbirth program and neonatal intensive care unit. She says about one in 10 babies born in the hospital will require additional support at birth. One in a hundred births will involve highly-advanced care to save the baby's life.
With more than 4,000 births a year, GRH provides on-going, on-site training in neonatal resuscitation. Care providers in the childbirth program, the hospital's neonatal intensive care unit, respiratory therapy and emergency department take part in regular re-certification and upgrading.
Sheri is one of 12 instructors providing neonatal resuscitation training at GRH. She explains the importance of this on-going education to provide the best care for babies.
---
Why is the need for resuscitation so critical at birth?
Neonatal transition is all about respiration. When a baby is in the womb, they breathe fluid. When they're born, they need to breathe air. It's that transition to being ready to breathe air, cry and exchange oxygen and carbon dioxide with their lungs.
About one per cent of those babies need help in that transition. It can mean providing assisted ventilation, cardiac compressions and/or emergency medications.
Most of the time, we anticipate that a baby may need that support. As we monitor the baby, the mom and the overall clinical situation during pregnancy and labour, it allows us to be prepared if we need to do more aggressive resuscitation. Because we can't always predict the need for assistance, we prepare for this at every birth.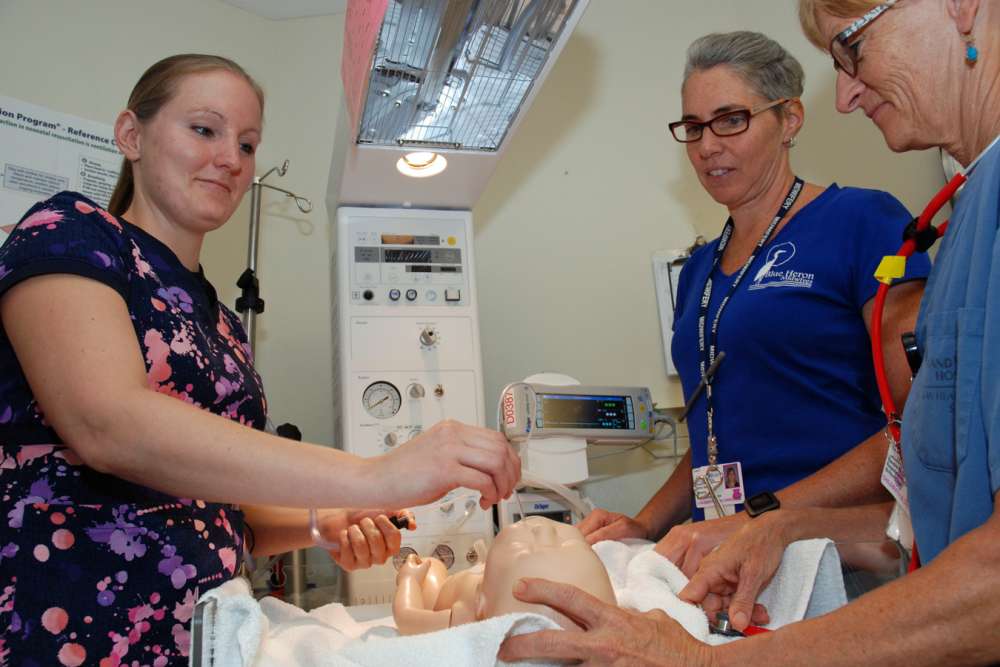 Normally, what happens when a baby's born and when does resuscitation begin?
Most babies when they're born go right up to their mother's chest. It's skin-to-skin contact: we dry them off, and they stay right there with their mom.
But if we're anticipating something or the baby's not responding appropriately, we take them to a warmer and we have our team assess and start resuscitation if necessary. We may have to intubate a baby to assist with their breathing, or provide intravenous lines for medication. Then the baby may go to the neonatal intensive care unit (NICU) for further care.
Why does the hospital provide its own neonatal resuscitation training?
It's a requirement that all nurses in childbirth and in NICU as well as all respiratory therapists are current in neonatal resuscitation certification. Every two years, we need to re-certify to standards set out by the Canadian Pediatric Society. Approximately 250 providers take part in this training across the hospital.
We run approximately 25 courses a year. These courses also include our pediatricians, our emergency physicians and nurses dealing with infants, midwives and many others.
What does the course involve?
Before the course happens, all participants get ready by reading the current neonatal resuscitation textbook and completing an online exam.
The classes are very hands on, and take six hours to complete. We do multiple skills stations. We practice scenarios that include all the different steps required during neonatal resuscitation.
The focus is not only on the skills but also on teamwork and communication. Everyone gets to practice doing ventilations, chest compressions and drawing up medications. So the first time that they're in a code, they've practiced and it becomes much easier to them.
We try to promote multi-disciplinary learning. We want to have a mix of physicians, nurses, midwives and respiratory therapists to make it more realistic as well.
Neonatal resuscitation follows an algorithm to guide assessment and care required during this highly-stressful and critical time. That algorithm helps to ensure that everyone is on the same page during a code. During a delivery, we don't have to guess what the next step is; we can all be prepared and ready.
Practicing and skills drills encourage that coordination and communication which is essential to the teamwork required.
How do care providers plan for a "code pink"?
The delivery room and neonatal nurses are thinking about it every single time they get ready for a delivery. We ensure that all the necessary equipment is ready and working properly. We also make sure two neonatal resuscitation program-trained personnel are at every delivery so they can start providing care as soon as it's required.
This readiness is a huge part of everyday life in the childbirth and children's care world.
How does the care team support parents during resuscitation?
We designate a staff member to speak to and support the family during the crisis and then as soon as they're able, a pediatrician will come and speak with the parents as well.
What do you get out of teaching a course like this?
I love to teach and see people refining their skills, feeling confident and prepared for any clinical situation they may encounter.