Posted: May 31, 2018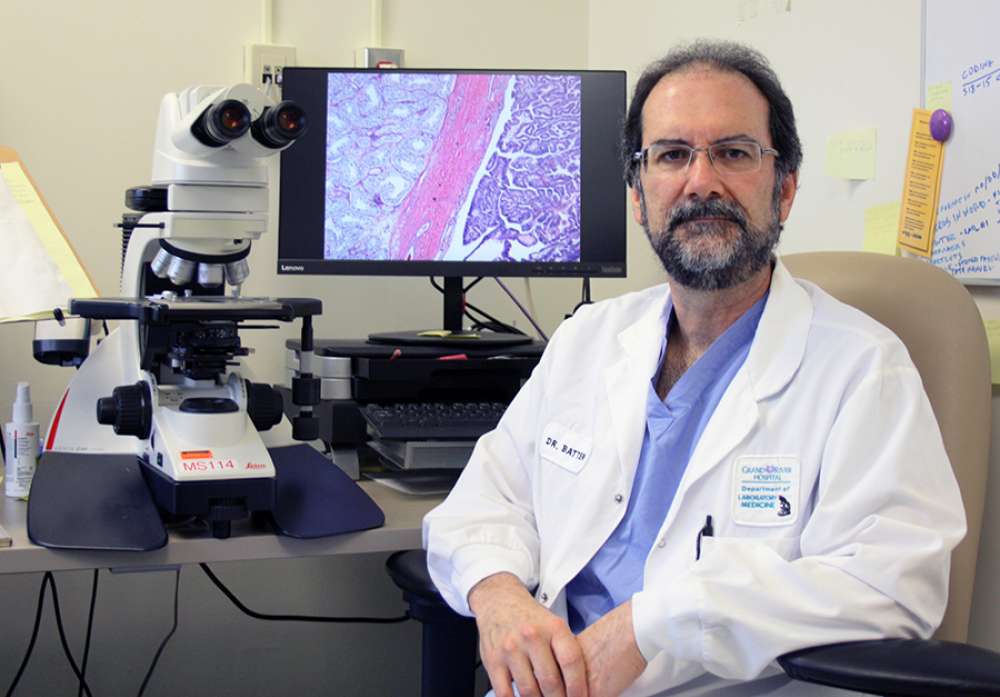 Waiting for the results of a biopsy can often take time, not just for patients, but for doctors as well. In a cancer diagnosis, for example, assessing a tumour can be complicated and time consuming for every new patient. Being able to retrieve and use images of similar cases from past patients when examining the images of a new patient can help physicians to streamline the diagnostic process. 
A research group at the University of Waterloo (UW), in partnership with Huron Digital Pathology and the hospital's Laboratory Medicine programs, is hoping to improve the pathological assessment of cancer by creating a medical image search engine.

"Millions of medical images are stored in the archives of hospitals and clinics, and generally include detailed patient-specific information such as biopsy findings, treatment plans, and follow-up reports," says Hamid Tizhoosh, Director of KIMIA Lab at UW and principal investigator of the study. "The ability to correlate new patient images with past diagnosed cases can assist experts to avoid missing malignancies."
In this research, the role of partner hospitals is crucial. Dr. Adrian Batten, Joint Chief of Laboratory Medicine of GRH and SMGH, is a co-investigator in this study and is leading the project work within the hospital laboratory. Following ethics approval, the research team will be provided access to hundreds of medical images – without patient information – which will help build the pathology search engine. Hospital pathologists will then validate the results of the search engine to determine if the results are correct, meaningful, and useful.
"Digital pathology is on the threshold of contributing to more complete and standardized assessment of aspects of tumour biology, says Dr. Batten. "We are quite excited about this project that will give us the opportunity to be directly exposed to the evolving field of digital pathology. This work will help develop sophisticated computer methods for digital image search and identification and introduce this technology to pathology residents; helping shape care for the next generation of physicians."
In May, the project was awarded $3.1m by the Ontario Research Fund – Research Excellence program (ORF-RE) to conduct this work by St. Jacob's based Huron Digital Pathology – the only Canadian manufacturer of full-slide digital scanners for pathology – partnered together with KIMIA Lab.
"The adoption of digital workflows in pathology has the potential to significantly benefit the quality of patient care in the Waterloo Region and around the world," says Patrick Myles, CEO of Huron Digital Pathology. "Huron's partnership with Hamid Tizhoosh at UW and Dr. Adrian Batten at Grand River Hospital represents an important milestone in validating this revolutionary medical image search technology."
"Grand River Hospital prides itself on being a community hospital with a mandate for innovative health care. We aim to contribute to the broader health care sector with knowledge gained through participation in research," says Dr. Tina Mah, vice president of research and innovation at GRH. "GRH believes this to be a historic opportunity to embark upon the "digital revolution" of pathology through our participation in this project."
Slidshow Gallery: Press the tab key to access slideshow navigation, then use the arrow keys to navigate between slides, and use the tab key to access the current slide content.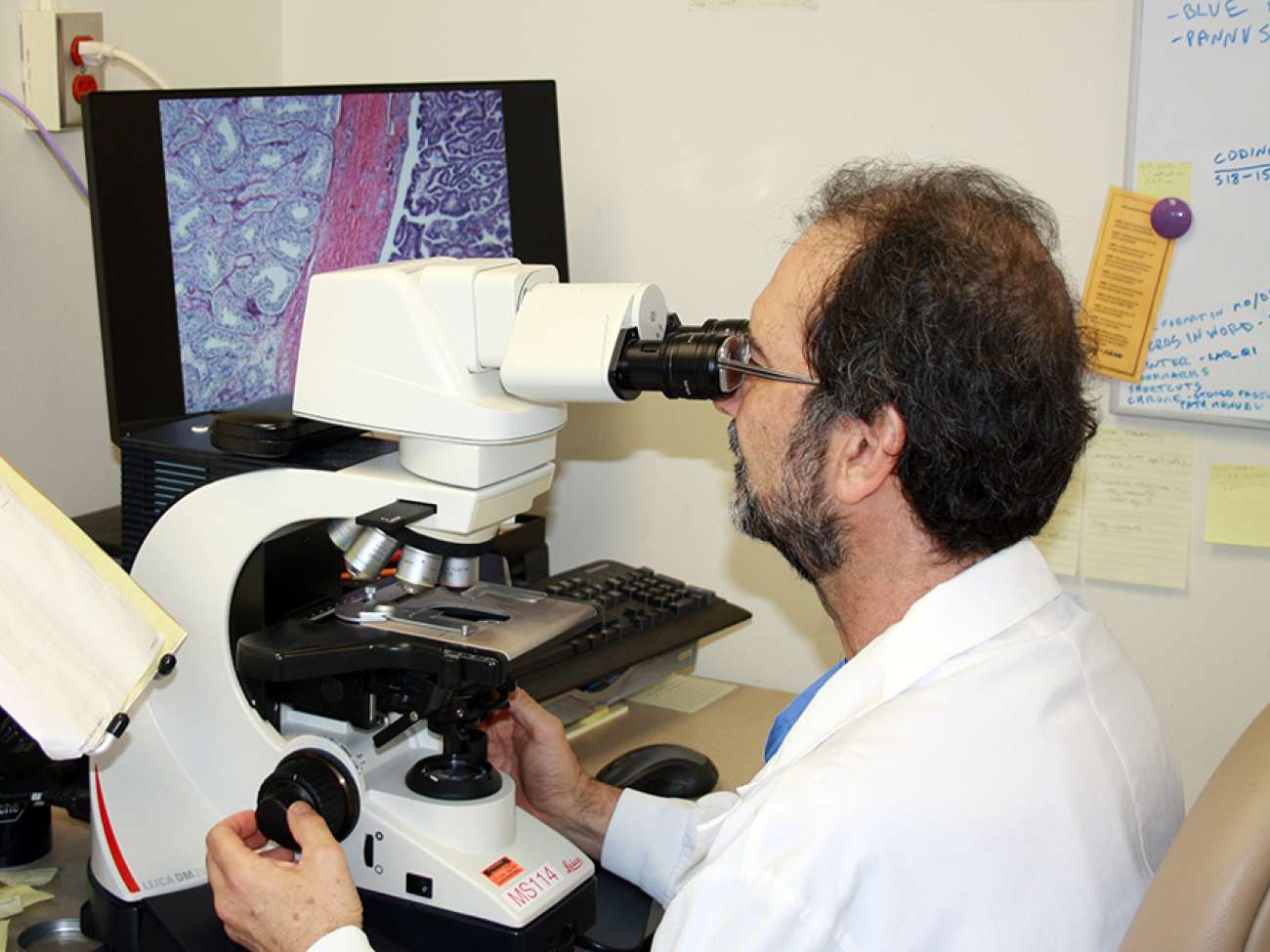 Dr Adrian Batten examines pathology slides under a microscope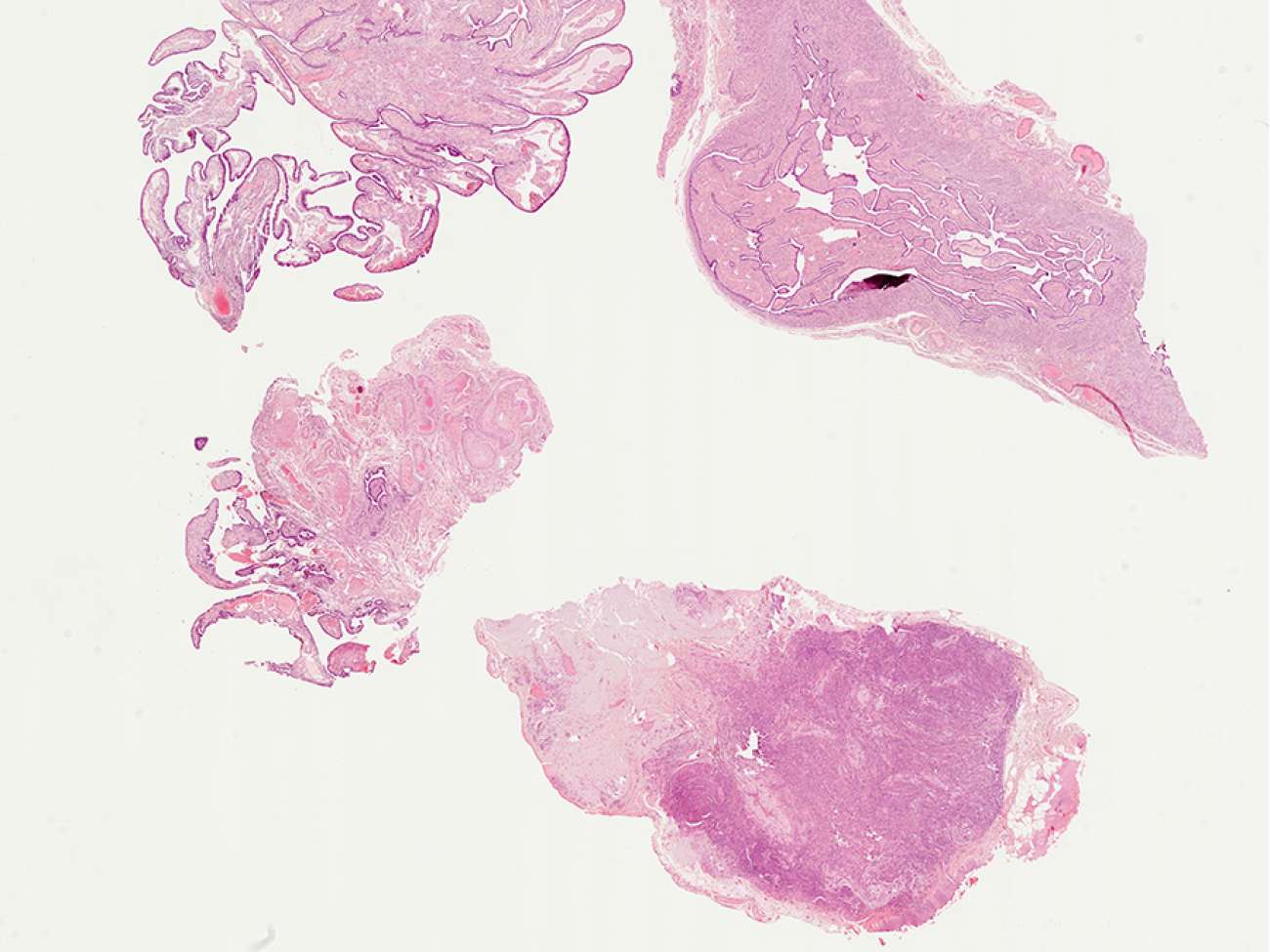 An example of a digital biopsy slide that may be used in this research study. Photo courtesy of Huron Digital Pathology
A histotechnologist inserts a number of digital biopsy slides into a scanner. Photo courtesy of Huron Digital Pathology