Posted: January 4, 2018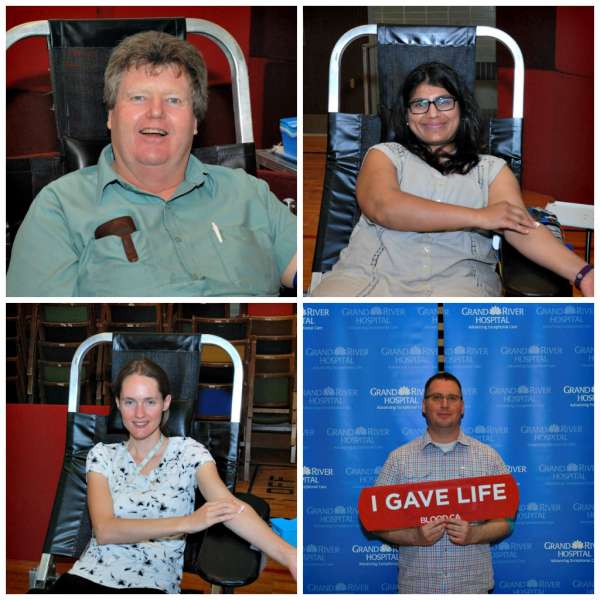 Grand River Hospital's care providers have gone above and beyond to give life for patients in Waterloo Wellington and others outside of the region.
GRH has become the top hospital in Canada for lifesaving blood donations in 2017. Staff, physicians and volunteers gave an amazing 571 units last year.
"When organizations like Grand River Hospital become part of the Partners for Life program, they help support collections to help all those who need it most," says Michael Betel, Director of Donor Relations (Ontario and Nunavut), Canadian Blood Services. "Canadian Blood Services congratulates Grand River Hospital, and appreciates the organization's vital role in increasing blood donations in 2017."
Grand River Hospital joined Canadian Blood Services' Partners for Life program in December 2009. Donations by members of the hospital community are tallied for a GRH total. Of particular note:
The hospital's 2017 blood donation total is more than double its previous record of 274 units donated in 2015;
New donors were responsible for nearly a quarter of the hospital's blood donation total for the year; and
Of more than 2,000 partner organizations taking part across Canada, GRH placed 19th in 2017.
"Every year, thousands of patients in our emergency, childbirth, children's, surgical, cancer and renal (kidney) programs depend on blood products for their care," said Malcolm Maxwell, GRH's president and CEO. "I want to thank the members of GRH's community who rolled up their sleeves and gave life in 2017. I also thank Canadian Blood Services for supporting our effort and helping our people to make a difference."
Even though half of the Canadian population is eligible to donate, only four per cent of people do. Every year, patients at GRH depend on more than 9,000 units of blood and blood products to support their care. Donor clinics are readily available in permanent and travelling locations.
To book an appointment, use the Give Blood App for Apple or Android, visit blood.ca (opens in a new tab) or call 1-888-2-DONATE.