Posted: December 10, 2018
There's no place like home for more patients in Waterloo Region and Guelph-Wellington needing life-sustaining kidney care.
Care providers at Grand River Hospital (GRH) know that too, and have been recognized for supporting and encouraging patients to take kidney care into their own hands from the comforts of home.
GRH has exceeded the provincial target of the number of home dialysis patients as set out by the Ontario Renal Network.
Donna Zudic, a renal patient at GRH, has been part of the home dialysis program for seven months and dialyzes six times a week from her home.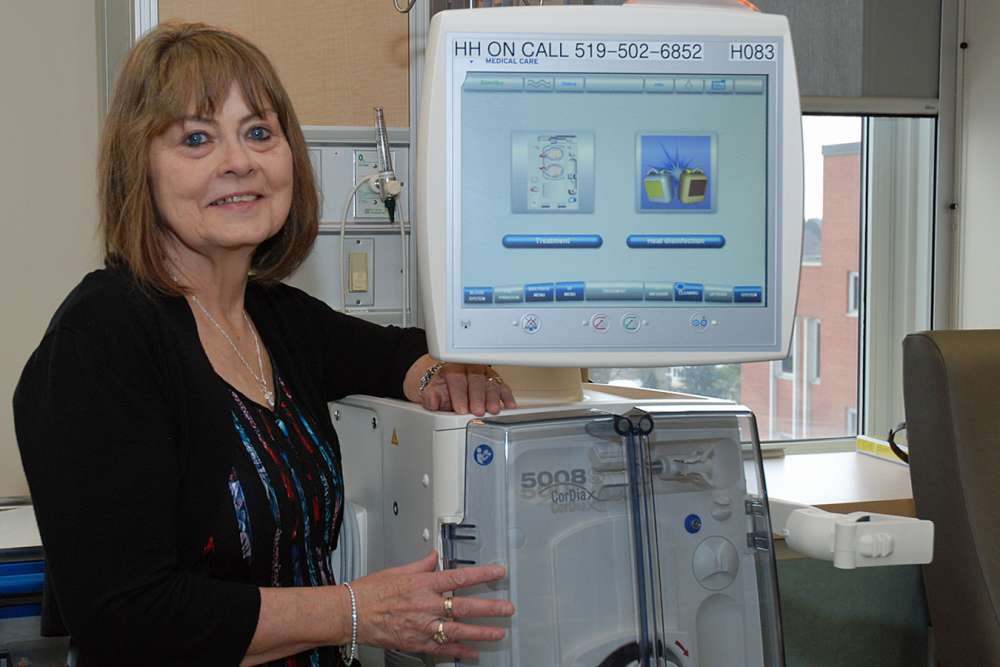 "I enjoy doing my dialysis at home because it is more comfortable and convenient. It also makes me feel better knowing that the nurses are only a phone call away if I need them," said Donna.
Home dialysis allows patients to manage their kidney disease in the comfort of their own home. Patients receive onsite training at the hospital until they are comfortable with taking control of their own care.
"Part of the success of this program is all the support patients receive from our partners including home and community nurses, as well as the Waterloo Wellington Local Health Integration Network," said Kim Hendrick, director of the regional renal program at GRH.
GRH currently has more than 150 patients in the home dialysis program.
Home dialysis allows patients to feel increased independence and a greater degree of control over their disease and treatments. Home therapies are also gentler and better resemble the kidneys' natural function.
"I feel empowered because I am doing something for myself and I feel good knowing it's better for my health," added Donna.
GRH has been working hard to bring home dialysis to as many eligible patients as possible. The program has seen consistent growth over the last several years and now surpasses the provincial target of 28 per cent of patients receiving home dialysis.
"The creation of the right start unit has provided patients with the multidisciplinary support and education needed to promote patient empowerment to make informed decisions consistent with their values and goals of care," said Kim. "This has provided patients with a seamless transition to a home dialysis therapy and has contributed to the growth of our program."
The right start unit is a small unit designed to allow new dialysis patients to be assessed by the multidisciplinary team to determine eligibility for home dialysis, and receive standardized education, guidance and the confidence to make decisions concerning their kidney health care choices.
"The centre has been a consistent high performer in the area of home dialysis prevalence and continues to provide high quality, patient centred care," said Dr. Peter Blake, provincial medical director, Ontario Renal Network.
The Ontario Renal Network assesses regional renal programs using both regional and facility-level data to monitor progress towards multiple performance indicators and recognize top performers. These indicators encompass areas such as home dialysis prevalence rates and vascular access surgery wait times along with other high priority metrics.
Visit www.grhosp.on.ca/renal-program (opens in new window) to learn more about the renal care programs and services in Waterloo Region and Guelph-Wellington.