Posted: April 19, 2018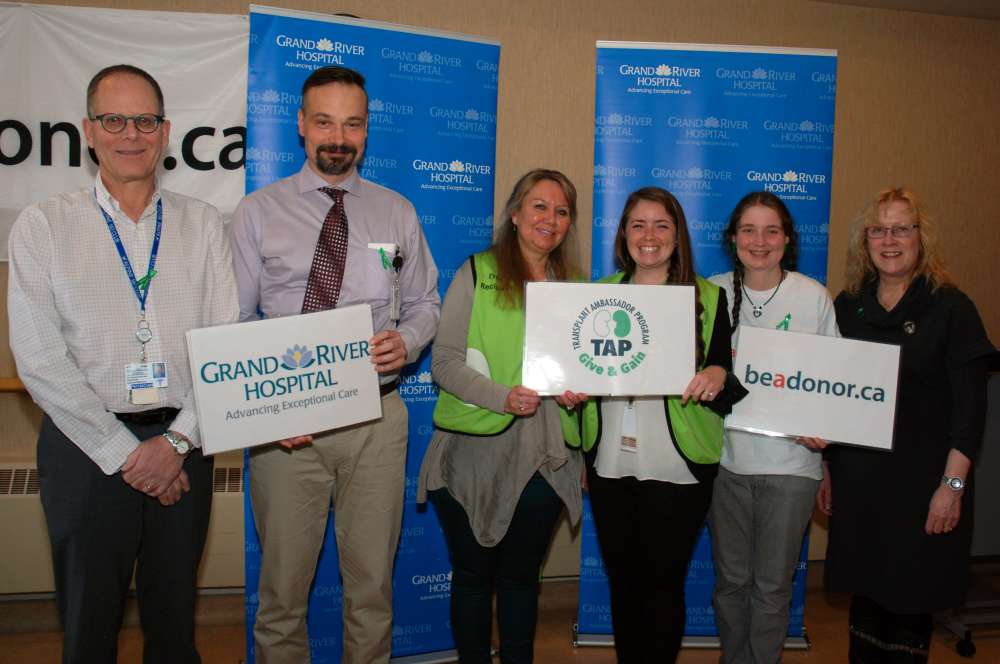 Today, more than 1,500 people in Ontario are waiting for a lifesaving organ transplant. Every three days someone dies waiting. April is National Organ and Tissue Donation Awareness Month and Grand River Hospital, together with the Life Donation Awareness Association and the Transplant Ambassador Program, is encouraging our community to show their support by registering as an organ and tissue donor.
Organ donation is a hard but an important conversation to have. Only 32 per cent of eligible Ontarians have registered to donate. One organ donor can save up to eight lives and enhance the lives of up to 75 others through tissue donation.
GRH works closely with Trillium Gift of Life Network (TGLN) to help provide quality end of life care for patients and their families, as well as facilitate eligible organ and tissue donation.
"The success of organ and tissue donation in Ontario relies on the hard work and dedication of our hospital partners," said Dr. Paul Hosek, medical director of critical careat GRH and hospital donation physician for TGLN. "Organ donation works. Over the last five years, organ donation saved the lives of 164 people in Waterloo Wellington."
GRH is one of 13 hospitals in Ontario implementing the Ontario Renal Network's AKT strategy (Access to Kidney Transplantation and Living Donation) with a goal to increase kidney transplantation by 20 per cent by the year 2021. One of the AKT strategy initiatives is a Transplant Ambassador Program (TAP), which is a patient-led program where kidney transplant recipients and donors visit hospital clinics to share their transplant experiences with kidney patients and their families. 
"As transplant ambassadors, we visit patients and their families in clinic to provide support, a listening ear and a helping hand through the process of their kidney journey. We know what you are going through, because we've been there too," said Candice Coghlan, kidney recipient and co-lead for TAP both at Grand River Hospital and for the overall provincial initiative.
TGLN and hospitals are successfully working together to ensure no opportunities for donation are missed. There are currently 38 people in Waterloo region awaiting an organ transplant.
This National Organ and Tissue Donation Awareness Month, let's be a donor nation and pass it on. Visit www.BeADonor.ca to register or find out more.