Posted: May 14, 2018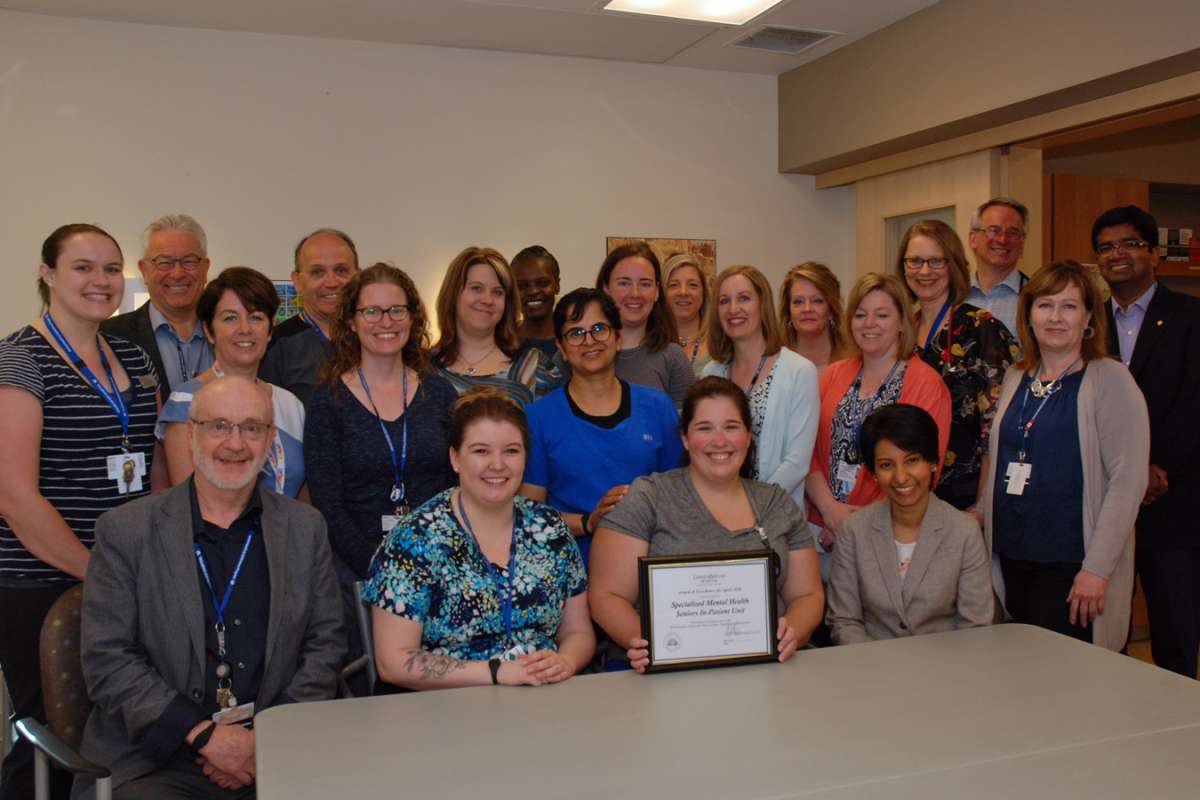 The staff members of Grand River Hospital's seniors' specialized mental health unit have won the latest team award of excellent for their work to put "compassion in every action".

The unit at the Freeport Campus helps people with end stage dementia, who are also dealing with responsive behaviours... or their best attempt to express themselves using the remaining abilities they have.
The team's nominator recognized the unit's staff for meeting the hospital's values in the following ways:
Compassion: The team continues to see the core humanity of their patients and remain compassionate to them. For example, sometimes staff members have attempted to learn the patient's first language and tailor their approach in order to respond to the patient as holistically as possible.
Collaboration: the team members have developed significant collaboration with each other. The team has developed huddles where they discuss issues and solve problems together.
It is also a very multidisciplinary team with members of occupational therapy, recreational therapy and spiritual care to name a few. This approach also extends to other departments like security whose members help with safety when needed, occupational health and safety and union representatives who work together to keep the team and patients safe.
The philosophy also includes the family as part of the healing process. They have meetings with family and support them as they understand the illness and help them see the humanity in the patient.
The senior's transition team is unique to this region in that they work with the patients both during admission and coach staff and long term care on discharge to support successful transition to the community for some patients with greater behavioral challenges. 
Positive attitude: This team has supported each other in this work and they maintain a positive attitude and a caring approach with patients who are often in difficult stage of life. 
Professionalism: The team approaches patients by always seeing them as people and practicing patient-centered care. They actively practice a "gentle persuasive approach", seek to involve families and care givers in treatment and develop treatment plans that are focused on their patients as individuals. This goes as far as learning words in the patients' language, learning what their favorite music or foods are and how the patient would best like to be treated.
Respect: The team's respect is seen in the way they talk and refer to their patients, the way they practice patient care – by developing creative patient centered solutions. They have changed their philosophy and do not use restraints whenever possible, instead changing the environment and approach whenever possible.
Thank you to the team members of seniors' specialized mental health for supporting patients, families and each other and providing compassionate care.