Posted: September 5, 2018
As part of our efforts to reduce stigma and improve mental health care, Grand River Hospital's mental health and addictions program has advice and support for individuals who have attempted suicide and survived as well as their families.
Dr. John Heintzman is chief of psychiatry, while Patricia Patterson is the hospital's director of child and adolescent mental health as well as the specialized mental health program at Freeport.
Together, they want to show different ways for individuals to do well in their recovery, and how loved ones and friends can support them along the way.
---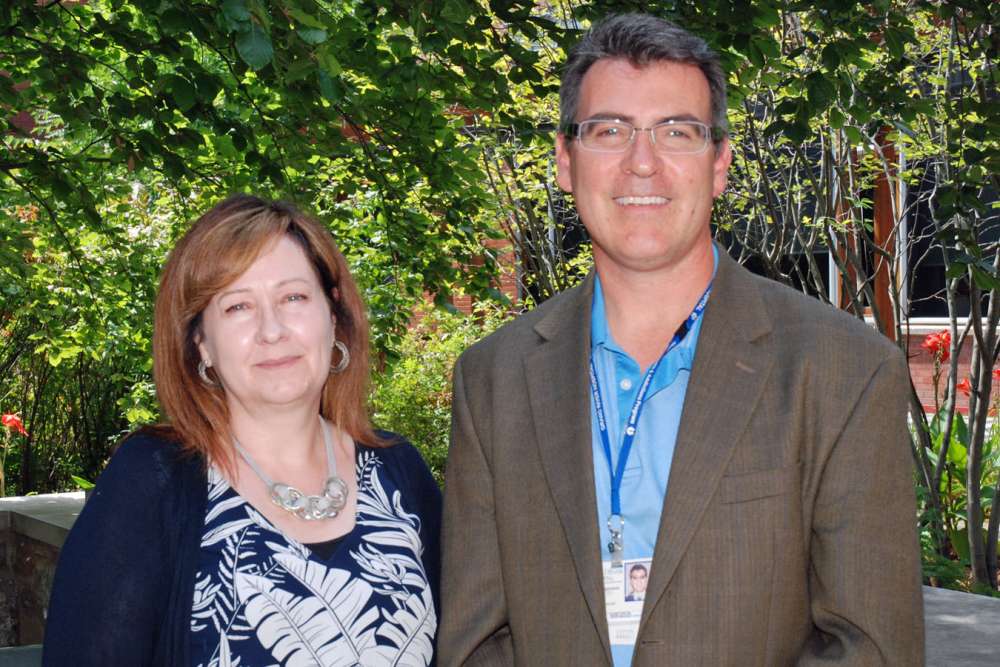 How does stigma manifest itself after someone attempts suicide and survives?
John: People presume they know and understand the situation, without really knowing the person. That's the common theme of what I hear from my patients.
In general, what does a person who has survived a suicide attempt need the most in their recovery?
Patricia: It's important to remember recovery is a process and is different for everyone. Don't be discouraged by what may seem like setbacks or slow progress.
Recovery usually extends long beyond hospitalization, and will involve support from professionals, as well as friends and family. The first six months after a hospitalization are especially critical to the suicide attempt survivor's recovery.
We suggest the following:
Let other people in to help you.
Follow the advice of doctors, and take medication as prescribed.
Work on a routine with sleeping, meals and exercise.
Remove things around your home that you might harm yourself with.
Keep the use of alcohol and drugs to a minimum, preferably avoiding them altogether. They can impair your judgement and make you feel worse.
If you feel suicidal, consider calling a helpline, seeing your doctor, or going to the nearest emergency department.
How can family members help a person who's survived a suicide attempt?
John: One of the most powerful things you can do is be with your loved one at this time. Even when you don't know what to say, just be there with them. For the first few weeks, face to face is best, but there are so many ways to connect with technology – skype, phone, text, social media.
Talk openly with your loved one. Ask them what they need, and help them create a good plan for their recovery.
How can friends help?
Patricia: There are a number of ways:
Let the person know you will listen. It is vital to create a 'safe space' for the person to talk – Then listen.
Try to understand the feelings and perspective of the person before exploring solutions together.
Support the person in exploring and developing realistic plans to take small steps to let go of suicide as a solution.
It is important for the suicidal person to assume as much responsibility for their own welfare as they are capable of at that time.
Ask others to help and make sure you get family and friends to help support the person.
---
Additional resources:
The Waterloo Region Suicide Prevention Council offers a great deal of information on preventing suicide and supporting individuals with mental health needs: https://wrspc.ca/ (opens in a new window)
We also recommend the following support lines:
Here 24/7 Crisis Services of Waterloo Region: (844) 437-3247
Here 24/7 Distress Line: (844) 437-3247
Here 24/7 Youth Line of Waterloo Region: (844) 437-3247
Kids Help Phone: (800) 668-6868
First Nations and Inuit Hope for Wellness 24/7 Help Line 1-855-242-3310
Canadian Indian Residential Schools Crisis Line 1-866-925-4419
Trans LifeLine – All Ages 1-877-330-6366
Canada Suicide Prevention Service website (CSPS) [opens in a new tab], anywhere in Canada 1-833-456-4566
If you need or someone you know needs urgent mental health care, please visit GRH's Lazaridis Family Foundation Emergency Department at our KW Campus, 835 King Street West in Kitchener.
Learn how family members and friends can spot the warning signs of suicide...