Posted: April 20, 2018
As National Volunteer Week concludes, a record donation by the Grand River Hospital Volunteer Association (GRHVA) will play a major role in bringing an advanced magnetic resonance imaging (MRI) scanner to Waterloo Region.
The GRHVA has donated $200,000 in net proceeds from its 2017 operations to Grand River Hospital Foundation for its MRI campaign. GRHVA runs the hospital's retail services including the KW Campus Tim Hortons, gift shops at both campuses and the Freeport general store.
With this contribution:
The Grand River Hospital Foundation MRI campaign has now reached $1 million of its $4.5 million goal; and
The total GRHVA donation since 1988 to purchase new equipment and support patient care improvements at the hospital has surpassed $5 million.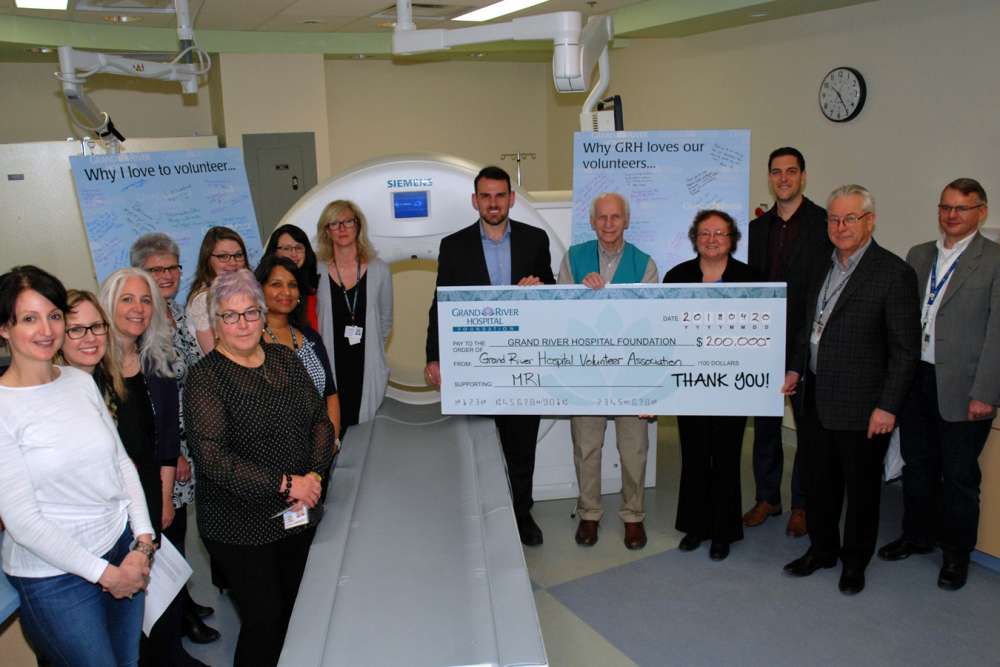 "Every day, patients and families experience the dedication of the thousand volunteers throughout GRH's Freeport and KW campuses," said Bobby Thompson, president of the Grand River Hospital Volunteer Association. "As volunteers, we are all passionate about helping patients and their families have the best experience. We are happy to give our time and expertise and we're proud to support Grand River Hospital."

"The commitment of every single GRH volunteer to health care and our patients is absolutely amazing," said Tracey Bailey, president and CEO of Grand River Hospital Foundation. "We are so incredibly thankful for their generous support every day and over the years. Each and every GRH volunteer – from those behind the scenes to those on the frontlines - should be very proud of their contribution and this donation towards purchasing a new MRI. It will save the lives of so many people in our community for years."
For the past five years, net proceeds from the GRHVA's retail services have contributed to the following enhancements at the hospital:
| Year | Contribution | Areas of support |
| --- | --- | --- |
| 2014 | $127,000 | CT scanner and Art for Health |
| 2015 | $98,000 | CT scanner, electro-cardiography devices, dialysis recliner chairs, Neopuffs (devices that support premature infants' breathing) and Art for Health. |
| 2016 | $122,000 | Beds and stretchers, patient wandering system and Art for Health |
| 2017 | $161,970 | Wheelchairs and children's services |
| 2018 | $200,000 | MRI |
The GRHVA contribution to the MRI will play a key role in the fast and accurate diagnosis of a wide range of illness and injuries. These include stroke, cancer, trauma and internal bleeding, muscle and joint injuries, diseases of the heart, brain disorders and many other urgent and complex conditions. Grand River Hospital technologists conduct more than 16,000 MRI studies every year.
"We're so grateful for the contributions of our thousand volunteers through the gift of their time to our patients. The donation of the net proceeds from the GRHVA's retail services will also contribute to better health outcomes for our community," said Jennifer O'Brien, vice president of human resources for Grand River Hospital. "While one can quantify the hours given and dollars raised by GRH volunteers, the impact of their service for patients and families is immeasurable. We thank them for their kindness and care."