Posted: October 22, 2019
Thanks to We Fund Care and its generous supporters, renovations to the family lounge in Grand River Hospital's children's program are complete and the space is ready for families to use.
The family lounge, located in the inpatient area of the children's program, underwent renovations to make it more welcoming, warm and comfortable for families with children in hospital. Families will be able to use the room to prepare a meal, read a book, watch TV or sit by the fireplace.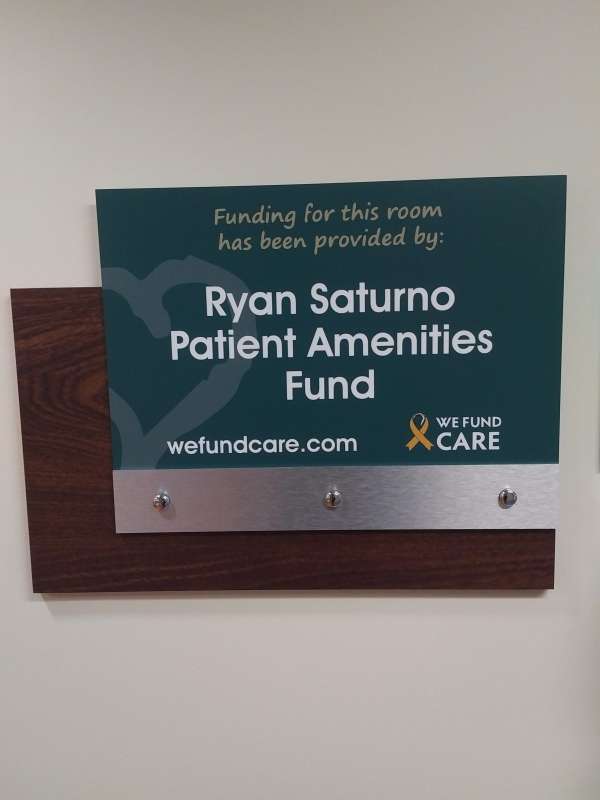 "We're so grateful for donors like We Fund Care who support the children's program," says Patricia Blancher, Director, Children and Childbirth Programs, Grand River Hospital. "Parents and guardians want to be close to their children when they're in hospital and with this space the family is able to seek the comfort they need without having to leave. It allows them to focus on the care of the child."
We Fund Care is a local organization that was established in 2016 inmemory of Ryan Saturno. Ryan passed away on February 14, 2016 at the age of 26 after a long and difficult battle with a soft tissue sarcoma. We Fund Care was created by Ryan's family and close friends in an effort to help alleviate the financial burden and emotional strain on familieswho have children that are struggling with similar cancer-related journeys.
"The reopening of the family lounge is in honour of Ryan, who in spite of battling this horrible disease, never lost his wit, wisdom and love for his family and friends," says Val Saturno, Ryan's father and Co-Founder of We Fund Care. "Today we see how our vision of helping families can make an impact."
Grand River Hospital is the local children's hospital providing care to thousands of children every year. Children who are admitted to hospital overnight stay in the inpatient area where the room is located. The 12-bed area is supported by 40 staff, 15 pediatricians as well as medical residents.