Posted: May 4, 2020
COVID-19 has brought many changes to local care environments, including the need to equip staff with the protective gear they need to be safe while providing care to patients. Currently, health organizations around the world are managing this new reality within the context of a global shortage of this vital personal protective equipment.
While Grand River Hospital has always had a focus on innovation, COVID-19 is bringing staff together in new ways to identify problems and find solutions that create widespread and shared benefits.   
Hazardous medications, like some chemotherapies, are mixed by staff at the hospital and then injected intravenously (into a patient's vein). Preparing these medications requires staff to wear protective equipment such as gowns, gloves, and N95 respirator masks. These drugs can also contaminate surfaces in spaces where they are provided to patients (e.g. chairs, floors, desks, tables, bathrooms, etc.). While protocols are in place to minimize this type of contamination, we are always investigating new ways of working with these drugs to increase safety for both patients and staff.
"With a global shortage of PPE, GRH conducted an audit to find out where N95 respirators are used in the hospital. We found the pharmacy team, in addition to the oncology program nurses, were among the highest users of the N95 respirators with N95s required to prepare and administer these high risk medications," explains Kathy Planinac, a pharmacist at Grand River Hospital.
When the pharmacy and cancer care teams saw an opportunity to make the hazardous drug process safer and save N95 masks, both teams rolled up their sleeves and got to work with a sense of urgency. The clock was ticking.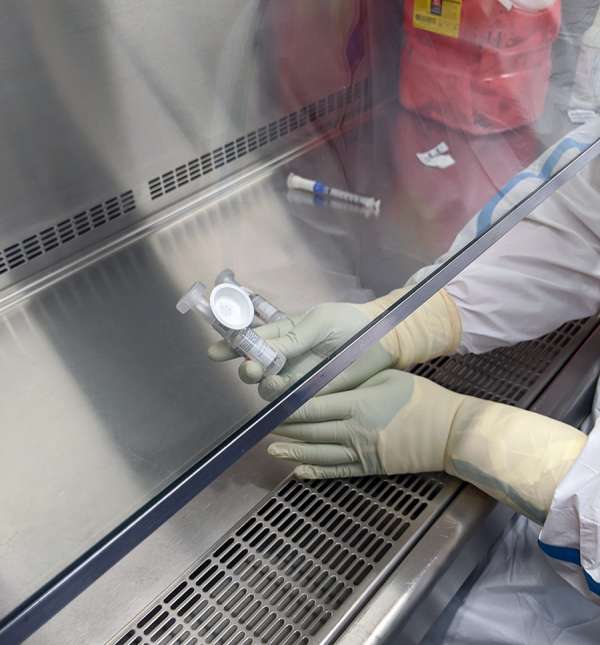 Enter the closed system transfer device. Quite literally a small device about the size of your thumb, it has several components that make sure the mixing, transport and administration of these hazardous drugs is done in a leak-proof and airtight way. The end result is increased safety for everyone.
"Closed system transfer devices keep everyone and the physical environment safe from unwanted exposure. It also keeps medications safe from contamination with bacteria or viruses," says Kathy. "Nothing can get in and nothing can get out!"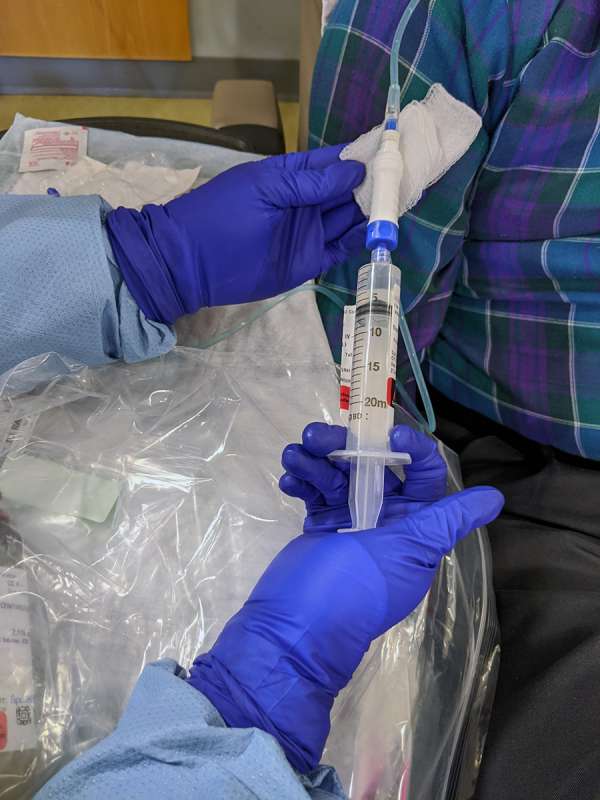 Bringing new devices and protocols to a hospital usually takes months of planning. From training to roll-out, the teams pulled together to begin using this new technology to the benefit of staff and patients in under two weeks. It has been extremely successful.
"This change and the work of both the pharmacy and oncology teams has saved at least 40-50 N95 respirators per day, which can now be redistributed directly to our frontline colleagues who are caring for our patients, including those fighting COVID-19," says Vickie Murray, integrated director of pharmacy at both Grand River and St. Mary's General Hospital.
Special thanks to the Grand River Hospital Foundation and our community for providing the funding that made the implementation of this device possible.