Posted: December 1, 2017
After a year at Grand River Hospital, Cindy Rogers of environmental services has made quite an impression.
She has won GRH's latest award of excellence for her work supporting patients, her staff, and the broader hospital community.
Cindy is a supervisor in environmental services. The department is responsible for cleaning and disinfection of hospital care spaces, and transporting patients around the hospital for procedures and specialized testing.
Cindy's nominator recognized her for meeting the hospital's values in the following ways: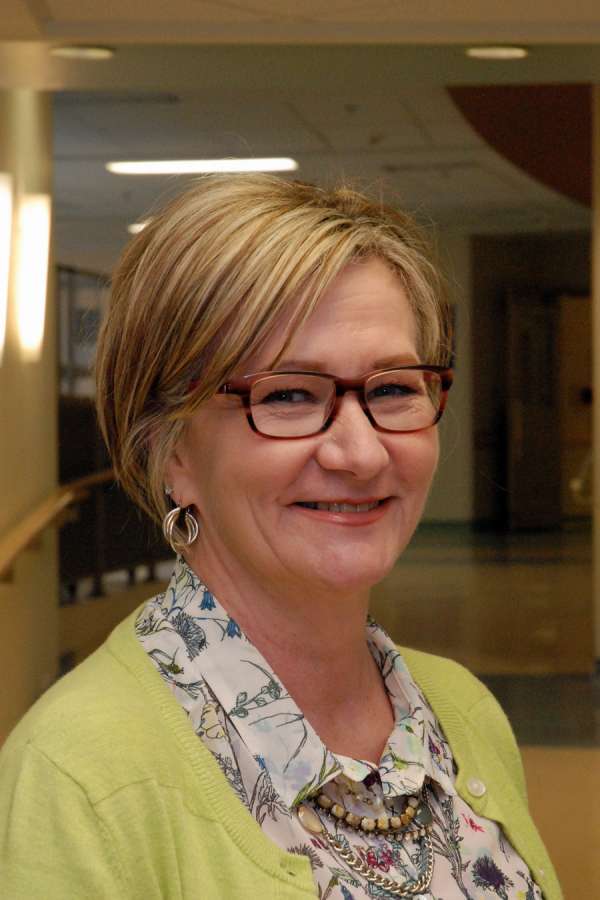 Compassion: While she leads a service department, Cindy's motivation is always patient-centered. She will work tirelessly to re-assign resources to ensure that patients waiting for transport around the hospital are not delayed.  She has provided coaching and mentoring to several employees.
Collaboration: Cindy played a key role in working with staff to redesign their program office space to improve flow, provide a small lounge for staff and improve communication with team members.
Positive attitude: During a recent appreciation day, staff recognized Cindy for her "can-do" attitude, her responsiveness and her follow through.  She regularly formally thanks staff with written notes and gives them small gifts, paid for out of her own pocket.
Professionalism: as the early shift supervisor, Cindy is the first point of contact for most calls from customers, including complaints. She is always respectful of their concerns and responsive to their needs.
Respect: Cindy does not shy away from difficult conversations, but does so in a way that respects the individual and maintains their dignity.
Congratulations to Cindy and thank you for your exceptional service in your first year at GRH.