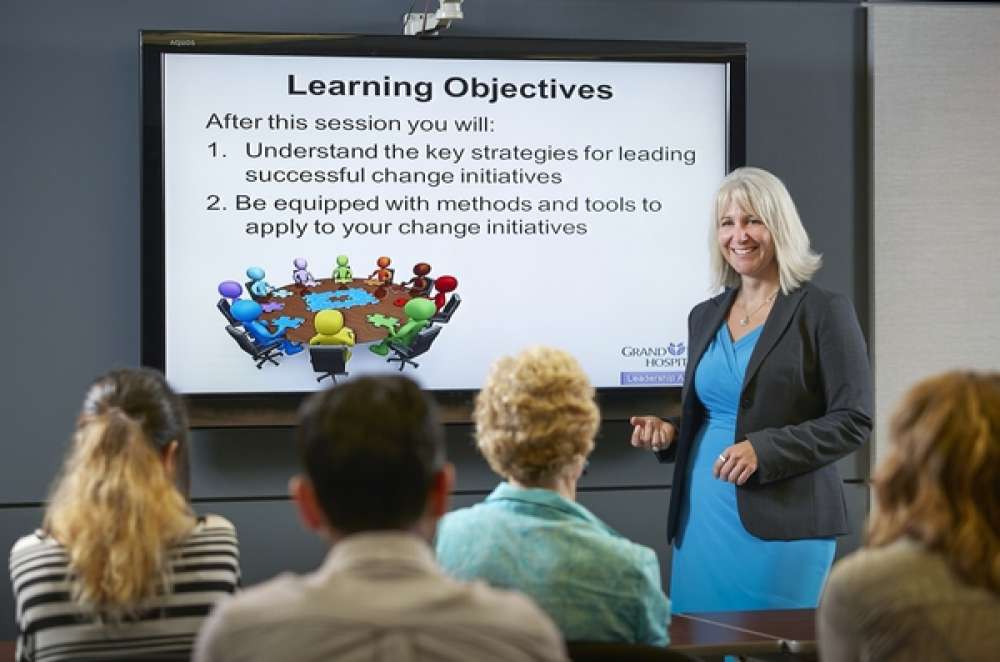 What sets us apart
At Grand River Hospital (GRH), we understand how important our people are to fulfilling our goal of Advancing Exceptional Care and providing a patient-focused, high quality health system for Waterloo Region.
Our most important asset is our people; when you are at your best, we are at our best. That's why we provide a variety of benefits to enhance the health and well-being of our employees and families. Of course, it's not just about the competitive pay and comprehensive benefits, but you can find details about those here too.
Grand River Hospital is also a leader in providing health care services to Waterloo Region residents. Find out more about our achievements and excellence, as well as our Best Practice Spotlight Organization designation.
Compensation and benefits
Comprehensive benefits
We provide a comprehensive benefits plan to enhance the health and well-being of our employees and their families. This includes (but is not limited to) group health, dental, vision, disability and life insurance.
Pension plan
We want our employees to have a financially secure retirement. As an employee, you have access to one of two pension plans that offers its members a retirement income for life. Both pension plans are defined benefit pension plans, which pays a set pension amount every month based on a member's length of service and best five consecutive years of earnings.
Employee and Family Assistance Program (EFAP)
Every GRH employee and their immediate family members have access to confidential and voluntary counselling support services to deal with a range of personal, family and life balance concerns. Services are provided through an external third party provider and are free of charge for employees and their immediate family members.
Tuition assistance program (TAP)
With thanks to the generosity of individuals and organizations, GRH and the hospital's Foundation work in partnership to provide tuition support to assist hospital staff in attaining their professional development goals. The tuition assistance program provides eligible full-time and part-time employees an opportunity to apply for and receive partial and/or full reimbursement of their tuition expenses for qualifying educational courses.
Bus pass discounts
For permanent GRH employees, the hospital, in conjunction with the Region of Waterloo provides bus passes to employees at a reduced rate.
GRH social club
The social club consists of employees who volunteer their time to organize social events for employees and their families. Examples of events include:
Family fun night;
Chicopee winter tubing night;
Free family movie night;
Shopping trips to the United States; and
the children's Christmas party.
Retail pharmacy
The hospital has a retail pharmacy located on the KW Campus main lobby where all staff with a valid ID badge receive an employee discount. It is also a convenient way to fill your prescription while you are at work.
Rewards and recognition
Award of Excellence Program
GRH's monthly award of excellence program recognizes individuals who excel in bringing our hospital values to life. All employees and physicians are eligible to win the award. Any employee, visitor, patient, volunteer or physician can make a nomination. Monthly winners receive:
a framed certificate;
a plaque mounted in the lobby with their photo and name;
designated parking close to the entrance of the Hospital for one month; and,
an invitation to a yearly luncheon with the President and CEO.
Long service awards program
To recognize and appreciate loyal and dedicated service, the Hospital provides long service awards to employees and physicians upon completion of the following years of service: five years, 10 years, 15 years, 20 years, 25 years and each five year interval thereafter. Employees and physicians with more than 25 years of service are celebrated at our Annual Quarter Century Club dinner to mark their commitment and dedication to the Hospital.
Learning resources
We believe in providing access to development opportunities and resources so you can not only do your job effectively but also bring your potential to life. A variety of learning resources are available to enable individuals, groups and teams to enhance their skills, knowledge and practices. Our learning resources are provided through a variety of methods including classroom learning, e-learning and one-on-one coaching.
Hospital orientation program
New employees attend a half-day orientation program that covers GRH culture and provides essential staff information. These sessions are helpful for staff to navigate their new work environment.
Health professionals orientation program
New health care professionals are provided with an extended orientation to learn more about our patient care areas such as pain management, wound care, IV therapy, respiratory therapy and documentation.
The learning management system (LMS)
The hospital's learning management system (LMS) allows staff to complete e-learning courses, online tests and participate in surveys 24/7. In 2010, the Hospital was awarded the Workplace Training Award at the Greater Kitchener-Waterloo Chamber of Commerce's Business Excellence Awards for delivering online training needed to promote skills, knowledge and safety in the organization.