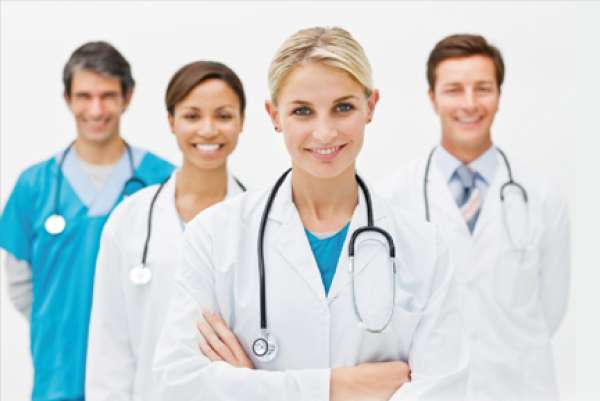 In the medicine program, teams of people work together to provide your care.
Members of the health care team will teach you and your family about:
what has happened;
what treatment and care is needed;
what to expect during your stay on the unit; and
what to expect when you leave the hospital or are transferred to an appropriate place to continue convalescence.
Here are some of the team members you may meet:
Team member
How they help

Doctors:

Hospitalist
Internist
Respirologist
Nephrologist/urologist
Cardiologist
Neurologist
Surgeon

A physician who specializes in caring for patients admitted to hospital. At Grand River Hospital, they care for patients who do not have a family doctor, or whose family doctor has chosen not to have admitting privileges here.

Hospitalists work together with a team of specialists, nurses, therapists, and other health care staff to provide high quality medical care.

A hospitalist is assigned to your care, however you may deal with more than one hospitalist during your stay. On nights and on weekends, there is always a hospitalist on call in case of an emergency.

Internist

Internal medicine specialist

Respirologist

Lung specialist

Nephrologist/Urologist

Kidney specialist

Cardiologist

Heart specialist

Neurologist

Nervous system specialist

Surgeon

Specialist physician involved in reviewing treatment requiring surgery
Your family physician will not be responsible for your in-hospital stay, but will be updated on your medical concerns and receive a copy of the discharge note.
Please ensure we have your correct up to date family physician's name at the time of admission to our program.
Other health care team members:
Team member
How they help

Registered nurses and 
registered practical nurses

Plans and provides your daily patient care
Answers questions and concerns
Assists with planning patient discharge

Registered clinical dietitians and diet technician

Assesses the patient's nutritional status and ensures that nutritional needs are met.
Nutritional teaching

Clinical nurse specialist

The clinical nurse specialist is an advanced practice nurse (registered nurse with a master's degree).
Provides consultation and collaboration, leadership, and research to the hospital in the area of geriatrics/or care of the elderly
Provides support to the patient (and family)
Assists with acute care or transitions of care
Helps patients and families with supports within the organization as well as in the community

Elder life specialist (ELS)

Administers and coordinates the hospital elder life program (HELP).
Responsible for day to day operations of the program, screening and enrolling patients in the program, providing individual care plans for the patients, orienting families to the program and volunteer management.
HELP provides targeted interventions that address geriatric issues known to contribute to cognitive and functional decline during hospitalization.
ELS's are experienced or have a specialization working with the elderly population.

Occupational therapist


Assesses ability to manage normal daily activities (dressing, grooming, and cooking) and provides treatment to increase activity tolerance
Assesses and treats changes in thinking and how information is interpreted
Helps to identify what supports will be needed on discharge

Physiotherapist

Assesses physical functioning and disabilities
Treats to increase strength, improve balance, encourages normal movement patterns and improves breathing control
Assists with discharge planning

Therapy assistant

Assists the occupational therapist, physiotherapist with plan of care

Pharmacist


Acts as a source of medicine information to the patient, doctor, and to other members of the health care team
Works with the healthcare providers to optimize your medication regimen

Social worker


Helps the patient and their family learn ways of coping with changes
Provides information about financial and community support services
Assists with discharge planning

Respiratory therapist

Assesses, consults and treats patients for a variety of heart and lung disorders
Available 24 hours a day, seven days a week

Speech-language pathologist

Assesses and makes recommendations for managing swallowing problems
Helps the patient with spoken and written communication

Spiritual care/pastoral care


Offers support in times of trauma or stress to any patient, family member, or staff within the hospital
Provides supportive counselling and help in dealing with issues of grief and loss

Care coordinator for the Community Care Access Center (CCAC)

Will assist with assessing and planning your discharge needs