Posted: November 3, 2016
Slidshow Gallery: Press the tab key to access slideshow navigation, then use the arrow keys to navigate between slides, and use the tab key to access the current slide content.
Event organizers Kate McCabe and Sandra Nuttin with home dialysis machines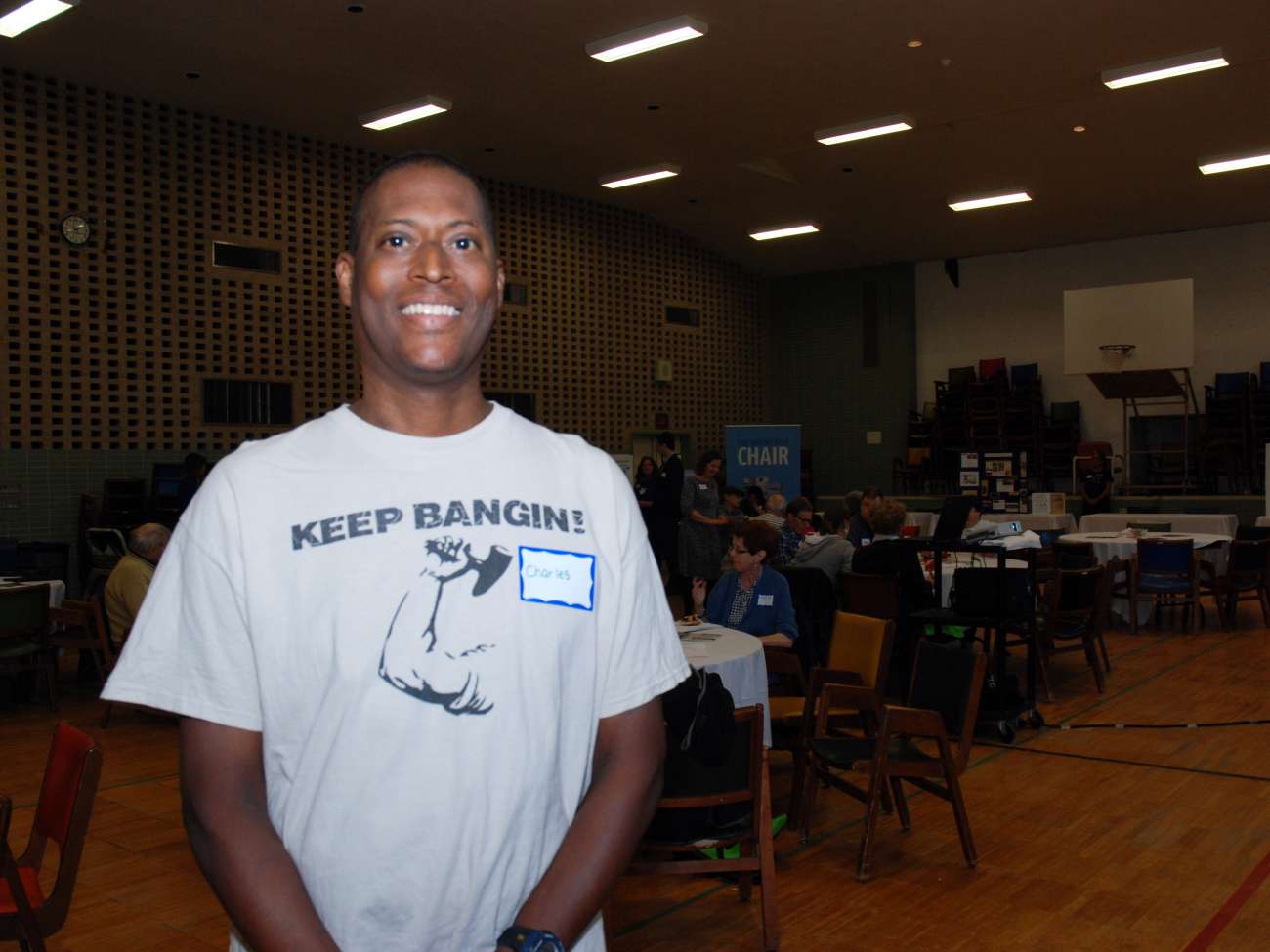 Charles Cook, a home hemodialysis patient
Registered nurses Emily Hurst and Bernadette Mandl who work in peritoneal dialysis
Grand River Hospital is giving patients the tools and knowledge they need to manage kidney disease on their own terms.
Patients who require dialysis are often visiting a hospital for their treatment three or more times a week for several hours at a time, which can often disrupt their daily routines.
Fortunately, Grand River Hospital has home hemodialysis and peritoneal dialysis programs that enable patients to manage their kidney diseases in the comfort of their own home. Each program offers a different way to clean waste products from a patient's body. Peritoneal dialysis (or PD) uses the peritoneal membrane to clean waste products and there is no blood involved, while home hemodialysis does use blood that travels through a machine and then back into the patient.
Charles Cook, a GRH home hemodialysis patient, began the program after suffering complications from heart surgery that took away his kidney function.
"The biggest thing for me is quality of life. If you have to be on dialysis, doing it at home is the way to go. There's so much flexibility with it, I feel completely confident that I can handle any situation that comes up, and… it's me. I'm taking care of my body and I feel more in control than I ever have or ever thought I would, and it's all because I get to do that."
To ensure GRH is able to continue to provide exceptional patient care, GRH hosted its fifth annual Independent Dialysis Education Day on November 3rd. This event is an opportunity for patients in GRH's two home dialysis programs to learn more about topics that are important to renal health care.
"Initially this day started as an education day for PD patients as an initiative for continuing patient education. A few years later, the home hemodialysis program was quickly expanding and it was decided that it would be beneficial to amalgamate the two programs," said Kate McCabe, a clinical secretary who assisted in organizing the event.
Without home modalities, the majority of patients dealing with chronic kidney disease need to come to the hospital three or more times a week for four to five hours per treatment.
"When patients discover that they can do dialysis at home, there is a sense of hope that although this condition is chronic, they will gain some independence and be able to spend more time with their family and friends. Not only do these patients feel empowered to be able to manage their own care, their overall health is improved with more frequent dialysis," said Sandra Nuttin, a registered nurse in nephrology who also helped in organizing this event.