Posted: April 25, 2016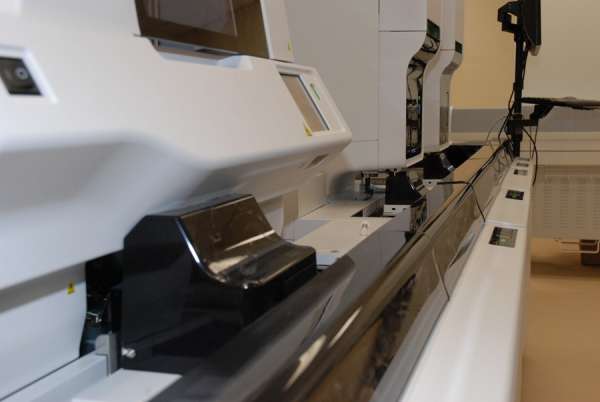 Grand River Hospital's (GRH) one year old automated laboratory uses the latest technology to simplify laboratory processes, increase quality, reduce errors and improve test turnaround time for nearly 2.2 million patient tests a year.
Since the launch of the automated lab, GRH saw an immediate 10 per cent reduction in test result turnaround times.  Improved test turnaround times means reduced treatment delays, wait times and patient length of stay.
For Cherrie Martinez, a medical lab technologist at GRH, the automated lab has helped her focus more time on reviewing patient test results and on quality improvement. 
"The automated system has certainly played a big role in optimizing lab performance by improving our workflow," says Martinez.  "It has made our job a lot easier and we can get more tests done faster."
85 per cent of clinical decisions are based on lab test results.  The automated lab ensures standardization, efficiency, timeliness, and quality among all of their functions that lead health care providers to make the best care decisions for patients.
"When time is of the essence, faster, more accurate lab results will help to ensure a better quality of care for our patients," says Martinez.
The now one year old fully automated specimen testing system is linked through a single integrated track.  It uses high-tech equipment and software to carry specimens to various pieces of equipment that prepares, tests and retrieves samples for further testing. 
"The system also sends results electronically to physicians," says Martinez.
"The automated lab uses state-of-the-art equipment and technology to ensure to a greater degree than ever before that the hospital's lab performs the right test for the right patient and an accurate result in the fastest possible time," says Dr. Dimitrios Divaris, Chief of Laboratory Medicine and Medical Director of laboratories for Grand River and St. Mary's Hospitals.
This year, auto verification was implemented to even further improve turn-around-times. The system has been validated to ensure that results not needing intervention by laboratory professionals are available immediately to the practitioner. 
"The ultimate goal for having an automated system like this is seeing the benefit to the quality of care to our patients.  The system gives better service with improved turn-around times and clinicians are able to receive patient results faster," says Martinez.
The automated lab system, manufactured by Ortho Clinical Diagnostics, Sysmex and Stago was installed at a cost of $3.2 million in 2015 and remains the first of its kind in Canada.
A team of medical lab technologists, medical lab assistants and other support staff work within the automated lab to complete nearly 6,000 tests a day received from across the hospital.  Lab automation will allow more tests to be done faster, without increasing staff as demand for health care grows in the coming years.
National Medical Lab Technologist Week
April 24th to 30th is National Medical Laboratory week and GRH is celebrating the often unrecognized work of these very important staff members.  Please visit our stories page on our website to read about some our lab technicians and other great staff at GRH who work hard at providing exceptional care to our community.