Posted: July 22, 2016
GRH spiritual care director (Rev.) John Lougheed supports patients and families often during very trying times.
His compassion and above-and-beyond approach were among the many reasons he won Grand River Hospital's award of excellence for July.
John has worked at GRH for nearly 14 years. He currently leads the spiritual care department, including a small staff group and a large complement of volunteer spiritual care providers.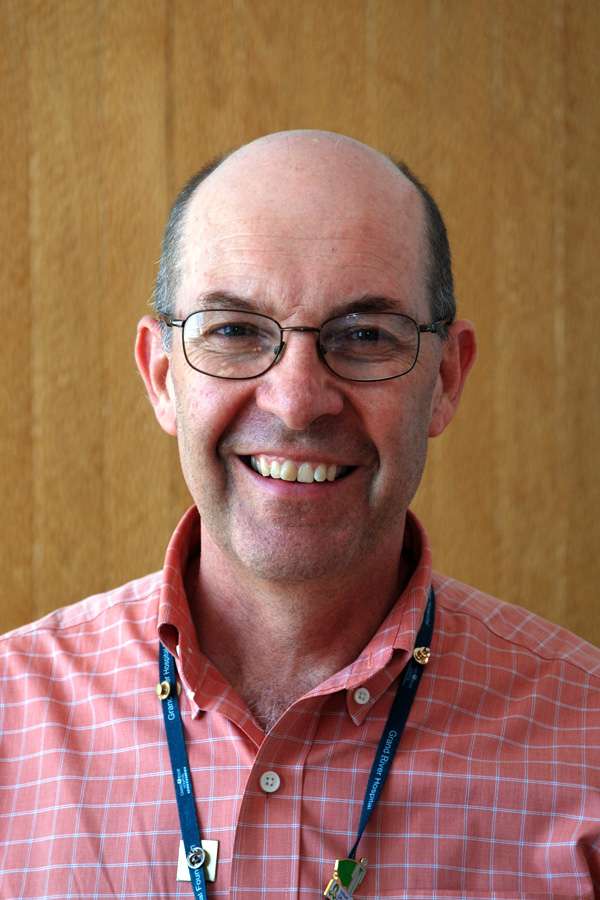 John's nominator recognized him for the following attributes:
Compassion: he is right beside patients and families tending to their needs in their most difficult times. In 2014 for example, a business in the community had a carbon monoxide leak leading to a surge of patients at GRH. John very quickly spoke to and began arranging for the arrival of families who would be coming to the hospital looking for their loved ones. 
Collaboration: John provides the hospital a very big picture perspective when working on committees. His calm, open manner makes him an absolute pleasure to work with in teams and on projects. As a donor and supporter, he has been very active in GRH's Partners for Life blood drive, showing up at clinics after hours to cheer on GRH donors and lend a helping hand.
Positive attitude: John has a way of realizing what people need at a given point, and providing that to them.  It takes a very special person to remain positive and upbeat while dealing with such turmoil and John does it.  He always has a kind word to pass along to those of us in the hospital community. 
Professionalism: whenever we've had ION-related traffic updates or major events involving the hospital community, John thinks of faith leaders and spiritual care providers with whom he works. He provides them updates that will help them do their work more effectively.  He is out at community events, lending his support on behalf of GRH.
Respect: John exudes respect by every action.  He puts others first which is the greatest sign of respect.
His nominator added, "I am sure if you ask anyone in the hospital community they will have a story about how John has supported a patient and their family, lifted the spirits of staff members and advanced exceptional care in our community.  We are so fortunate to have him here."
Congratulations John and thank you for your service to patients, families and the GRH community!