Posted: December 1, 2016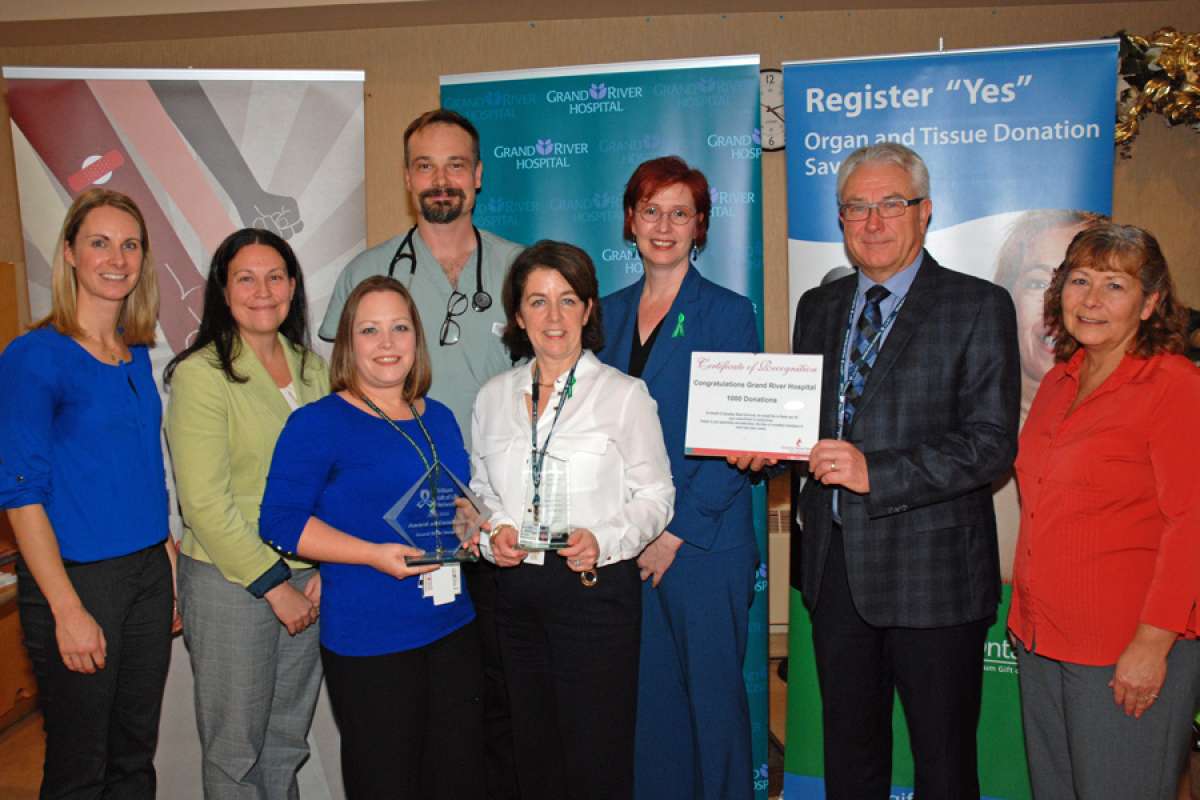 Grand River Hospital has received accolades for its commitment to organ, tissue and blood donation.
 Trillium Gift of Life Network presented GRH with two honours. The first is a hospital achievement award for exceeding the provincial conversion target rate of 67 per cent. In 2015/2016, 80 per cent of potential donors referred by GRH went on to give the gift of life. The second is an award of excellence for having surpassed the provincial conversion rate for four consecutive years, an award only four Ontario hospitals have achieved this year.
Canadian Blood Services has also recognized GRH for 1,300 blood donations from staff, physicians and volunteers through its Partners for Life program since 2010. In 2014 and 2015, GRH raised the second highest number of blood donations from staff, physicians and volunteers of participating Ontario hospitals.
"There are many ways people can make life-saving donations, whether it's through a blood donation in times of health or choosing an organ or a tissue donation at the end of a loved one's life," said Judy Linton, GRH Vice President of Clinical Services and Chief Nursing Executive. "We're privileged to work with Trillium Gift of Life Network and Canadian Blood Services as we seek to further support life-saving organ, tissue and blood donations."
"Every day we work hard to save lives through organ donation and transplantation, but this is only made possible because of our committed hospital partners," said Ronnie Gavsie, President and CEO, Trillium Gift of Life Network. "Together we want to ensure all families have the information they need and the opportunity to make a life-saving choice."
"We are proud to work together with Grand River Hospital through the Partners for Life program," says Janet Sullivan, Canadian Blood Services' Associate Director of Donor Relations, Ontario. "Without their time, dedication and generosity, Canadian Blood Services would not be able to provide the life-saving services required by patients."
There are 1,500 people in Ontario waiting for a life-saving organ transplant and every three days someone dies waiting. Register your consent for organ and tissue donation at www.BeADonor.ca (opens in a new tab) and talk to your family about your wishes. Kitchener exceeds the provincial registration rate of 30 per cent with a registration rate of 38 per cent, ranking 96 out of 170 communities in Ontario.
Supporting the blood supply is vital for life-saving treatment in GRH programs such as childbirth, surgery, emergency, critical care and cancer care. Book your appointment to donate by calling 1-888-2-DONATE or visiting blood.ca (opens in a new tab).

Quick facts:
Donation and transplant statistics are available by hospital: www.giftoflife.on.ca/en/publicreporting.htm
One donor can save eight lives and enhance the lives of 75 more through the gift of tissue.
Everyone is a potential organ and tissue donor. To date, the oldest Canadian organ donor was 92 and the oldest tissue donor was 100.
Grand River Hospital needs 9,000 units of blood every year to support patient care needs.
Approximately four per cent of Canadians donate blood.
A total of 100,000 new donors are needed before the end of March 2017 to maintain the national blood supply and meet the needs of Canadian patients who require blood transfusions. So far, since April, 45,000 new donors have come forward while another 55,000 are still needed in the next five months