Posted: August 18, 2017
Slidshow Gallery: Press the tab key to access slideshow navigation, then use the arrow keys to navigate between slides, and use the tab key to access the current slide content.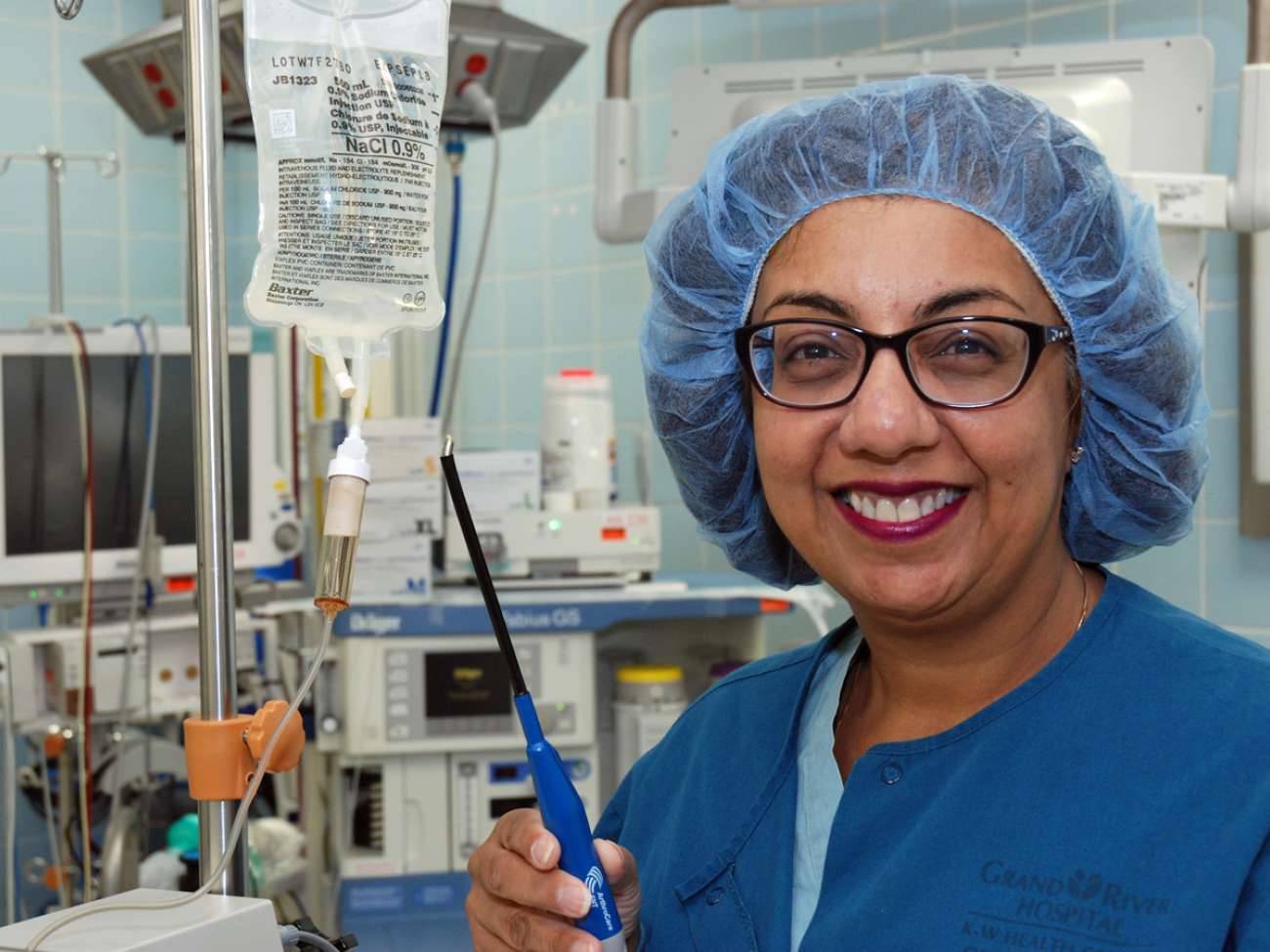 Dr. Vinita Bindlish, an ear, nose and throat specialist, shows the coblation wand.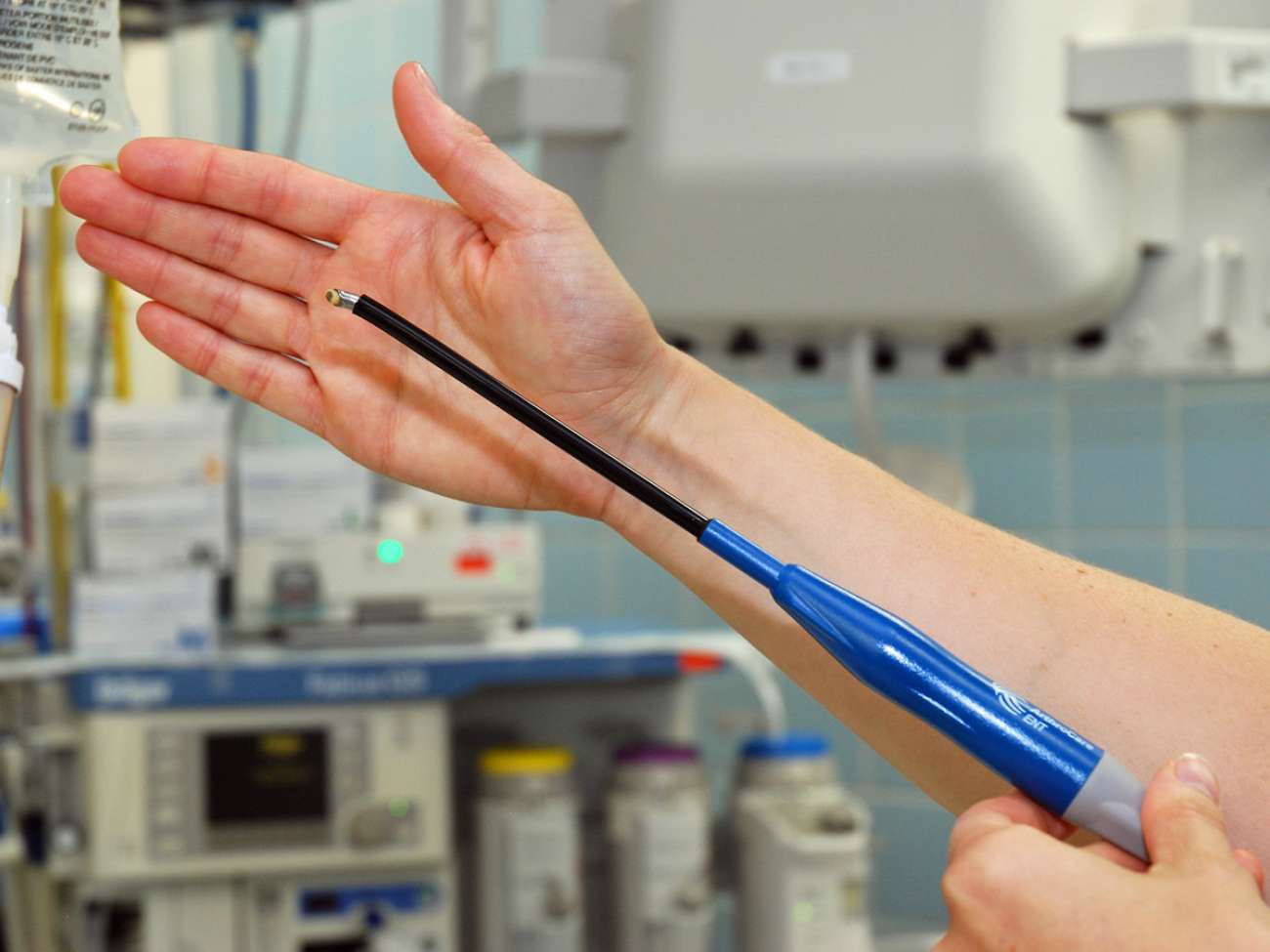 The wand is about the length of one's upper arm.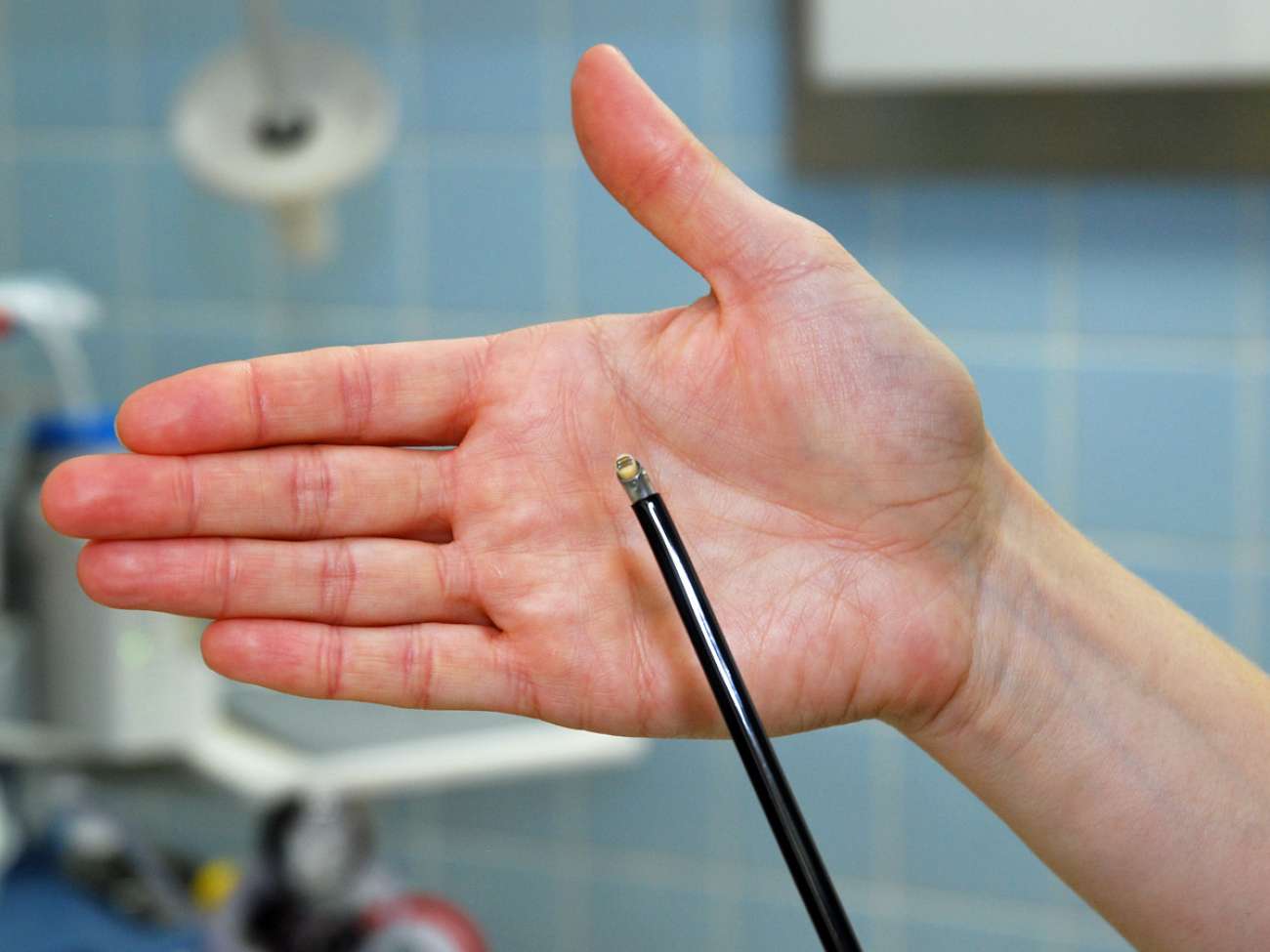 The tip of the coblation wand, which combines saline and RF energy to produce a plasma field.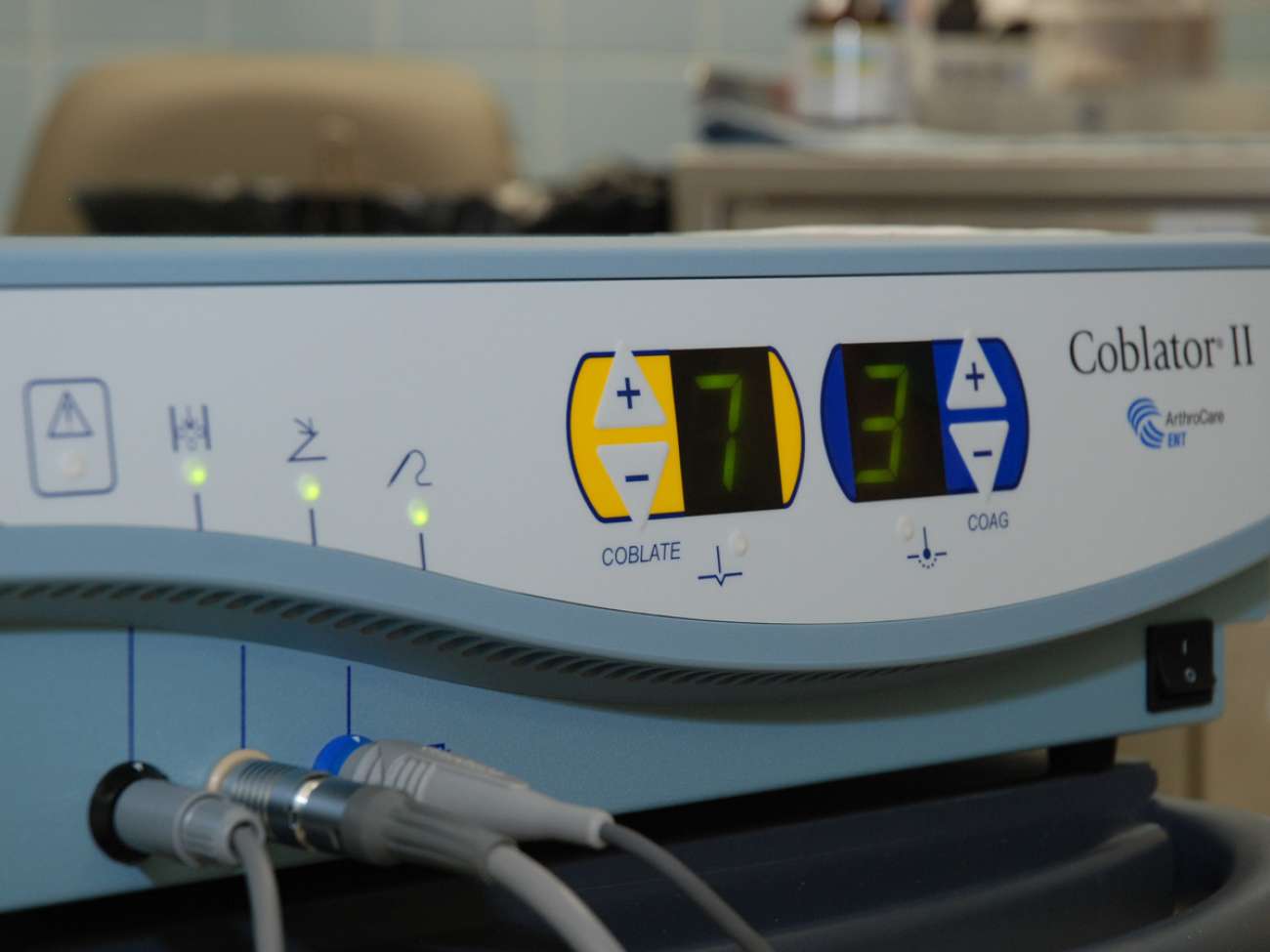 The coblation generator used to generate the plasma field.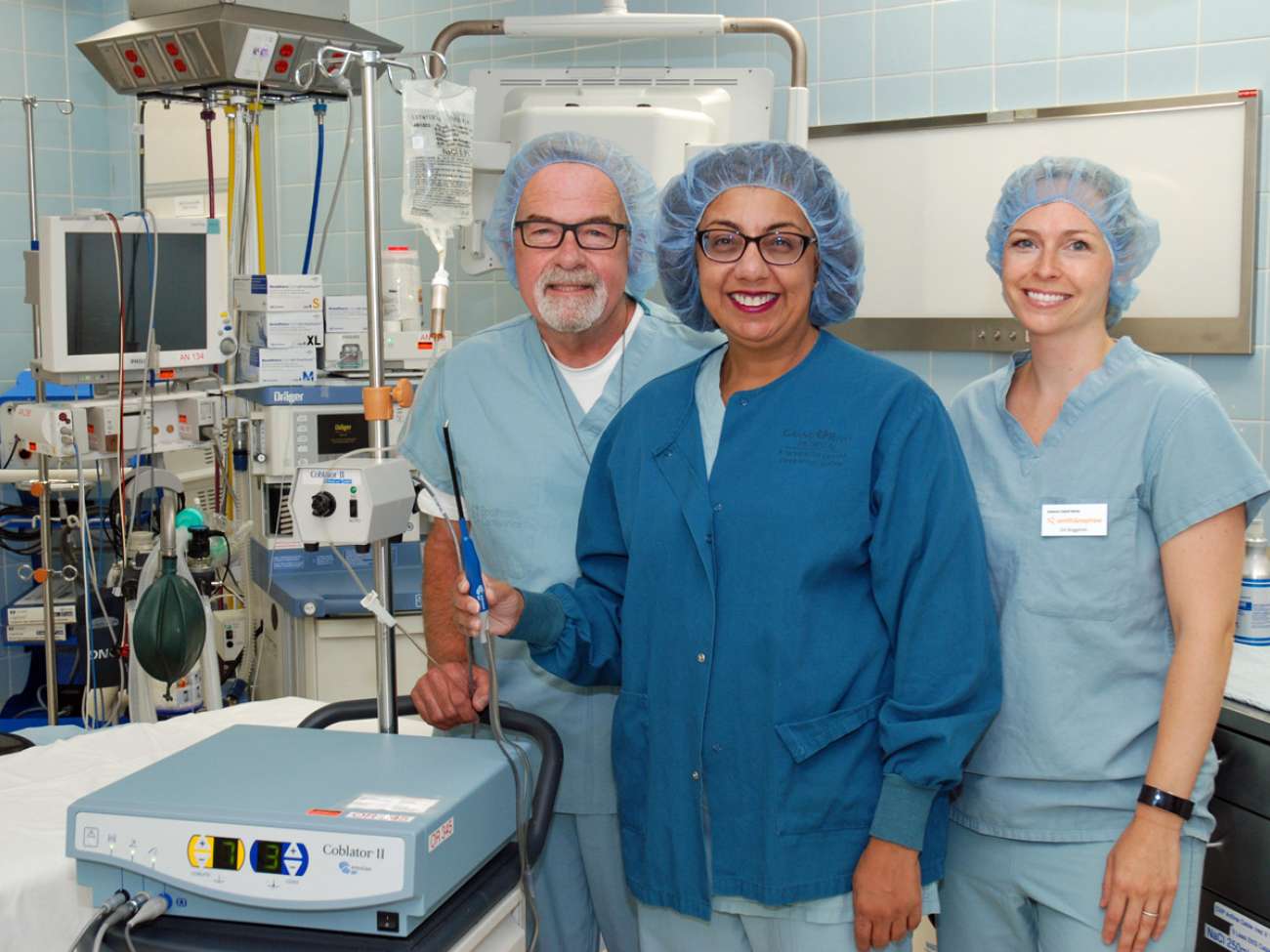 Joining Dr. Bindlish are GRH operating room manager Bob Frey and Erin Bruggeman, the representative for coblation provider Smith and Nephew.
Grand River Hospital is bringing vastly-improved technology to a childhood rite of passage: having one's tonsils removed.
GRH is one of only two Ontario hospitals to have adopted "coblation" (controlled ablation) technology for routine tonsillectomy procedures. Young patients are now benefiting from improved recovery following surgery.
The coblation instrument combines radio-frequency energy and saline, creating a plasma field of about 40 to 70 degrees Celsius. The surgeon then uses the hand-held instrument to remove the tonsil from the patient's throat.
Surgeons previously used electro-surgery to remove tonsils. While the method was effective, it operated at a much higher temperature (400 to 600 degrees Celsius). The higher temperature had the potential of causing greater damage to surrounding tissue.
"The benefits of the new procedure include less pain for our young patients, a reduced risk of de-hydration leading to lower re-admission rates after surgery and an overall faster recovery," said Dr. Vinita Bindlish, an ear, nose and throat specialist who has been using coblation.
GRH's ear, nose and throat specialists have been trialing coblation technology for a year. The hospital purchased the generator for the coblation instrument this summer.
"Whenever we adopt new equipment, surgeons and nursing staff members take part in additional education to become well versed on its functionality prior to patient care use. Erin Bruggeman , our vendor rep, has provided a great deal of support to surgeons and operating room staff as we've adopted this new technique," said Bob Frey, clinical manager of GRH's operating room and post-anesthetic recovery unit.
GRH surgeons conduct 350 tonsillectomy procedures every year.
Learn more about coblation