Posted: September 20, 2017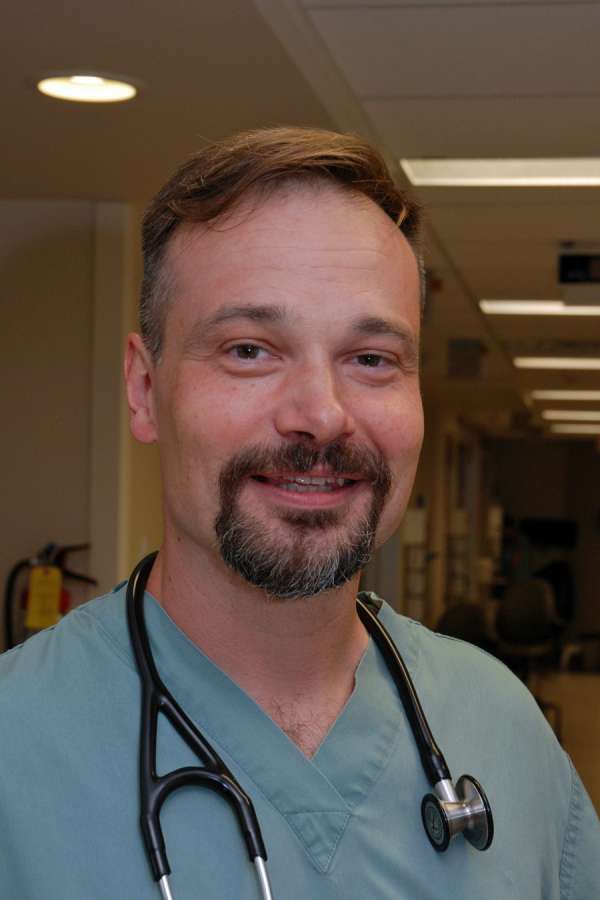 A long-time critical care physician has won Grand River Hospital's latest award of excellence for his outstanding patient care and leadership in many areas.
Dr. Paul Hosek has practiced at Grand River Hospital since 2002. He was recognized for meeting the hospital's values in the following ways:
Compassion: As a critical care physician, Dr. Hosek works closely with families who may have difficult end-of-life decisions around organ donation.  He's supported by staff members in critical care and surgery who see the importance of organ and tissue donation in supporting others' lives.
Staff have appreciated how Dr. Hosek has made himself available to speak publicly about the importance of organ and tissue donation, and to show leadership as the hospital's donation physician.
Collaboration: A key example was the development of a staff education video on how to use Ebola personal protective equipment in the fall of 2014. GRH needed to provide comprehensive staff education very quickly due to global concern around Ebola transmission.
Dr. Hosek worked closely with infection prevention and control as well as the hospital's communications group to help develop a video for internal training. He took a great deal of his personal time to narrate and demonstrate the donning and doffing procedures step-by-step.
Positive attitude: Dr. Hosek spoke at the opening of the hospital's intensive care unit "A" in 2010. He told guests how all team members provided exceptional care in the less-than-stellar temporary ICU while the new unit was under construction. He showed how it wasn't the setting, but more the people and the team that make the biggest difference for critical care patients and families.
Professionalism: Dr. Hosek has made himself readily available to provide media comments on matters requiring physician expertise. The first example several years ago involved how the hospital became the most improved in Canada for its hospital standardized mortality ratio. Dr. Hosek explained how health providers had brought in a range of best practices to improve care.
Another involved a carbon monoxide leak at a local food preparation company. After providing care to a number of patients, he helped work through media inquiries to reporters looking to complete their stories. On both occasions, Dr. Hosek represented the hospital very well.
Respect: Dr. Hosek demonstrates respect by picking up the ball and running with it during media inquiries, grand openings, educational videos and many other tasks. These things are not his direct responsibilities; patient care is. However, his help in supporting broader hospital needs shows his respect for others and the hospital community overall.
Congratulations to Dr. Hosek and thank you for your service to patients as well as your leadership at Grand River Hospital.