Posted: September 28, 2017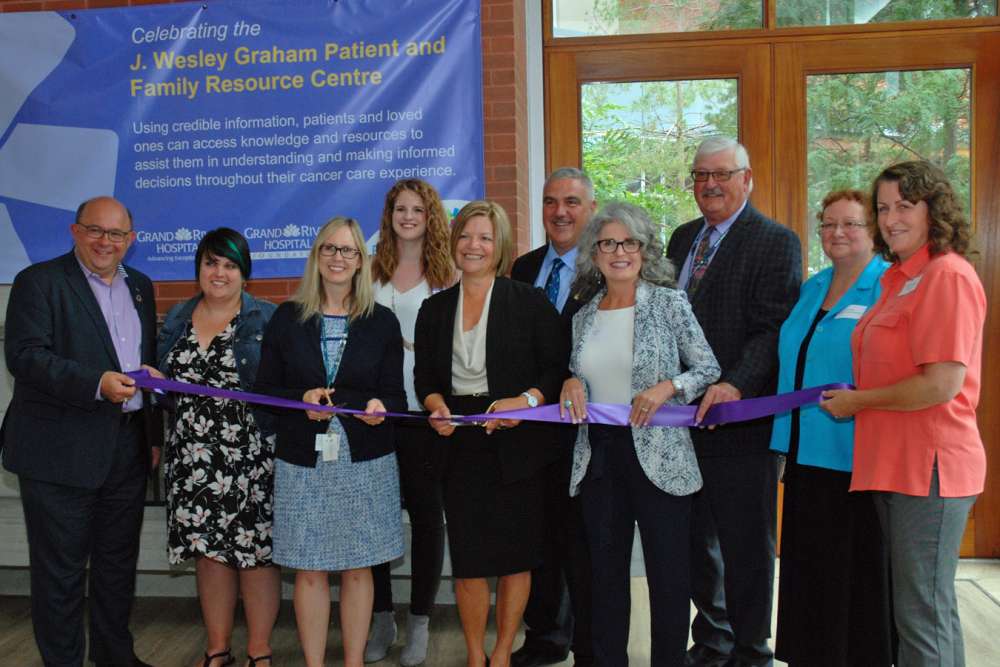 A new partnership will create a public library location in Grand River Hospital's regional cancer centre, providing improved access to information and more effective support for cancer patients throughout Waterloo Region and Guelph-Wellington.
The J. Wesley Graham Patient and Family Resource Centre in GRH's cancer centre has re-opened in partnership with Kitchener Public Library (opens in a new tab). The resource centre received generous financial support from Grand River Hospital Foundation (opens in a new tab) as well as strong encouragement from patients who advocated for its renewal.
"Patients want to have the best information to guide them along their cancer experience. This innovative partnership is the product of patient advocates who came up with the idea, community donors to GRH Foundation who supported it, as well as GRH and Kitchener Public Library staff who have worked to make it a reality," said Jane Martin, vice president of cancer services for Grand River Hospital and Waterloo Wellington regional vice president for Cancer Care Ontario.
The J. Wesley Graham Patient and Family Resource Centre is named in memory of the distinguished computer scientist, influential community member and proud supporter of Grand River Hospital. The resource centre initially opened with the cancer centre in 2003 and has already served many patients over the years. This donation from the Graham family will continue to impact more patients in the future.  
In addition to knowledge provided by cancer care professionals, the resource centre will provide cancer patients with self-guided information on their illness and treatment using technology, collections and databases selected and managed by Kitchener Public Library.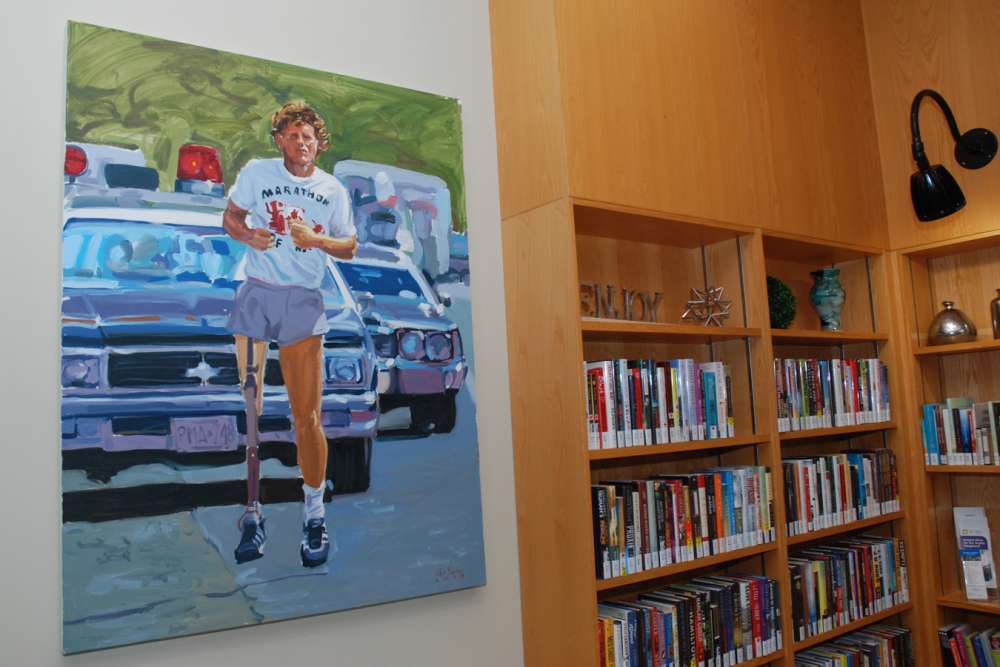 More than 2,000 patients will have access to the latest in evidence-based information in the resource centre, which is located on the main level of the Balsillie Family Building at GRH's KW Campus.
"Connecting people with the information they need is at the core of our values," said Mary Chevreau, chief executive officer of Kitchener Public Library. "More importantly, when it comes to something as personal as one's health, providing information that is both reliable and convenient becomes even more critical. By partnering with Grand River Hospital's regional cancer centre, we are providing patients and their families with information they can trust, and in the place where it's needed most."
"Grand River Hospital Foundation is thrilled to be a part of this event as we celebrate the partnership with Kitchener Public Library and recognize the community for their support to local cancer care," said Tracey Bailey, president and CEO of Grand River Hospital Foundation. "The J. Wesley Graham Patient and Family Resource Centre is a place for patients to feel empowered in their own care. Our donors know how important this is to both the patient and their family."
All current and new patients will receive a special co-branded library card to access collections from the hospital's resource centre and Kitchener Public Library, regardless of their community of residency. Local residents with active library cards from the cities of Kitchener, Waterloo and Cambridge as well as the Region of Waterloo are also welcome to use the resource centre. It is now open Monday to Friday from 8:30 a.m. to 4:30 p.m. Kitchener Public Library will also provide additional support through its telephone information service during regular library hours.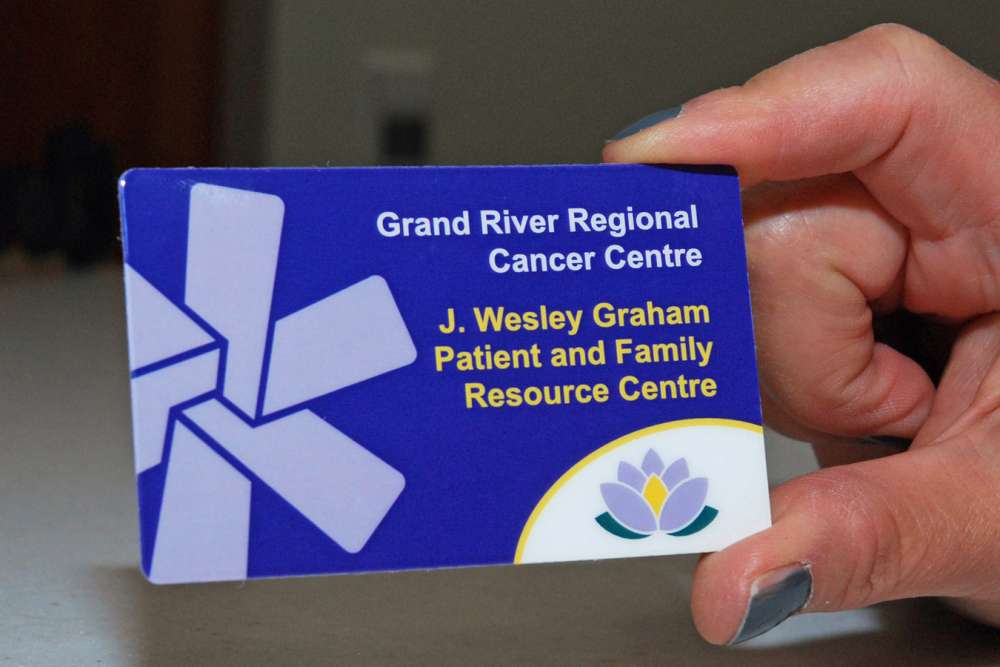 The resource center will provide patients access to relevant up-to-date information on specific types of cancer, health databases, digital audiobooks and magazines, streaming music and videos.  The specially-curated collection will focus on strategies to help patients deal with a cancer diagnosis such as healthy eating, smoking cessation, exercise, yoga and meditation. A leisure collection is also available to those who are looking for something un-related to their disease.
Ongoing donations to Grand River Hospital Foundation will help the resource centre build its collection and increase the educational and peer support opportunities in the space.
"When we looked at the resource centre from a patient and family perspective, we realized that revitalizing the space and updating its resources and technology could greatly support cancer patients and their loved ones in understanding and making sound decisions about their healthcare. It is our hope that this unique partnership between GRH, Kitchener Public Library and GRH Foundation will sustain the resource centre for years to come," said Beth Wilson, chair of the patient and family advisory council for GRH's cancer program.
"As a health care provider, I hope the resource centre gives patients and their families additional resources to navigate their cancer experience. The resource centre will provide them with a place to seek information regarding everything from their diagnosis, treatment, maintaining their well-being and managing their side effects with a friendly face to greet them and ensure they meet their learning goals.  I also hope it will bring patients and families together, fostering a sense of community," said Justine Ferguson, a registered nurse in cancer care at GRH who worked closely with the redevelopment project.
Learn more about the J. Wesley Graham Patient and Family Resource Centre